Sports > High school sports
State B boys: Tennessee Rainwater sparks top-seeded Davenport in quarterfinal win over Northwest Christian
March 2, 2023 Updated Thu., March 2, 2023 at 10:56 p.m.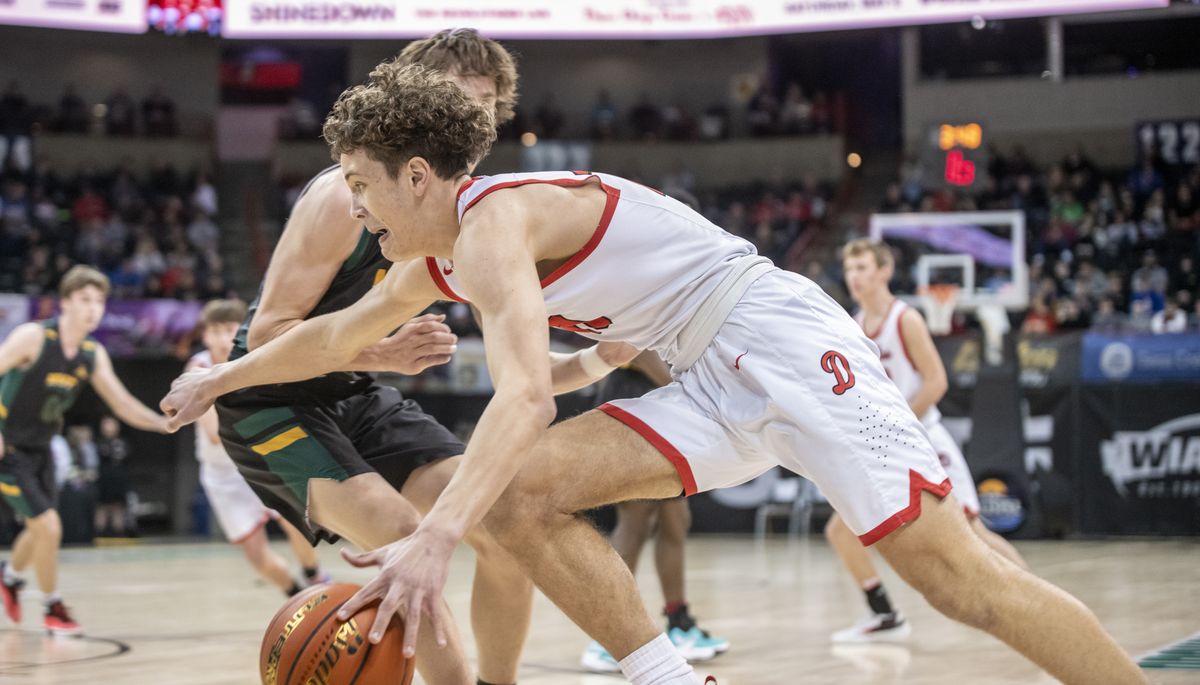 Davenport's Tennessee Rainwater (10) drives past a Northwest Christian defendere on the baseline Thursday, March 2, 2023 in the Spokane Arena in the quarterfinals of the State B Tournament in Spokane. Davenport triumphed, 62-58. (Jesse Tinsley/THE SPOKESMAN-REVIEW)Buy a print of this photo
It's hard to beat a team three times in one season. It's even harder to do it four times – especially a league opponent in a state quarterfinal.
The Davenport boys basketball team didn't shy away from the task as daunting as the challenge turned out to be.
It was a battle from opening tip to the final horn.
Tennessee Rainwater scored led all scorers with 30 points, grabbed eight rebounds and dished five assists to lead the top-seeded Gorillas over seventh-seeded Northwest Christian 62-58 in the State 2B tournament Friday at the Spokane Veterans Memorial Arena .
Cash Colbert added 14 points and 10 rebounds for Davenport.
The Gorillas (25-2) advance to a semifinal Friday at 3:45 p.m. to face fourth-seeded Columbia (Burbank). The Crusaders (21-6) drop into the fourth-place bracket and will play third-seeded Lake Roosevelt at 9 a.m.
"Three times, they say, is never easy. But that fourth time was real tough," Davenport head coach Matt Henry said. "We just know each other so well, and they know our strengths and weaknesses. That was really tough going into here knowing what we need to do, them knowing what we need to do and still being able to execute it."
The Gorillas' won the first three games against the Crusaders by an average margin of 26 points. They appeared to be on same track, taking a 19-9 lead after 6 minutes.
"I wanted it to keep going," Henry said. "It was kind of like a no-hitter; you just let it keep riding."
After an early timeout, the Crusaders cut their deficit to seven at the end of the first quarter.
Asher and Avi West heated up in the paint for NWC in the second. The brothers, a junior and sophomore, respectively, scored 17 of NWC's 26 first-half points.
Rainwater picked up his second foul in the second period and sat the remainder of the half. He had 11 points in the first half and hit just 5 of 10 at the free-throw line as Davenport headed into halftime up 29-26.
Rainwater sparked early in the third period, including a breakaway dunk that had the crowd roaring.
"We knew we had to score," Rainwater said. "We couldn't be afraid, we couldn't back down. I think I'm the frontrunner to set that atmosphere and set that tone for our offense."
Northwest Christian kept coming back.
Nate Clark and Avi West dropped 3s, and NWC took its first lead at 45-43 going into the final 8 minutes.
Then it became the Rainwater show.
The senior got the crowd going with a steal and another breakaway dunk. He scored in bunches, finishing with 15 points in the fourth quarter to push the Gorillas' offense.
"We just tried to give him the ball in positions where he can be successful," Henry said. "We just had the other guys play off of him."
"I know my team and I'm the guy they look for," Rainwater said. "I got to continue to make those plays if we want to hold up that gold ball."
Avi West (18 points) knocked down a 3-pointer with a minute to go to cut the lead to four points, but Davenport knocked down free throws to keep the lead.
Asher West finished with 17 points for NWC.
2B
Columbia (Burbank) 82, Lake Roosevelt 53: Quincy Scott scored 22 points with seven rebounds and the fourth-seeded Coyotes defeated the third-seeded Raiders.
Columbia advances to play in a semifinal against No.1 Davenport on Friday at 3:45 p.m. Lake Roosevelt plays No. 7 Northwest Christian in a loser-out on Friday at 9 a.m. Chase Clark led Lake Roosevelt with 18 points on 3-of-6 shooting from 3. Tristan Frimodt added 21 points for Columbia.
Brewster 71, Napavine 61: Brady Wulf scored 30 points, knocking down nine 3-pointers, and the fifth-seeded Bears defeated the sixth-seeded Tigers.
Brewster advances to play No. 9 Lind-Ritzville/Sprague/Washtucna on Friday at 5:30 p.m. in a semifinal game. Napavine plays No. 2 Morton-White Pass in a loser-out at 10:30 a.m. Karsen Denault led the Tigers with 19 points.
Lind-Ritzville/Sprague/Washtucna 51, Morton-White Pass 44: Chase Galbreath scored 16 points and the ninth-seeded Broncos defeated the second-seeded Timberwolves.
Hunter Hazen led the Timberwolves with 20 points.
1B
Willapa Valley 77, Mossyrock 58: Riley Pearson scored 24 points and No. 4 Willapa Valley defeated No. 11 Mossyrock.
Willapa Valley advances to play No. 1 Wellpinit on Friday at 7:15 p.m. Mossyrock will play No. 7 Cusick in a loser-out contest at 12:15 p.m. Keegan Kolb led Mossyrock with 16 points.
Wellpinit 64,Cusick 36:
Andrew Moyer scored 12 points off the bench and the top-seeded Redskins defeated the seventh-seeded Panthers. Chris Mackey led Cusick with 11 points.
DeSales 65, Moses Lake Christian 35:
Joe Baffney scored 18 points and the third-seeded Irish beat the fifth-seeded Lions.
DeSales advances to play No. 2 Sunnyside Christian in a semifinal on Friday at 9 p.m. Moses Lake Christian plays N. 16 Orcas Island at 2 p.m. in a loser-out contest. Michael Podolyan led the Lions with 11 points.
Sunnyside 56, Orcas Island 47:
Cole Wagenaar scored 20 points with 16 rebounds and the second-seeded Knights defeated the 16th-seeded Vikings.
Joe Stephens led the Vikings with 14 points. 
Justin Reed contributed to this report
Local journalism is essential.
Give directly to The Spokesman-Review's Northwest Passages community forums series -- which helps to offset the costs of several reporter and editor positions at the newspaper -- by using the easy options below. Gifts processed in this system are not tax deductible, but are predominately used to help meet the local financial requirements needed to receive national matching-grant funds.
Subscribe to the sports newsletter
Get the day's top sports headlines and breaking news delivered to your inbox by subscribing here.
---