News > Washington
Now that's basketball, baby! Mabton coach brings her newborn to guide team through State B
March 3, 2023 Updated Fri., March 3, 2023 at 9:53 p.m.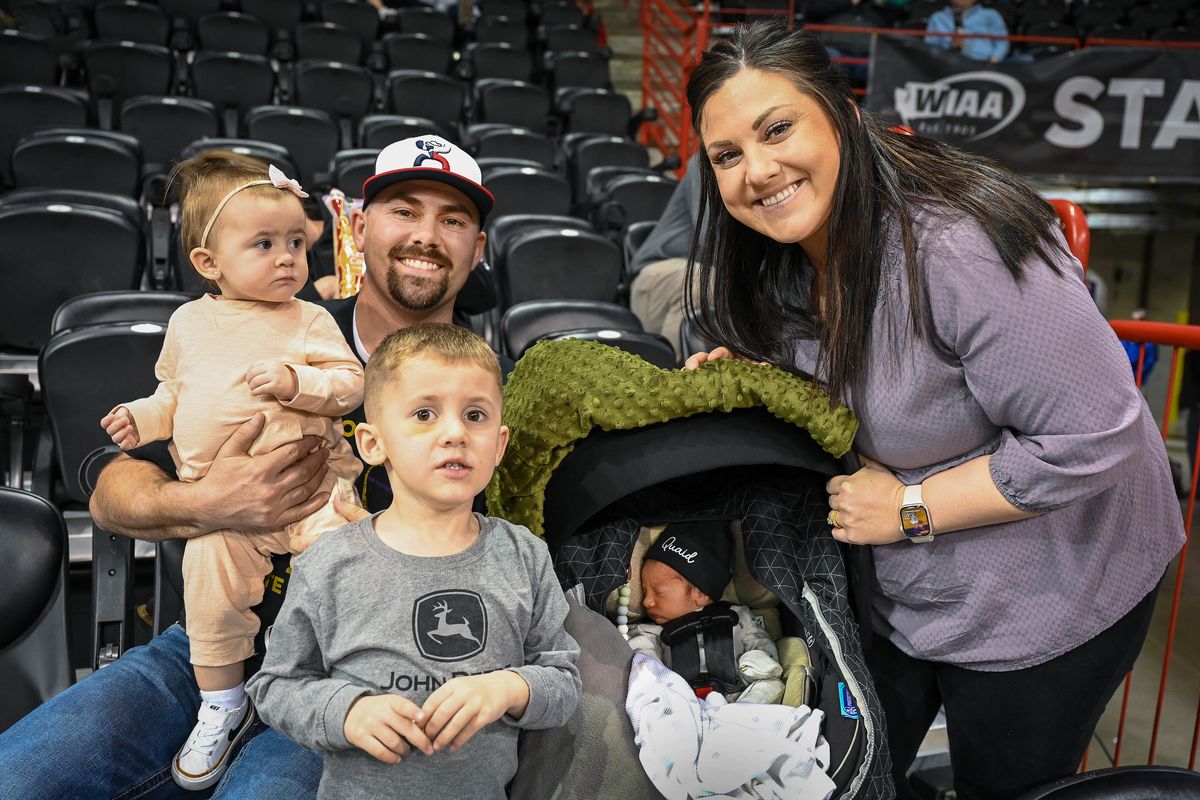 Mabton girls basketball coach Italia Quigley, right, shows off her newborn boy, Quaid, during the quarterfinal girls 2B game Thursday night against Okanogan in the Spokane Arena. She's joined by her husband DJ, daughter Cora, 1, and son Kaycin, 3. (COLIN MULVANY/THE SPOKESMAN-REVIEW)Buy a print of this photo
Four days after giving birth, Italia Quigley stepped back onto the basketball court this week to coach her Mabton Vikings at the State B tournament.
"I feel like I've been hit by a train a little bit," Quigley said with a laugh Thursday night. "My adrenaline has worn off, and so it was just mind over matter after last night's game and getting home at almost midnight. It's been a little struggle, but it's mind over matter, and I'm just trucking along."
Quigley, 30, had coached up until the last moment she could, demonstrating defensive slides at 40 weeks pregnant to prepare her team for the State B.
She gave birth to Quaid, a 6-pound, 7-ounce, 19-inch baby boy, on Sunday before packing up her car and family to head to Spokane.
"The most important thing is to just instill that women can do a lot of things," Quigley said. "Instilling that we can do whatever we've put our mind to, regardless of the situation that we're in. I'm hoping that I instill the confidence in all of these young women that they can do whatever they set their mind to, whether it's winning a state championship, whether it's going out and getting a college degree – I try to instill that there's so much more to life than basketball, but there's so many lessons to learn within basketball."
Quigley didn't know she was pregnant when she took the job as Mabton's girls basketball coach last June. When she found out later she was pregnant, she knew it would be hectic.
"I had built relationships with all these amazing young women and I love these girls like they're my own, so there was no backing out," Quigley said.
Baby Quaid is Quigley's third child, which she said made it easier, as she knew what to expect. She said that without her husband DJ's support, raising 4-year-old Kaycin and 1-year-old Cora while pregnant would have been much harder.
Quigley also acknowledged the support from her players, who help with everything from car seats to diaper bags to wrangling the kids into the car.
"It's been crazy, but I wouldn't trade it," Quigley said. "These girls are amazing – I have 12 little moms running around with my kids."
Quigley is a teacher at Zillah Middle School, where her brother also works, and is officially on maternity leave. DJ works in construction, and Quigley said he has been playing the role of "Mr. Mom" on top of his day job. Her parents stayed in Zillah to watch her brother coach his basketball team's quarter finals before booking it up to Spokane to make it in time for tipoff.
Though Quigley is still in her first year of coaching at Mabton, Saul Arambul, the school's athletic director, has known her for 20 years.
"She has a lot of grit," Arambul said. "She is extremely passionate, and family is a big, big thing for her and her life."
Quigley played for Granger High School, placing top four at the state level all four years and taking second for two of them. Though she never walked off with the championship trophy as a student, Quigley said the experience has helped her prepare for the tournament.
"I've been in this atmosphere and I think that's what has helped me be so successful as a coach, is just understanding what it takes to get to this level and hopefully be competitive for the next few years," Quigley said.
The team headed into the tournament after a successful season, having won their league and placing second in districts. Quigley said the competition they have around the Yakima Valley helped them prepare for this week's competition.
"With no seniors and only a few juniors, I've just been really impressed with their ability to hold each other accountable and to have that leadership within each other," Arambul said. "They don't have that upperclassman, senior type of leadership, they all do it from within because they're so tight-knit of a team."
Okanogan came out on top after an aggressive battle for a spot in the semifinals.
The sea of purple that normally cheers on the Vikings was minimized by the two-hour, 45-minute weeknight drive, but the crowd was wild with support for their girls.
"Our motto this year was, leave it all on the floor and don't come out of that 32 minutes with any regrets," Quigley said. "We want to make sure that we just leave it on the floor today, and hopefully if we pull off a win today, we can leave it on for tomorrow and come home with some hardware."
While Quigley motivated the team through a tough game on the court, the newborn slept peacefully in his father's arms in the stands.
Local journalism is essential.
Give directly to The Spokesman-Review's Northwest Passages community forums series -- which helps to offset the costs of several reporter and editor positions at the newspaper -- by using the easy options below. Gifts processed in this system are not tax deductible, but are predominately used to help meet the local financial requirements needed to receive national matching-grant funds.
Subscribe now to get breaking news alerts in your email inbox
Get breaking news delivered to your inbox as it happens.
---