Commentary: While obviously not underdogs, this Gonzaga basketball team arrives at the WCC Tournament with an intriguing edge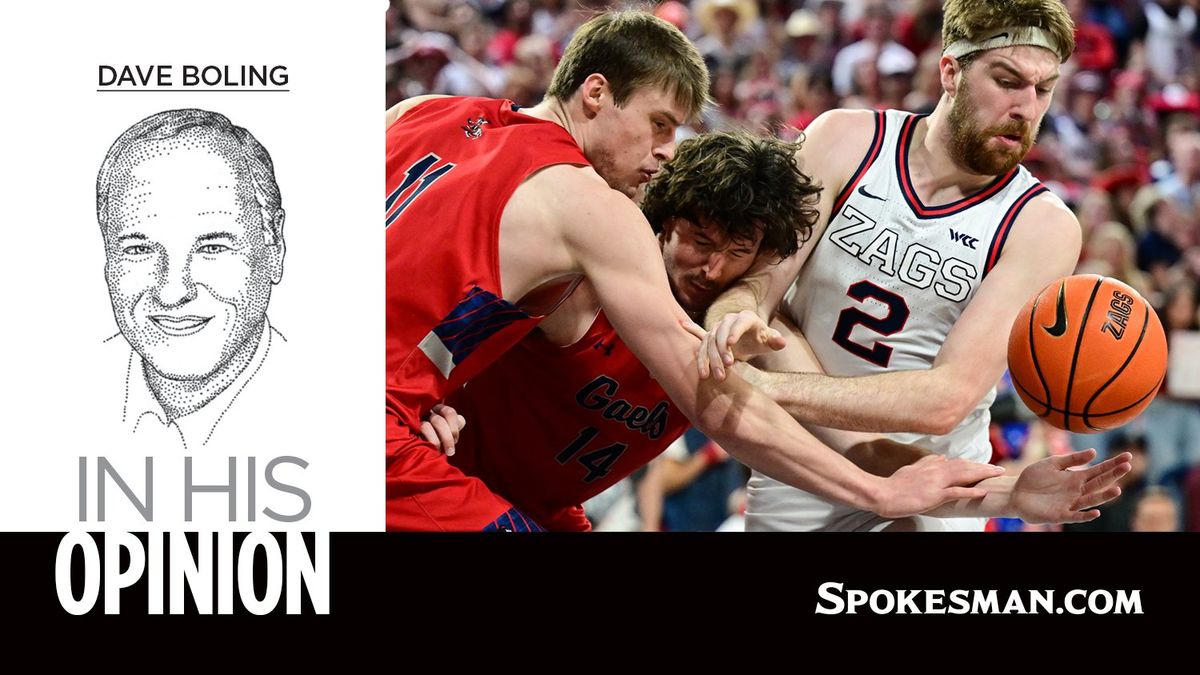 Gonzaga hasn't sneaked up on anybody in the 21st century, so portraying the Zags as a dark-horse underdog fueled by disrespect would strain credulity.
Still, this year's West Coast Conference men's basketball tournament seems a bit more foreboding for GU. And that's not necessarily a bad thing.
Having the belief that you can overcome any deficit in the final minutes is a magical faith. And they feasted on that early in the conference season.
But learning that you can actually lose to just about anybody on a bad night may turn out to be a more practical reality to recognize this time of year.
Thank you, Loyola Marymount.
Having come into the past four conference tourneys ranked No. 1 or 2 in the nation, the Zags find themselves ranked No. 10 and seeded No. 2 behind rival Saint Mary's heading into the WCC semifinals.
In the journey of self-discovery that is a college basketball season, the Zags have had more revelatory moments than in most recent years. And surely more losses.
Losing three of their first eight games against top-10 teams caused the early rankings to drop. But the damage of losses to Texas, Purdue and Baylor was early, nonlethal and somewhat offset by an impressive win on the road against No. 4-ranked Alabama (now No. 2).
To score 100 points in a 10-point win over the Crimson Tide was the major positive of the nonconference experience. The message: When clicking, with six players in double figures (led by Drew Timme's 29), the Zags looked like a Final Four contender.
How, then, could a team that put up 100 against Alabama be held to 67 at home against LMU, a quadrant 3 (NET) team that they had defeated 25 consecutive times?
It's possible that the Zags set themselves up for that one, having Houdini-ed three previous road games with late heroics.
At San Francisco, they were outrebounded by 19, but Rasir Bolton scored on a late putback for the win. At Santa Clara, they trailed by one with just over a minute remaining, but Nolan Hickman netted a timely 3. And at BYU, Julian Strawther pumped in a distant 3 with 9.8 remaining.
Three dramatic wins by eight total points is enough for them to expect that somebody will always come up with the game-saving hoop.
The visiting Lions of LMU soon delivered a tutorial in humility on Jan. 19, edging the Zags 68-67 in the seemingly invulnerable Kennel. On that night, the customary last-second heroes couldn't convert and the 75-game win streak in that venue was snapped by a team that hadn't won in Spokane since 1991.
LMU scored on a late layup and GU missed a couple of shots at the win. You cannot do that in March.
A couple of weeks later, the Zags fell at Saint Mary's in overtime. No disgrace there, of course. Saint Mary's topped the Zags in Moraga, California, to split the series last season, too, and the Zags ran away with an 82-69 win over the Gaels in the WCC title game.
Recent Zag improvements mitigate some concerns. Timme is the most-fouled player in the WCC. At times, his performance at the free-throw line has been a weakness. Making 4 of 10 free throws against Michigan State, for instance, was a vulnerability in a slim win over the Spartans.
Through the Feb. 2 game against Santa Clara, Timme was shooting 60% from the line. In the past seven games, he's shot 72.5%. This guy turns into a pinata at tournament time, and going into the tournament with confidence from the line can make a critical difference in a close game.
It's hard to picture anybody who can elevate his game at tournament time as has Timme, who averaged 27.3 in the three NCAA games last season.
Strawther, meanwhile, has become a more aggressive scorer, taking pressure off Timme. He's averaged 19 points in the past eight games – almost four points above his season average.
Anton Watson's all-around game, always strong, has become more effective on the offensive end, raising his average almost four points in the past 10.
And nobody has been a bigger surprise than sophomore Ben Gregg, with his shooting range and mobility as a frontcourt sub.
The recent home win over Saint Mary's displayed the balanced offense and opportunistic defense that should stand as the blueprint for the Zags in March.
They've had enough surprises this season.
---