Sports > Gonzaga basketball
Recap and highlights: Second-seeded Gonzaga earns hard-fought semifinal win over San Francisco 84-73
March 6, 2023 Updated Tue., March 7, 2023 at 12:31 a.m.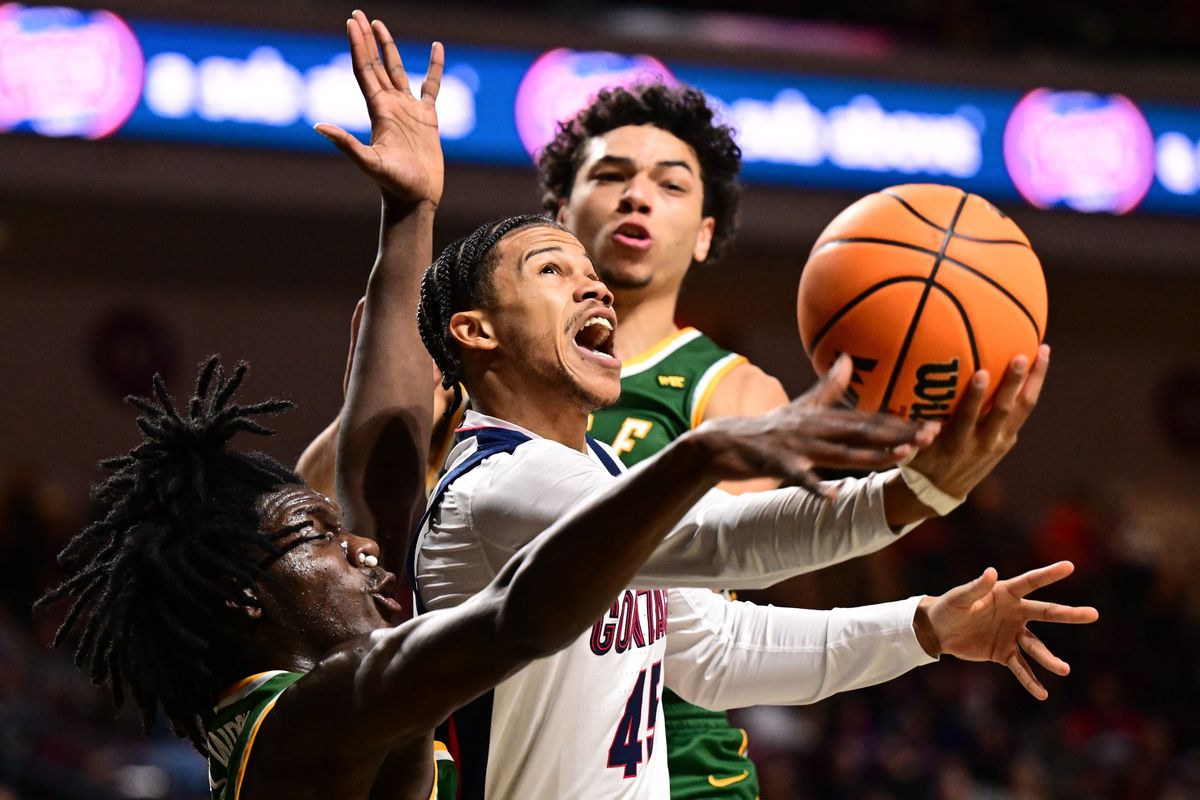 Gonzaga Bulldogs guard Rasir Bolton (45) drives to the basket against the San Francisco Dons during the first half of a WCC tournament semifinal basketball game on Monday, March 6, 2023, at the Orleans Arena in Las Vegas, Nev. (Tyler Tjomsland/The Spokesman-Review)Buy a print of this photo
LAS VEGAS – Gonzaga had a long wait to tipoff at the West Coast Conference Tournament.
After four days off and a delayed 8:55 p.m. start time, the Bulldogs were ready.
Second-seeded Gonzaga jumped out to a double-digit lead before the first media timeout and maintained it the rest of the way for a 84-73 win over sixth-seeded San Francisco in a WCC semifinal game on Monday at the Orleans Arena.
Anton Watson, a recent All-WCC first and second-team snub, played with the poise of an All-American in the first 7 minutes.
Watson buried two 3-pointers and scored 13 of his team-high 20 points in the early spurt.
Still, the Zags (27-5) had trouble pulling away.
Watson was sent to the bench with foul trouble and the Dons (20-14) began to push back.
Behind the attack of Khalil Shabazz, San Francisco cut Gonzaga's 15-point lead to five in the final minute of the first half.
Gonzaga opened the second half with a 6-2 advantage to regain a double-digit lead.
That lead was cut to four, when San Francisco's Marcus Williams made a 3-pointer 5 minutes into the second half. And then two, after Williams hit again from beyond the arc with 12 minutes to go.
The mighty Zags, makers of 25-straight WCC title games, wouldn't have an easy path into their 26th.
That's when the nation's leading scoring offense turned to its defense for a spark.
A barrage of blocks from Watson and Drew Timme and then Watson again turned into a quick scoring run.
Malachi Smith made a layup and a Rasir Bolton hit a 3-pointer to give GU a 61-54 cushion with under 10 minutes to go.
Shabazz's persistence on the offensive end (9 of 24 shooting for 26 points) would cut the lead back to five, but never closer.
Timme scored 17 points, one of four Zags in double figures. He is five points from breaking Frank Burgess' mark for Gonzaga's scoring title.
Las Vegas native Julian Strawther added 15 points and Ben Gregg scored 12, hitting 4 of 6 3-pointers.
The Bulldogs won't have to wait long to get back on the court.
Gonzaga looks to win their fourth consecutive WCC Tournament title on Tuesday against top-seeded Saint Mary's.
The two teams split the regular-season series and shared the regular-season title.
Gonzaga Basketball / Youtube
First half
19:42 – GU 2, USF 0: We are finally underway in Las Vegas and Strawther opens the scoring for GU on the first attempt from the field with a layup.
16:12 – GU 12, USF 2: Ideal start for the Zags that roll out to a double-digit lead on a 3-pointer from Watson, leading to a quick timeout by the Dons.
Strawther and Watson open with five points apiece.
11:58 – GU 25, USF 12: Gonzaga staying in control at the U12 media timeout, as Watson erupts for 13 points in the first 7 minutes.
7:02 – GU 30, USF 21: Shabazz has three 3-pointers to keep the Dons in it. USF shooting better on 3-pointers (46%) than from the field (44%).
3:39 – GU 34, USF 27: Strawther snaps a scoring lull with a 3-pointer that died on the back iron and took a friendly roll. 
Both teams fairly even, with one 3-pointer on three more field goal attempts and four free throws keeping the Zags in front.
0:35 – GU 40, USF 35: Hawthorne makes a 3-pointer and Gonzaga calls a timeout, after the Dons cut the Zags lead to less than six for the first time since the 17:06 mark.
Halftime
Ben Gregg made his third 3-pointer on Gonzaga's final possession to give the Zags a 43-35 lead over San Francisco at halftime of the West Coast Conference semifinals game at the Orleans Arena.
The Bulldogs were led by Anton Watson's 13 points, jumping out to a 15-point lead. Gregg, Julian Strawther and Drew Timme all scored nine points apiece.
The Dons leaned on Khalil Shabazz, who scored 14 points and made four 3-pointers.
Second half
15:20 – GU 50, USF 46: Shabazz keeping the Dons on the Zags heels. Williams makes a 3-pointer to cut it to four points.
14:48 – GU 52, USF 46: Timme makes a layup to push GU's lead back to six at the U16 media timeout. Timme has 13 points – eight from breaking the record for GU's scoring leader.
12:49 – GU 56, USF 51: Roberts makes a 3-pointer and the Dons call a timeout.
6:36 – GU 67, USF 62: Dons cut the Zags lead to two points, but a barrage of blocks from Watson and Timme help put GU back in front. 
Shabazz makes a 3-pointer to cut it back to five. He has 22 points.
Timme has 17 points, just five from breaking GU's scoring record.
2:50 – GU 76, USF 66: Zags have their sights set on another championship game. Leading by 10 at the U4 media timeout.
Timme is stuck on 17 points. Watson leads with 20.
Pregame
Gonzaga had the pleasure of waiting, while San Francisco carved its long road to the West Coast Conference semifinals.
The sixth-seeded Dons (20-13) beat Pacific on Friday 80-63 and then upset third-seeded Santa Clara 93-87 in a double-overtime marathon.
The second-seeded Bulldogs (26-5) haven't played since Wednesday, when they strolled to a senior night win over Chicago State.
Gonzaga will put its seven-game win streak and run of 25-straight WCC championship appearances on the line tonight at 8:30 p.m. against USF. The game will be broadcast on ESPN2.
The Zags beat the Dons twice this season, 77-75 in San Francisco on Jan. 5 and 99-81 in Spokane on Feb. 9.
Team stats
Individual leaders
Game preview
More on the Zags
Monday at the Orleans Arena
Local journalism is essential.
Give directly to The Spokesman-Review's Northwest Passages community forums series -- which helps to offset the costs of several reporter and editor positions at the newspaper -- by using the easy options below. Gifts processed in this system are not tax deductible, but are predominately used to help meet the local financial requirements needed to receive national matching-grant funds.
Follow along with the Zags
Subscribe to our Gonzaga Basketball newsletter to stay up with the latest news.
---