Top-seeded Gonzaga women roll past BYU 79-64 in WCC tournament semifinals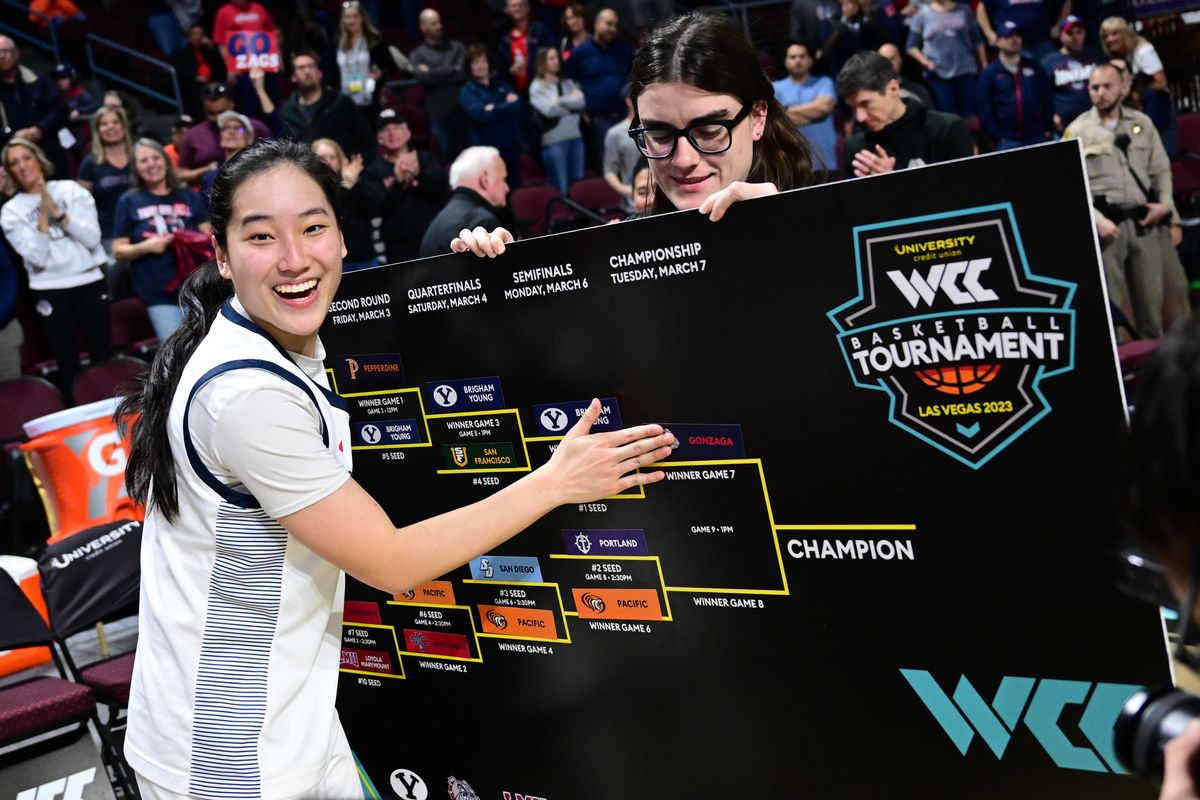 LAS VEGAS – Beating the same team three times in one season isn't all that hard – provided you can keep doing what you're doing and do it even better.
Gonzaga did just that on Monday in the West Coast Conference women's basketball semifinals against Brigham Young, dominating almost every phase of the game in a 79-64 rout at the Orleans Arena.
The win, and it wasn't even that close, puts the top-seeded Zags into the WCC Tournament title game for the third straight year. They will face Portland for the championship at 1 p.m. on Tuesday.
In their final WCC meeting with BYU, the Zags checked almost every box on the pregame list. They played great help defense, thrived in transition, made their free throws and dominated in the paint.
They also got big games from their top players. Yvonne Ejim had a double-double of 21 points and 11 rebounds, Brynna Maxwell chipped in 18 on four made 3-pointers, and Kaylynne Truong had 13 points and seven assists.
Remarkably, the 16th-ranked Zags (28-3) did all that against their biggest rival, and after a nine-day layoff.
There were few signs of rust, especially during a sublime third quarter that saw Gonzaga stretch a six-point halftime lead to 23 going into the fourth.
"I love the way we competed, especially in the third quarter," GU coach Lisa Fortier said. "I'm really happy for these guys and the way they played together."
They didn't do so right away.
McKayla Williams and Kaylynne Truong hit back-to-back threes to give Gonzaga an early 10-2 lead, but BYU responded with a 7-0 run to get back in the game.
The Cougars (16-16) took a brief 15-14 lead and tied the game at 18 a few minutes later, but GU slowly got the upper hand the rest of the half.
A 31-25 halftime lead wasn't good enough, especially against a team that took the Zags to the limit in both earlier meetings.
In the halftime locker room, "We talked about wanting to compete harder," said Fortier, whose team shot 42% in the first half and just 20% from long range.
"I said, 'We've done well, we need to execute better,' " Fortier said. "If you execute well, you're going to knock down the shots."
Less than a minute into the second half, Maxwell opened with a 3-pointer. Seconds later Ejim added a layin for GU's first double-digit lead of the game, 35-25, and Maxwell came back with another trey to force a BYU timeout.
"March is so much fun," Maxwell said. "Once you hit March, it's just exciting to see what's going to happen."
More good things happened in the third quarter, as GU made nine of 13 shots while BYU was 3 for 10.
Gonzaga took its biggest lead, 56-33, on a free throw from Eliza Hollingsworth with 45 seconds left in the third quarter.
For the game, Gonzaga shot 28 for 55, or 51%. BYU made just 20 of 56 shots, or 36%.
The Zags were just 7 for 19 from long range, but they made 16 of 19 free -throw attempts and outrebounded BYU 29-25. They also forced 23 turnovers and had 19 second-chance points in the second half.
It was physical game. GU racked up 23 personal fouls, but they were spread evenly and no key player was in foul trouble while the game was still on the line.
Nani Falatea had 17 points and Emma Calvert had 13. BYU forward Lauren Gustin was held to nine points and a season-low nine rebounds.
---