'It's kind of the Cougar way': Washington State coach Kamie Ethridge gleaned talent from around the globe to build Pac-12 title team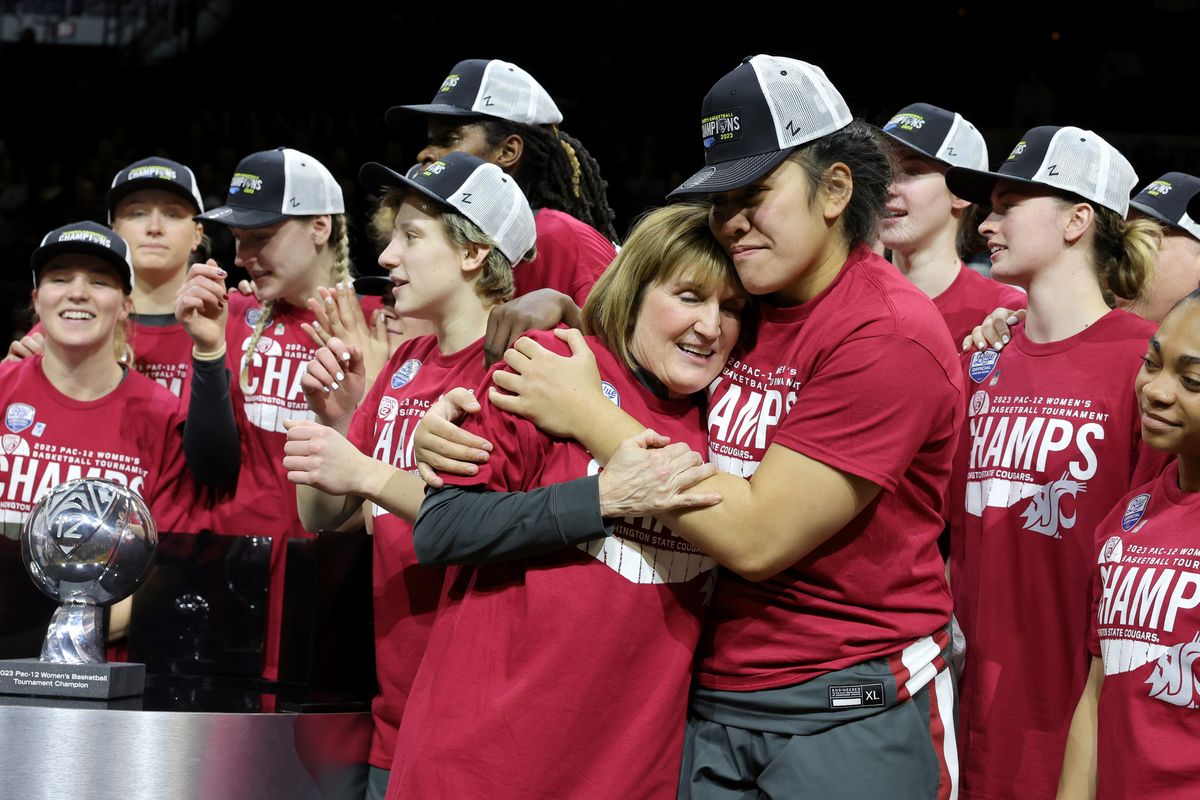 Talk about a long road to building a championship roster.
Coach Kamie Ethridge led Washington State women's basketball to its first Pac-12 Tournament title in program history last Sunday – a 65-61 victory over UCLA in the championship game – a feat accomplished by tirelessly recruiting players from all over the world.
"It's kind of the Cougar way. We're not going to get those top-10 recruits generally, so we dig in a little deeper, watch more film and do the work to find these athletes," said Ethridge, in her fifth season as coach. "We want those kids that have a chip on their shoulder and want to come prove everyone wrong. That fits really well with our culture. We all want to prove the big dogs wrong."
Nine of the 13 women on this year's roster are international. Players from New Zealand, Australia, Kosovo, Estonia, Rwanda, Finland and Canada have come together to contribute to the most successful three-year stretch in program history, with the Cougars going 54-33 in that span and earning three straight NCAA Tournament berths.
When Ethridge was hired by Washington State in April 2018, she inherited a roster of athletes from France, Bulgaria and Israel. She decided to continue building on that culture.
"We weren't getting good responses from the top talent in America, so instead of trying to sign American players we thought, 'Let's go get the best players in entirely different countries.' And it's worked out unbelievably well," Ethridge said.
Since then, international players like Charlisse Leger-Walker, Bella Murekatete and Johanna Teder have been cornerstones in the program. Those three alone have combined for 276 starts and a 54-33 record as Cougars. Individually, Murekatete and Leger-Walker have led the team in rebounding and scoring for the past three seasons, while Teder has started in all 85 games in which she's appeared.
Ethridge originally brought them in by promising to develop their skills on the court, their character off the court and their relationships with teammates.
"We tell them we think we can make them into the best player they can be. However good they want to be, we can get them there. Secondly, we say we'll make them into the best teammate they can be," Ethridge said. "That's not always the sexy thing to say, but we're not about selfishness."
Murekatete and Leger-Walker are an impressive testament to the way Ethridge and others in the Washington State program have developed players.
Murekatete was born in Rwanda but played high school ball in Post Falls at Genesis Prep Academy. As a high school senior, Murekatete averaged 22.1 points per game and 9.8 rebounds to earn all-state honors, yet the University of Idaho and Washington State were her only Division I offers.
"I'm sure people thought she'd never be Pac-12 talent," Ethridge said. "But we felt like we could grow her technique and her ability. And over four or five years we felt like we could make her one of the best players that's ever played here."
Murekatete is the first Rwandan-born woman to play Division I basketball, and she said Ethridge showed confidence in her from the beginning.
"She's been like a mother to me. She cares about me so much off the court and on. She wants to see me succeed." Murekatete said
.
"I can remember our first conversation during recruiting," Leger-Walker said. "She wasn't selling any kind of glamour, really there's not much glamour to sell with Pullman, but she talked so much about my development, what I wanted to achieve, and how she knew she could help me do that. I just trusted her so much."
Since then, Leger-Walker has become one of the best players in program history. This season she's averaging 18.1 points per game and earned Pac-12 Tournament Most Valuable Player honors. Leger-Walker led the team with 23 points in last Sunday's victory over UCLA.
For Ethridge, however, the key step in bringing in new recruits is allowing them to get a taste of the team's chemistry.
"As coaches, we just get out of the way and let the girls spend 48 hours together, and that's the biggest selling point we have," Ethridge said. "If there's a recruit on campus, our whole team wants to be involved. I don't think every place is like that. No one gets left out here. They want to bring people into this building, and they're protective of the culture we're building."
That culture of welcoming in women from outside of the U.S. has paid off. It's become a factor in continuing to bring in more international talent each year.
"I knew I wanted to find a place with other international athletes," Teder said. "We do share the same experiences, and we just relate. Being international, we really know how to support one another, since we're all away from family for so long. Living in such similar circumstances with my teammates built a lot of trust."
Teder was born in Tartu, Estonia, and first came to the United States to play basketball in Levelland, Texas, for South Plains Community College, where Ethridge contacted her. Since committing to WSU, Teder has played a pivotal role with her leadership. Her hometown and family are 4,885 miles away from Pullman.
"Our veteran internationals know what the younger internationals are going through and so they check on each other. They include the freshman in everything," Ethridge said. "I know it's all simple stuff, but it's genuine, and our girls look after each other."
Most of the women on the team are in Pullman from July until school gets out in May, meaning they get less than two months with family.
"As internationals, it's too costly to go home throughout the year, so we're just always around each other. I think about winter breaks, around Christmas when literally no one else is in Pullman. It's a lot of time together," Leger-Walker said. "But I think it's all for the best. It's a big reason why we're so close on the court."
Tara Wallack, a sophomore from Canada, said it often feels like she has built-in sisters. She committed to Washington State in 2021 largely due to fellow Canadian teammate Jessica Clarke telling her about the culture at Washington State.
"Since she was a year older, she gave me the inside scoop and that really helped me commit," Wallack said. "I'd always wanted to compete at this level, so it's really been a dream come true."
Wallack was a starter in all 33 games this season, averaging 9.2 points and 5.4 rebounds per game, nearly tripling her averages from last season. Against UCLA, Wallack hit a key free throw with 5 seconds left to clinch the Pac-12 title.
As Ethridge continues to lead the charge in building this program, she believes the culture of closeness is going to play a big role in retaining players long term, given the prominence of the transfer portal in the NCAA today.
"People leave programs all the time, and I'd venture to say a player like Charlisse could go anywhere else she wanted," Ethridge said. "I'm impressed that someone of her ability isn't looking to see if the grass is greener elsewhere, but I think the relationships play a huge role. Ultimately, I think they just love each other."
Ethridge also believes there's something to be said for the unique small-town atmosphere in Pullman, which she feels has played a role in the culture of the program.
"If we were in a big city and there were a hundred things to do, maybe this team wouldn't be as close as they are. But we're in Pullman and there's like four things to do," Ethridge said. "It's a simple life, but it leads to really deep and impactful relationships. They really love each other."
---