Sports > Gonzaga basketball
'We've seen it all.' Gonzaga faced top-seeded Alabama, Zach Edey and everything between during daunting schedule
March 12, 2023 Updated Sun., March 12, 2023 at 9:18 p.m.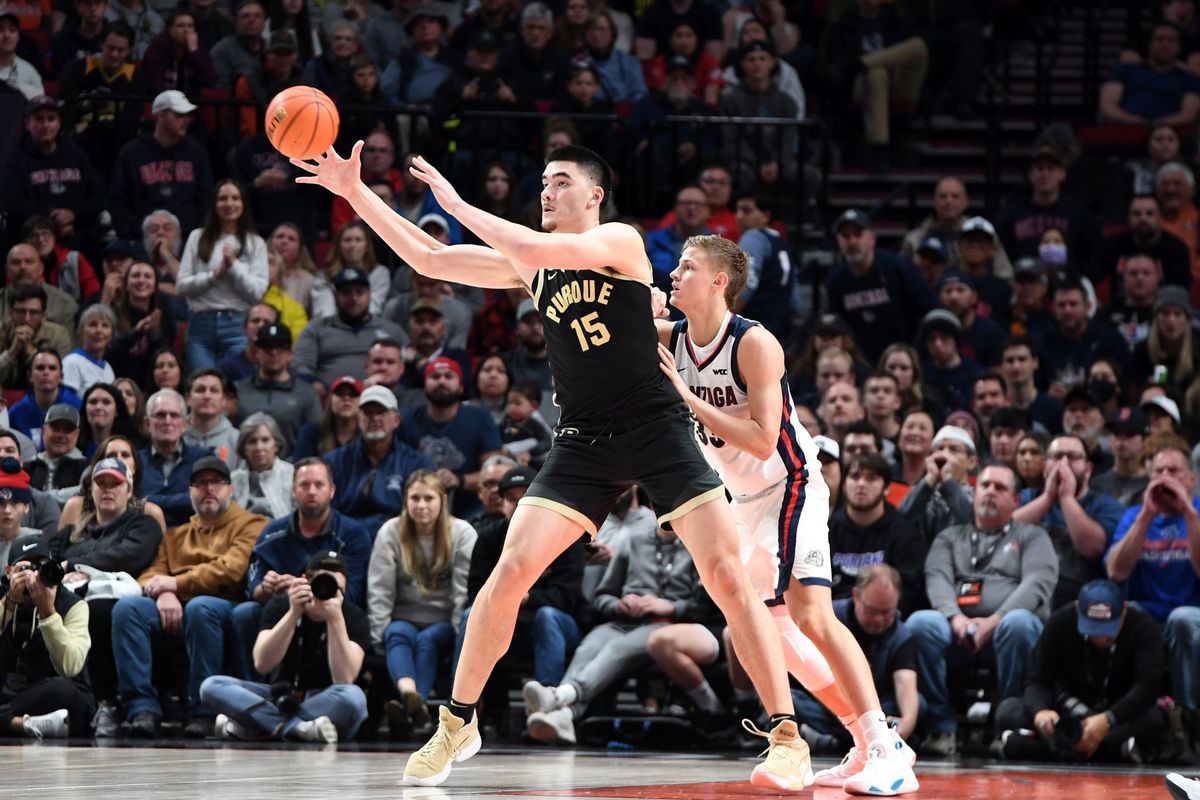 Gonzaga's Ben Gregg, right, leans into Purdue's 7-foot-four-inch Zach Edey to try and deny him freedom of movement but Edey continued to score at will through the second round game between Gonzaga and Purdue Friday, Nov. 25, 2022 at the Moda Center in Portland Oregon to earn a spot in Sunday's championship in the Phil Knight Legacy tournament Sunday. (Jesse Tinsley / The Spokesman-Review)Buy a print of this photo
It took Greg Gumbel, Clark Kellogg, Jay Wright and Seth Davis approximately 30 minutes Sunday afternoon to run through Gonzaga's regular-season schedule … err, reveal the teams competing in the 2023 NCAA Tournament.
At times during the much-anticipated selection show, the CBS crew could've been mistaken for doing the first thing while it unveiled a bracket littered with teams the Bulldogs faced this season – one that coach Mark Few has described as the most challenging in 25 years at the helm of Gonzaga's program.
By the time all four regions were full, the tournament field consisted of 10 teams the Zags played either in an exhibition setting, nonconference play or the West Coast Conference. Gonzaga, which faced WCC rival Saint Mary's three times in February and March, enters March Madness having played 12 games – including exhibition opponent Tennessee – against tournament-bound teams.
"There's not too much that can get you ready for the stretch of games we had in the season," Gonzaga junior Julian Strawther said. "I feel like it only helps us when we're coming down to the tournament."
Added senior forward Drew Timme: "I don't know if I can think of a harder stretch than what we had."
Third-seeded Gonzaga (28-5) opens against 14th-seeded Grand Canyon (24-11) on Friday at Ball Arena in Denver (4:35 p.m. PT). The Bulldogs know as well as anyone the tests in March get substantially harder with every win, but Few's team should be prepared for just about anything that comes its way over the next two to three weeks.
The Zags have a win over the NCAA Tournament's top overall seed, Alabama, outlasting the Crimson Tide 100-90 in an offensive marathon played in front of a pro-Bama crowd at Legacy Arena in Birmingham on Dec. 17.
They've faced the reigning national player of the year, defeating Kentucky and forward Oscar Tshiebwe on Nov. 20 at Spokane Arena, and they've tangled with the 7-foot-4 Purdue center who's all but clinched POY honors this season, losing 84-66 to Zach Edey and the Boilermakers at the Phil Knight Legacy in Portland.
Gonzaga matched up against three high-major teams that recently won conference tournaments. Purdue and Alabama claimed the Big Ten and SEC respectively on Sunday, while Texas was crowned the champion of a loaded Big-12 Conference that's sending seven teams to the Big Dance.
"It has to help. We've seen it all, basically," Few said. "From Zach Edey to just the relentlessness and the pace of Alabama. The incredible physicality and intensity of Texas. So we've seen a lot."
By seed, Gonzaga played two No. 1s (Alabama, Purdue), a No. 2 (Texas) and two No. 3 seeds (Xavier, Baylor). Gonzaga's resume also included three games against No. 5 Saint Mary's and one each against No. 6 Kentucky, No. 7 Michigan State and No. 13 Kent State.
"Playing in the PK85 and things like that where you play Zach Edey one night and you wake up the next day and play Xavier," Strawther said. "That just helps us with quick preps. We've been able to kind of have that tournament mindset to where a team we've seen before, never met before, we've got to prep for on one night."
Gonzaga's nonleague schedule pitted the Bulldogs against some of the top individual talent the sport had to offer in 2022-23.
In the frontcourt, the Zags had to counter the sheer mass and physicality of Edey one week after matching up with the nation's top rebounder, Tshiebwe, who's averaging 16.5 points and an NCAA-leading 13.1 boards.
In December, the Zags were tested by Baylor's backcourt trio, headlined by freshman star and potential lottery pick Keyonte George. Later the same month, Gonzaga had the assignment of containing Alabama wing Brandon Miller, who has a chance to be the first college player selected in the upcoming NBA Draft, after projected top-two picks Victor Wembanyama and Scoot Henderson.
"We've played teams with great bigs like Oscar, then we've played teams with great guards like Baylor and Texas," senior guard Malachi Smith said. "Alabama has a lottery pick. So we've seen it all and I think nothing will throw us off or there's nothing we can see in the tournament that we haven't already seen, which a lot of teams can't say."
Senior guard Rasir Bolton toiled through a demanding Big Ten slate when he was a freshman at Penn State, then did the same in the Big-12 as a sophomore and junior at Iowa State before transferring to Gonzaga last season.
Bolton said the schedules he played in two Power Six conferences are mostly comparable to the one Gonzaga played in 2022-23, acknowledging most of the Bulldogs' toughest games tend to fall earlier on the calendar.
"I think we play ours early during the nonconference season, they kind of play theirs in conference," Bolton said. "But I think we're playing all the same teams. I don't think anyone looks at us like a slouch, we don't look at anybody as that either. I think it's very comparable."
Local journalism is essential.
Give directly to The Spokesman-Review's Northwest Passages community forums series -- which helps to offset the costs of several reporter and editor positions at the newspaper -- by using the easy options below. Gifts processed in this system are not tax deductible, but are predominately used to help meet the local financial requirements needed to receive national matching-grant funds.
Follow along with the Zags
Subscribe to our Gonzaga Basketball newsletter to stay up with the latest news.
---