A&E > Entertainment
Daring left of center comic Jordan Jensen will riff about relationships at the Spokane Comedy Club
March 16, 2023 Updated Thu., March 16, 2023 at 2:26 p.m.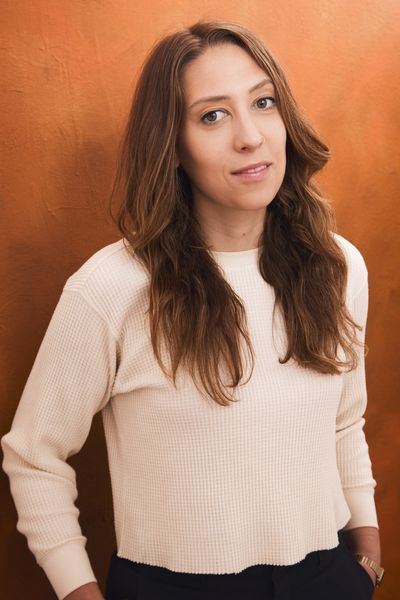 Jordan Jensen is an old-school comic who lets it all hang out. The emerging New York entertainer doesn't care who she offends. The amusing humorist is reminiscent of the late Sam Kinison and the late Mitch Hedberg since Jensen delivers the hottest of takes on relationships and pop culture.
"I don't know any other way to do this," Jensen said while calling from her New York apartment. "I'm just being me onstage."
Jensen, 31, delivers what she knows starting with her unique, hardscrabble childhood. Jensen's father was primarily MIA. Her parents divorced, and her mother moved in with a woman, which wasn't the norm during the '90s
"I didn't realize that my mother's situation was different until Britney Spears and Madonna kissed (during the 2003 MTV Video Music Awards)," Jensen said. "When Britney and Madonna made out, it freaked people out and I didn't understand it. I remember saying to my moms, 'Why is this a big deal? Is it because Britney is married?' I was told that it was a big deal since people expect men and women to be kissing. It was like a mental Rubix cube to me."
Dating for Jensen, who is straight, also is like a mental Rubix cube. "I'm having issues with men, and it's probably my fault and it comes from how I grew up," Jensen said. "My dad was more of (an) uncle and my mother's relationships always ended since my mother isn't the easiest person to get along with."
So Jensen's dysfunctional relationships are typically fodder for her material. Jensen, who is 5-foot-9, hilariously waxes about dating a dude she dubs "the short king," who she met on a dating app.
"I watched him walk out of the same type of truck I have and I thought my depth perception was off due to me being constantly off," Jensen said. "I'm either high or haven't slept enough or have had too much coffee. So when I saw him, I was like, 'Wait, is he that short?' He's 5-4,' which was well, different for me."
Different is a fitting adjective for the quirky humorist. Jensen was arrested at 19 for pilfering a bottle of booze at a Tacoma liquor store .
"I spent the night in jail and made some friends for a night behind bars," Jensen said. "That was awful."
But not as bad as when Jensen followed in the footsteps of her mother and became a carpenter. "That job sucked," Jensen said. "It's extremely difficult work since it's very exact and you're at the mercy of the person putting a house together when you're the carpenter."
Jensen started her own company, Lady Parts Carpentry. "I named it that because everyone, because my name is Jordan, thought I was a man," Jensen said. "I gave it that name and the symbol was grains of wood that looked like a particular part of the female anatomy."
Wood work was Jensen's day job, and she gigged as a comic at night until 2021 when she broke out courtesy of her jarring and funny material, which comes from an honest and unique place.
"Humor has always been my go to," Jensen said. "That's the way it's been for me long before I became a comic. Humor has always been a defense mechanism for me. When I go to funerals I'll see someone like (fellow comic) Jim Norton and we'll make jokes. It's not to be disrespectful, it's just what we do. Making jokes is how I deal with emotion. Maybe that's weird for some people but it's normal for me."
Jensen will riff about relationships when she performs Friday and Saturday at the Spokane Comedy Club. "I'll talk about this dumb dude I dated who is an angel but we were so bad for each other, "Jensen said. "I'm a romantic who always looks for a guy that's terrible for me. I typically go for guys with one foot out the door. I love being on a relationship roller coaster. I'm attracted to guys who are bad."
That even applies to Jensen's comedy hero when she was young: Bill Cosby.
"I was obsessed with Bill Cosby," Jensen said. "I loved the stories he told but who knew what was going on with him when he wasn't onstage?"
Jensen is searching for relationship answers in therapy and in front of a crowd.
"I would love to have a great relationship and I'm always trying to be funny onstage," Jensen said. "That's what my life is about."
Local journalism is essential.
Give directly to The Spokesman-Review's Northwest Passages community forums series -- which helps to offset the costs of several reporter and editor positions at the newspaper -- by using the easy options below. Gifts processed in this system are not tax deductible, but are predominately used to help meet the local financial requirements needed to receive national matching-grant funds.
Subscribe to the Spokane7 email newsletter
Get the day's top entertainment headlines delivered to your inbox every morning.
---