Sports > High school sports
2023 Spring Sports Preview: Jessica Waters hopes to power Mt. Spokane fastpitch softball team to state
Sun., March 19, 2023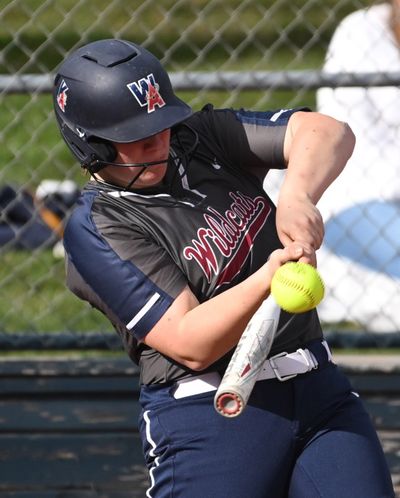 Jessica Waters, the reigning Greater Spokane League 4A/3A MVP and Mt. Spokane's career home run leader with a season to play, admits that she wasn't a natural at softball.
"I when I first started, I was really bad – I'm the first one to admit, I was bad. I was stuck in outfield and I just, I couldn't catch the ball for the life of me."
A few short years later she found her stroke.
"Around eighth grade year, I started to learn how to hit," she said. "I think that's when it started to change where I was like, 'Oh, maybe I'm not as bad as I think I am.' "
GSL pitchers wish she had found another sport.
Entering her senior fastpitch season, Waters is the Wildcats' career leader in batting average (.661), on-base percentage (.750), slugging (1.450) and home runs with 22. She hit 16 last season – the team's single-season record by six over her teammate, and best friend, Willow Almquist.
It bears pointing out that Waters has only played one full season in fastpitch, losing a full and partial season to the pandemic.
Mt. Spokane coach Carl Adams laments the relatively short amount of time Waters has played for the Wildcats.
"Going back to her freshman year in spring 2020, we had two weeks, and we were really excited about that team – and her as a freshman – and then we get shut down," he said. "And then obviously the year after that was shortened with the COVID seasons. So, it's been fun having her, but it seems like it's gone way too fast."
Waters wouldn't put a number on how many home runs she might hit this season but did smile when talking about her calling card.
"I would say that's probably my biggest skill, is my hitting," she said. "I take a lot of pride in how hard I can hit it and how intimidated pitchers are. I take a lot of pride in that."
Like MLB sluggers of recent past, when Waters takes batting practice, others take notice.
Adams recounted a slowpitch game in the fall that was cut short due to a 10-run rule, so the team took extra BP after.
"We actually had fans stick around to watch batting practice," he said. "They just stuck around and they kind of realize what you're getting the chance to watch and it's certainly fun.
"She just has natural strength. Great hand-eye coordination on top of that. Just a natural gift."
Her teammates, at least the younger ones, stop to watch as well.
"The freshmen – I see them watching," Waters said. "But I don't think anybody else does. I do take notice of the freshmen."
Is that a cool feeling?
"I think it's a big compliment to me," she said. "I get a kick out of it. I kinda love it."
For all her prodigious power, Waters is as laid-back an athlete as you'd ever meet. She lists embroidery, crocheting, reading and drinking tea as hobbies and considers herself a homebody. And she has a small circle of friends, starting with Almquist.
"She's been my best friend for a long time," Waters said. "She and I, we're like two peas in a pod."
But she likes to mash softballs.
"I'll surprise myself most of the time," she said. "I'm like, 'Wow, I can actually hit it that far.' You know, when I hit them like it like, 'Whoa, that one is gone.' "
"We have a second fence (beyond the outfield fence) and behind it, people park there," Adams said. "If I'm coming to a game here, I'm not parking anywhere near the field because there's a good chance she might reach it out there."
Adams thinks that Waters' demeanor and even keel are as big of a part of her leadership as her power.
"She's just relaxed. She keeps the people around her relaxed," Adams said. "She will ask questions when she needs to ask questions and she just tries to learn as we go and like any good player, wants to get better every day."
"I am fortunate enough to have four other seniors (on the team) and you know, they all play a role in (leadership) too," Waters said. "I think, you know, my role right now is just to keep things steady and to keep things just going and not being super high or super low. Just keeping things moving."
"I don't think there's a situation she'll face where she'll get flustered," Adams said. "She has a really good approach, which filters down to the rest of the team and the rest of the group."
Waters has become an excellent fielder at first base, but due to graduation of last year's shortstop, all-league first-teamer Payton Dressler, she may be asked to handle that responsibility as well.
Whatever the team needs.
"We'll see what happens," she said. "I might be playing short this year, I might be playing first. We're not sure right now.
"It'll definitely be a challenge, but it's nothing I can't handle. I played there for slowpitch and I did OK for slowpitch so I should be OK there."
"She's been really good around the middle for us," Adams said. "Good hands, good game IQ, moves well. That's kind of what our team has needed from her up to this point. She's done a nice job with that."
Waters hopes to continue her softball career at the next level. She has a few offers, but also wants to study biology, so she's being careful to weigh the balance of athletics and education.
She's also prepared if those opportunities don't match her expectations, she could walk away from the sport she loves.
"I want to play, I'm just not sure where yet," she said. "I've made a deal with myself that if I don't get an (appropriate) offer I'll try and walk on somewhere. But if not, I'm the type of person who's like 'Well, it wasn't meant to be.'
"If it doesn't happen, though, I'll be disappointed for sure."
"To her credit, she's probably trying to be a little selective in terms of her academics," Adams said. "I respect her for that. And certainly, wherever she goes to play, what a what a treat that's going to be for that program to have her walk in and do what she can do."
But there's still one thing that's eluded her in her fastpitch career – a trip to state. The Wildcats have been a couple of times in slowpitch but not in the spring since 2018.
"Didn't go freshman year because COVID. Sophomore year also got cut because of COVID," she said. "Last year, we unfortunately lost our last game to go to state. I would really love to have that experience, no matter how good we do at state, I want to have the experience of playing at state."
"That's always the goal, every year really," Adams said. "We just hope to make that happen for her this year, and the other seniors as well."
Local journalism is essential.
Give directly to The Spokesman-Review's Northwest Passages community forums series -- which helps to offset the costs of several reporter and editor positions at the newspaper -- by using the easy options below. Gifts processed in this system are not tax deductible, but are predominately used to help meet the local financial requirements needed to receive national matching-grant funds.
Subscribe to the sports newsletter
Get the day's top sports headlines and breaking news delivered to your inbox by subscribing here.
---