Sports > NCAA basketball
TV take: UConn puts on 'complete demolition' of Gonzaga in Elite Eight
March 25, 2023 Updated Sat., March 25, 2023 at 9:35 p.m.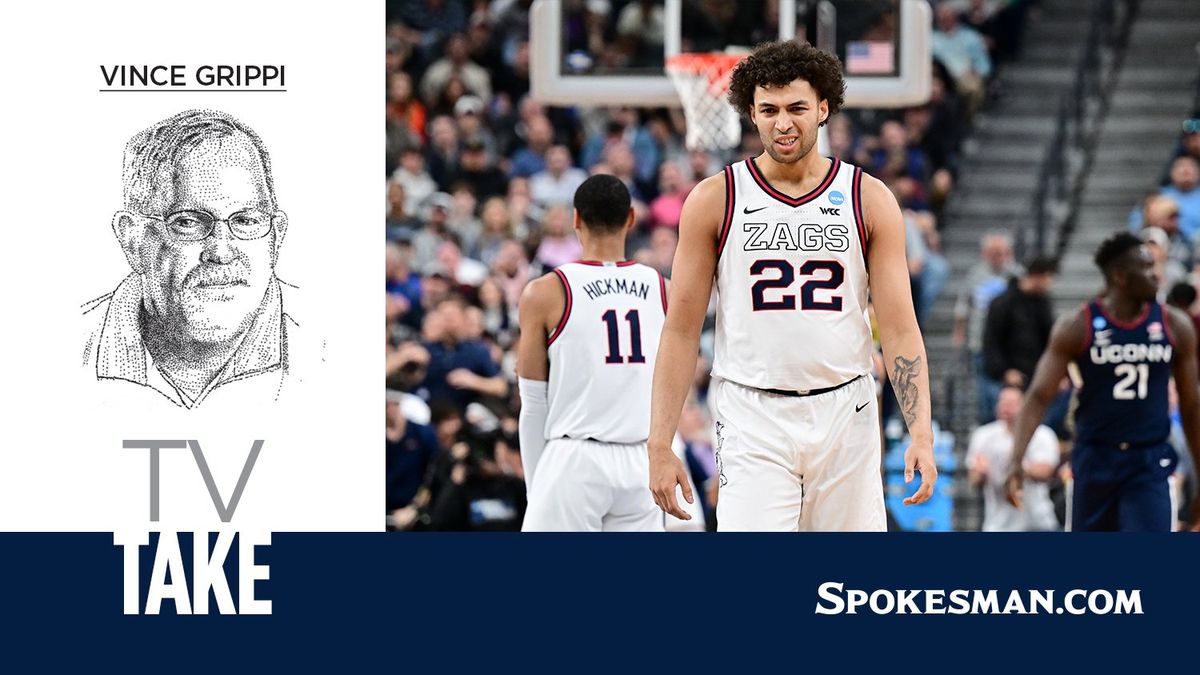 Gonzaga's season ended Saturday night as it was run out of Las Vegas' T-Mobile Arena 82-54 by red-hot Connecticut in an Elite Eight game that was notable in many ways.
There were the Zags' defensive issues, with the post early and everywhere in the second half. There was their inability to score at anything near their usual level, mainly due to guard play. There was a 15-second stretch that kick-started a Huskies rout, one that may have happened anyway.
"They've shot the ball great, they've moved the ball great, but their intensity and energy has overwhelmed Gonzaga," Stan Van Gundy said coming out of the under 8-minute timeout.
"And I think the reason they have shot the ball so well has a lot to do with that intensity and energy," the second analyst, Dan Bonner, added. "It is just so smooth and impressive looking."
Those were typical on-point comments from the CBS crew of Kevin Harlan, Bonner and Van Gundy.
What they saw …
• Post Adamo Sanogo was the focus of Gonzaga's defense, but the plan Mark Few and his staff came up with didn't work. In fact, it was detrimental. They abandoned it at halftime. Before, actually. But by then the damage was done.
The idea was to have Anton Watson or Ben Gregg defend the 6-foot-9 junior, and have Drew Timme play a one-man zone, sagging off 6-6 forward Andre Jackson and then helping whenever Sanogo caught the ball.
UConn, which will head to Houston as one of the Final Four favorites, attacked it by making Sanogo a point-post.
"(Jackson) knows Timme's not playing him, so when Timme leaves to double-team, he just cuts straight to the basket," Bonner said after Jackson had scored his sixth point on a Sanago-assisted layup. The post ended up with six assists, a career-best five in the first half.
• Did the down-to-the-wire UCLA game take too much out of the Zags? It sure seemed that way in the first few minutes. And it showed on the offensive end.
"Two airballs for Gonzaga to begin things," Harlan said after Rasir Bolton's too-short 23-footer with less than 4 minutes gone. It foreshadowed what was to come, a 2-for-20 night from beyond the arc for Gonzaga, which finished the year 31-6.
The Bulldogs showed such little energy, Few inserted into the lineup Malachi Smith and Hunter Sallis, Thursday's key backcourt players. It helped blunt Connecticut's hot start – the Huskies led 9-2 – and got GU back in the game for a while.
The problems with the starters, however, continued, especially from long range. Nolan Hickman missed every shot he took, including four from beyond the arc. Bolton hit 2 of 7 shots. Julian Strawther, Thursday's hero, was 4 of 15, including missing all six of his 3-point attempts.
The Zags shot 24% in the second half – they were at 14% with 5 minutes left – and 33% overall.
What we saw …
• As bad the Gonzaga guards were, they weren't the worst aspect of the game. Referee John Gaffney was also overmatched, and he showed why early in the second half.
Though Timme started the half with his third foul, a charge, only 26 seconds in, the Zags had finally started running. They forced a couple of poor shots. The lead was 10, but momentum seemed to be changing. Then Gaffney made two consecutive awful calls that swung it squarely into Connecticut's camp.
The first was on a rebound with 17:57 left. Jackson grabbed the errant shot and threw it off Timme. But it hit Jackson's left elbow as he was out of bounds and Gaffney, behind the play, incorrectly gave the ball to UConn.
But the ensuing possession was worse. The Huskies, who have run through this tournament, missed again. Timme, who finished with 12 points and 10 rebounds before checking out for his Gonzaga career with 1:53 left, blocked out. Jackson grabbed his arm, Timme grabbed back and made contact. It was as typical a blockout as you will see, except Jackson threw his head back with Timme's push and Gaffney, still underneath, reacted. He waited almost 3 seconds before blowing his whistle and indicated, with his hand and face, Timme had contacted Jackson's head. He hadn't, as replays showed.
"He didn't throw an elbow," Van Gundy correctly said. "They got tangled up, and it might be a foul on him, but they got tangled up and he pushed him."
The review can't take away the called foul, though.
"It's a common foul, but the leading scorer in the NCAA Tournament, at over 28 points a game, has four fouls with 17:39 to go and his team already down 10," Van Gundy said.
"It's a common foul according to the rules, but it is an extraordinary foul for Gonzaga," Bonner said, mentioning quickly that Timme would have to sit awhile. "How do you come back?"
The answer? You don't. And your season ends.
• It may not have made any difference, though much of the edge in the most-dominant Elite Eight win since 1992 was built afterward.
UConn put together a 33-11 run from there to decide the game, a stretch that seemed to include baskets on almost every shot, a dominating defense and more energy than any team in the tourney.
"This was a complete demolition," Harlan said as the game wound down.
He was right.
Local journalism is essential.
Give directly to The Spokesman-Review's Northwest Passages community forums series -- which helps to offset the costs of several reporter and editor positions at the newspaper -- by using the easy options below. Gifts processed in this system are not tax deductible, but are predominately used to help meet the local financial requirements needed to receive national matching-grant funds.
Subscribe to the sports newsletter
Get the day's top sports headlines and breaking news delivered to your inbox by subscribing here.
---