Sports > Gonzaga basketball
Gonzaga players rate UConn at or near the top of season's best opponents
March 27, 2023 Updated Mon., March 27, 2023 at 7:44 p.m.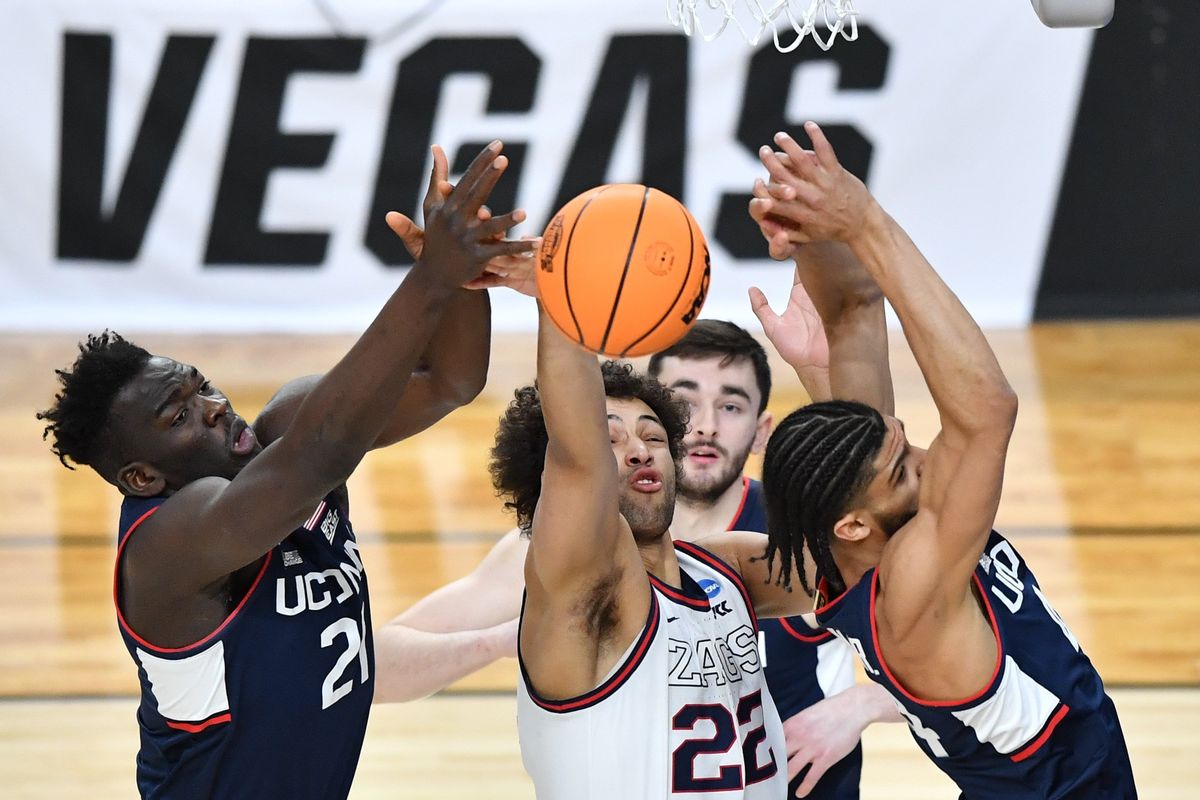 Gonzaga forward Anton Watson battles for a rebound against Connecticut's Adama Sanogo (21), forward Alex Karaban and Andre Jackson Jr. (right) in the Zags' 82-54 loss in the Elite Eight.  (By Tyler Tjomsland/The Spokesman-Review)Buy a print of this photo
Gonzaga knows a quality opponent when it sees one.
According to the NET rankings through March 12, No. 6 Gonzaga faced No. 2 Alabama, No. 3 UCLA, No. 4 Tennessee (exhibition game), No. 5 Purdue, No. 7 Texas, No. 8 UConn, No. 11 Saint Mary's (three times) and No. 15 Baylor during its just-ended season.
In KenPom's ratings, updated through Sunday's NCAA Tournament games, UConn is No. 1, followed by Houston. The Huskies are No. 3 in adjusted offensive efficiency and No. 11 defensively.
Several Zags had their own opinions when asked where UConn, which routed Gonzaga 82-54 Saturday in the Elite Eight, stacked up with foes they encountered this season. It was admittedly a difficult assessment for the players, who were still processing an abrupt ending to their season and the program's most lopsided loss since falling to Duke 76-41 in Dec. 2009 in New York City.
"I think so," said Gonzaga guard Malachi Smith, when asked if UConn was at the top of a list that included Texas, Purdue and Alabama. "I mean them or Texas. When you get this far (in March) with the final eight teams, it's going to be a war. It just wasn't our day."
The Zags ran into at least four of the best teams in college basketball when those opponents were playing their best basketball. Texas pummeled Gonzaga 93-74 in mid November. The Longhorns jumped into the top five of the Associated Press poll the following week and remained in the top 10 the rest of the season.
The Longhorns led most of the way before falling to Miami in the Elite Eight on Sunday.
Purdue crushed the Zags 84-66 at the PK85 on Nov. 25 in Portland. The Boilermakers, who won the PK Legacy bracket by clobbering No. 8 Duke 75-56 two days later, climbed 19 spots to No. 5 in the ensuing poll.
Purdue eventually reached No. 1 before suffering five Big Ten losses. The No. 1-seeded Boilermakers were stunned in the first round by No. 16 Fairleigh Dickinson.
The Zags handled Alabama 100-90 in mid December. The Crimson Tide had won four straight, including wins over top-ranked North Carolina and No. 1 Houston about two weeks apart. Alabama was the No. 1 overall seed but lost to San Diego State in the Sweet 16.
UConn captured the PK Invitational bracket with easy wins over Oregon, Alabama and Iowa State. The Huskies climbed to No. 2 in the poll before dropping six of eight in the middle of the Big East season. They've regained their early season form in March Madness.
"I'd definitely say they're up there for sure," Gonzaga guard Hunter Sallis said. "They run up and down on the break, they're really fast and they play really fast. They run their offense fast."
"They've got a lot of guys that have bought into their system," Zags wing Julian Strawther said. "When you have a group of guys that run their plays that hard and play for each other, it's always going to be a tough one."
The Huskies, who face fifth-seeded Miami on Saturday, have been the most dominant team in the NCAA Tournament with a 22.5-point average margin of victory. Their closest game was a 70-55 win over co-West Coast Conference regular-season champion Saint Mary's.
"Obviously their guards are really talented. I'll tell you what's really hard, that short prep for them because there's so much they do," said coach Mark Few, referring to the short window between Thursday's win over UCLA and Saturday's tip vs. UConn. "They have ball-screen actions you have to go over. Are you going to double the post (Adama Sanogo)? He's very effective at dribbling.
"I thought we did a really nice job on Sanogo, actually. Anton (Watson) deserves a ton of credit for that, so does Ben Gregg. These are two basically 4s that we asked to guard him inside and then they surround (Sanogo) with shooters. They're very different. (Andre) Jackson is a different player. (Alex) Karaban is a great catch-and-shoot stretch 4. It's a lot."
The Huskies have few, if any weaknesses, but they were 0-4 in games decided by five points or less, including their last four losses by 1, 3, 3 and 2, while Gonzaga was 7-2. The Huskies were 7-6 in games decided by 10 points or less. Their closest victory was by six points.
"They're just all-around good," Watson said. "They have depth, they've got shooters, big dudes who are good in the post. They're a solid team. They definitely showed that."
UConn is favored by 5.5 points against Miami, according to BetOnline. The Huskies are the title favorites at 4/5 with San Diego State next at 7/2. 
"We played Texas and they were really good," Gonzaga forward Drew Timme said. "UConn is a really good team, too. They're deep, 10 starters on their team, they have different dynamics with different lineups. They definitely have what it takes to win it all."
Local journalism is essential.
Give directly to The Spokesman-Review's Northwest Passages community forums series -- which helps to offset the costs of several reporter and editor positions at the newspaper -- by using the easy options below. Gifts processed in this system are not tax deductible, but are predominately used to help meet the local financial requirements needed to receive national matching-grant funds.
Follow along with the Zags
Subscribe to our Gonzaga Basketball newsletter to stay up with the latest news.
---