A&E > Entertainment
Stream on Demand: 'Tetris' brings Cold War drama to the arcade
Thu., March 30, 2023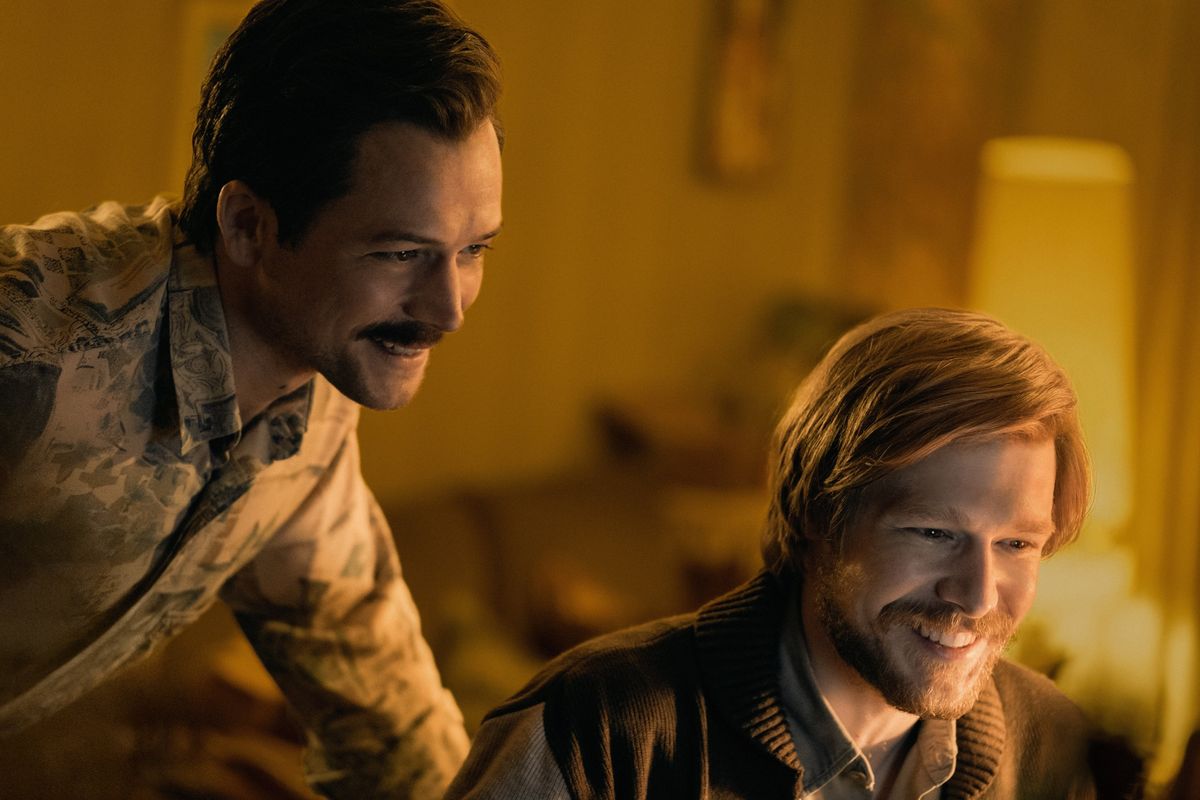 Taron Egerton and Nikita Efremov star in "Tetris," now streaming on Apple TV+. (Angus Pigott/Apple TV+)
What's new for home viewing on Video on Demand and Netflix, Hulu, Disney+, HBO Max, Amazon Prime, and other streaming services.
Top streams for the week
Not your usual video game movie, "Tetris" (2023, R) tells the story of how the creation of Russian inventor Alexey Pajitnov (Nikita Efremov) was transformed into one of the most popular video games in the world by Japan-based entrepreneur Henk Rogers (Taron Egerton). It's a success story by way of a Cold War thriller as Rogers spends his entire savings to travel to 1980s Soviet Union to negotiate with the government and navigate the corrupt Politburo. Streams after a limited theatrical release. (Apple TV+)
In M. Night Shyamalan's "Knock at the Cabin" (2023, R), four strangers (led by a tormented, soft-spoken Dave Bautista) are driven by shared visions to take a young girl and her parents (Jonathan Groff and Ben Aldridge) hostage to prevent a global apocalypse. It's less a horror film than a high-concept thriller with a mystery at its center. (Peacock)
Tom Cruise climbs back into the cockpit to lead the next generation of Navy fighter pilots in "Top Gun: Maverick" (2022, PG-13). Miles Teller and Jennifer Connelly costar and director Joseph Kosinski puts the audience in the pilot seat for the action sequences. (New on Prime Video, also on Paramount+ and MGM+)
Kiefer Sutherland stars as a corporate espionage operative with a secret life as a Robin Hood who targets the ultra-wealthy in "Rabbit Hole: Season 1" (TV-MA). When he's accused of murder, he goes on the run and off the grid to uncover the conspiracy behind everything. Two episodes available, new episodes on Sundays. (Paramount+)
The fourth and final season of the Emmy-winning "Succession" (TV-MA) pits the ruthless Roy family patriarch (Brian Cox) against his children, led by heir apparent Kendall (Jeremy Strong), in a power struggle for the family media empire. New episodes on Sundays. (HBO Max)
A mysterious machine that promises to reveal a person's true potential appears in a small town convenience story in "The Big Door Prize: Season 1" (TV-MA), a comedy with a metaphysical dimension. Chris O'Dowd stars. New episodes on Wednesdays. (Apple TV+)
Netflix
Adam Sandler and Jennifer Aniston return for the mystery comedy "Murder Mystery 2" (2023, PG-13), this time investigating a kidnapping at a wedding.
Rob Lowe and John Owen Lowe, his son, co-create and star in the sitcom "Unstable: Season 1" (TV-14) as an eccentric father and introverted son who team up to save the family business.
Hulu
The British romantic comedy "Rye Lane" (2023, R) stars David Jonsson and Vivian Oparah as twenty-somethings who connect over a long day while recovering from bad breakups.
Fionn Whitehead and Shalom Brune-Franklin star in the new miniseries "Great Expectations" (not rated), costarring Olivia Colman. (Hulu)
Amazon Prime Video
The power balance in the world undergoes a seismic shift when adolescent girls develop the power to electrocute people at will in "The Power: Season 1" (2023, TV-MA).
"Monumental: Ellie Goulding at Kew Gardens" (2023, TV-Y) features music from her fifth album along with an interview with the artist. Free with ads. (Amazon Freevee)
Sean Axmaker is a Seattle film critic and writer. His reviews of streaming movies and TV can be found at https://streamondemandathome.com.
Local journalism is essential.
Give directly to The Spokesman-Review's Northwest Passages community forums series -- which helps to offset the costs of several reporter and editor positions at the newspaper -- by using the easy options below. Gifts processed in this system are not tax deductible, but are predominately used to help meet the local financial requirements needed to receive national matching-grant funds.
Subscribe to the Spokane7 email newsletter
Get the day's top entertainment headlines delivered to your inbox every morning.
---