State 4A/3A/2A track and field: University thrower Addy MacArthur wins discus championship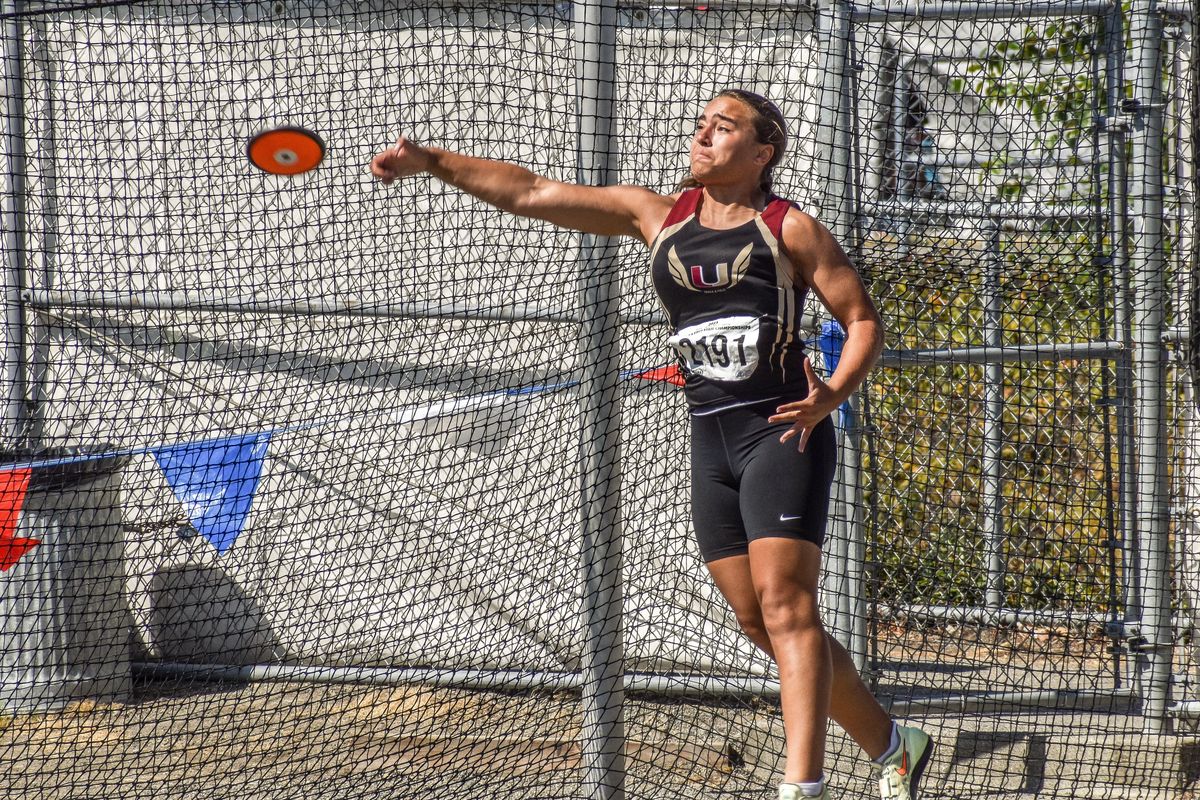 TACOMA – All Addy MacArthur could do was smile on the podium stand.
The University sophomore reached the pinnacle after years of battling back from a pair of anterior cruciate ligament tears and was a state champion.
MacArthur threw a personal-best 134 feet, 3 inches to win the State 3A girls discus to highlight Friday's competition for Greater Spokane League athletes at the track and field championships at Mount Tahoma High School in Tacoma.
"It was amazing today; it felt good," MacArthur said. "I honestly didn't expect to PR. I expected to hopefully hit 130, and I did."
A day after placing second in the shot put, MacArthur opened with a throw of 129-5 to put her out front by almost 11 feet. She stayed consistent on her next two throws, hitting 129-3 and 129-6 to head into finals with a comfortable lead.
Hermiston's Avonlea Edwards pulled within 2 feet of MacArthur after throwing 127-1 on her second attempt in finals .
MacArthur stepped into the ring and launched her farthest throw to clinch the win.
"I worked really hard the two days I got before we left for state," MacArthur said. "It really hasn't hit me yet."
Cheney's Caitlin Shaffer added two state titles in the wheelchair competition, winning the girls javelin with a meet-record 12-0 and the 100 meters in 27.21 seconds.
Mead's Kadmiel Lopez, 13th place last year in 3A boys pole vault, cleared 14-6 to place second.
Shadle Park's Kyleigh Archer placed second in the 2A girls triple jump at 35-7½. She placed fifth in the long jump Thursday.
Mt. Spokane's Karissa Lindner jumped 17-4 to finish second in the 3A girls long jump. Mead's Nora Cullen placed sixth (16-11½). Lindner also ran in a 100 preliminary, finishing third in 12.21 to advance to Saturday's final.
Rogers' Jay Len Sparks ran 14.90 to finish third in the 2A boys 110 hurdles. Squalicum's Andre Korbmacher set a meet record, winning in 13.74.
East Valley's Makenzey Gillespie placed third in the 2A girls 100 hurdles, running 16.12. Gillespie will race the 300 hurdle final Saturday after finishing fifth in the preliminary round in 48.64.
North Central's Cameron Dewey placed fourth in the 3A boys 110 hurdles, running 14.84. Dewey also advanced to Saturday's 3A 300 hurdles final, finishing fifth in 39.42.
West Valley's Parker Munns and Rogers' Aaron Kinsey finished fourth and eighth, respectively, in the 2A boys high jump. Munns cleared 6-2 and Kinsey 5-10.
Mt. Spokane's Jarom Liljenquist threw 155-0 in the 3A boys discus to place third.
Central Valley's Ella Lamoreaux cleared a personal-best 11-0 to place seventh in the 4A girls pole vault. CV's Canyon Smith (163-10) and George Ditto (155-5) finished sixth and eighth, respectively, in 4A boys javelin .
East Valley's Joshua Hansen ran 13.23 to finish second in the boys ambulatory 100. Central Valley's Brandon Thomas finished third in 13.25 and U-Hi's Dylan Schauble was seventh in 14.03.
North Central's Alaina Gott placed second in the girls ambulatory 100 in 15.80.
In preliminaries, Rogers' Ellabelle Taylor won her 2A girls 100 heat in 12.36 to move to Saturday's final as the top seed. She also ran 25.89 in her 200 prelim and advanced. West Valley's Lauren Matthew finished seventh in the 100, running 12.60, and sixth in the 200, running 26.16, to move to finals.
Mt. Spokane's Ben Sonneland cruised into the 3A boys 800 final, running 1:57.14 to finish third. Central Valley's Colin Wright finished sixth in the 4A field in 1:57.08 and advanced.
Mead's Charlotte Cullen ran 2:15.41 in the 3A girls 800 to move to finals. University's Kyla Roberts took sixth in prelims in 2:15.85 to advance.
Pullman's Anna Fitzgerald took second in the 2A girls 800 prelims, running 2:21.39 to move to finals. West Valley's Hadassah Duff ran 2:23.31 to make the finals.
Shadle Park's Liam Newell ran 41.09 in the 2A boys 300 hurdles prelims, earning a spot into finals.
Mt. Spokane's Bradley Runge advanced to the 3A boys 300 hurdle final, finishing in 39.69.
Pullman's Jennabee Harris ran 49.25 in the 2A girls 300 hurdles prelims to advance to finals.
Gonzaga Prep's Rhyan Madden ran 47.11 in the 4A girls 300 hurdles prelims and 58.10 in the 400 to move into both finals.
West Valley's Jayden Barta ran the second-fastest time in the 2A boys 400 prelims (49.59) to move to the finals.
Mt. Spokane's Boden Gardner (48.76) and Jackson Hale (49.84) clinched spots in the 3A boys 400 final.
Mead's Nora Cullen and Rogers' Emily Peabody moved to girls 400 finals, with Cullen running 59.46 in 3A and Peabody 60.52 in 2A.
Clarkston's Christian Howell moves on in 2A boys 100 and 200 finals, running 10.95 in the 100 and 22.70 in the 200. Pullman's Timothy Chapman qualified in the 200 final in 22.86.
Rogers' Kinsey advanced to the 2A boys 100 final, running 10.90 .
Mead's Dominick Corley (21.88) and Cheney Braxton Hinton (22.30) advanced to the 3A boys 200 final.
Both of Rogers' boys and girls 4x100 teams moved onto the 2A finals, with the boys running 42.94 and the girls 49.50 for the top seed. Mt. Spokane's boys (42.32) and girls (49.75) also advanced in the 3A 4x100.
Mead's boys team made the finals in the 3A 4x100.
---