New Spokane Tribe Casino music venue bringing in a ton of new amenities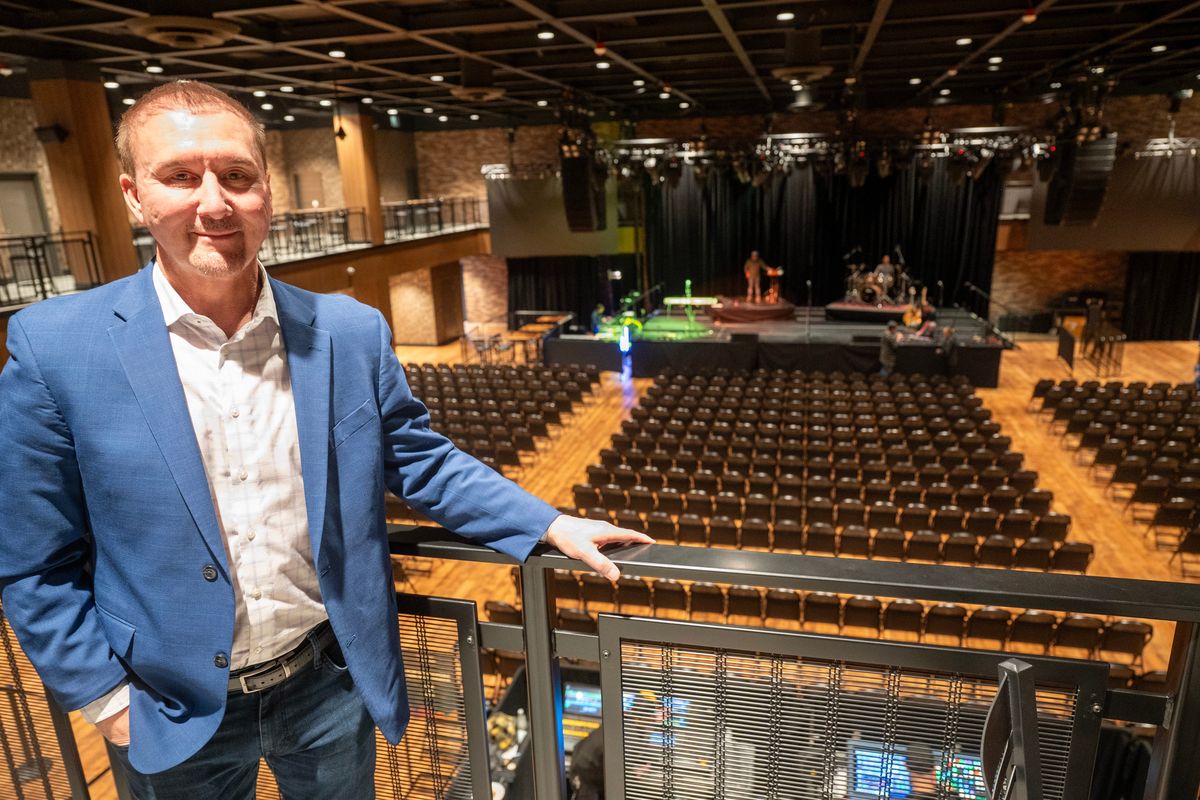 The Spokane area is teeming with impressive, midsized concert halls – and it just got another.
The Spokane Tribe Casino in Airway Heights has began booking shows at Spokane Live, its new music hall.
The space features a flat, open floor plan encircled by a second-story mezzanine, with seating areas for VIP members and a bar on both levels.
The venue is only one of the initiatives for the 108-acre property.
"There's a whole master plan," said Gary Thayer, entertainment director. "This is just the beginning."
With a capacity of 1,800 for seated acts and 2,000 for general admission standing shows, Spokane Live is similar in size to other venues in the area.
But according to Larry Buck, production director, there is always space for more.
"Every room is set up for a different kind of show," he said. "I mean, I wouldn't want to see a hip-hop show at the Bing (Crosby Theater) or a Broadway act at (the Knitting Factory) – every one is unique."
As for Spokane Live, Buck said its specialty is a first-class sound worthy of spectacular rock shows.
"And by rock, I mean hip-hop, country, Americana or anything that people want to get up and move," he said.
But the space is designed to be versatile, hosting every type of event from weekly bingo to stand-up comedians and even mixed martial arts competitions. Comedian David Spade held a show at Spokane Live in late October.
Buck put together much of the audio infrastructure for Spokane Live. Prior to this work, he honed his skills during his time as the production manager at the Knitting Factory.
"It was such a fantastic place to work, so I thought I would retire there," he said. "But how could I resist a project like this?"
In January , while he was performing his typical duties at a concert, Buck met Gary Thayer.
Thayer told him about the Spokane Live project and eventually invited him to tour the then-empty space.
During the walk-through, Buck began making observations on how to improve it logistically, he said.
A month later, he was hired along with his crew, with whom he had worked for years.
"He was very open to my ideas and gave my crew and I the freedom to make this the best room it can be," Buck said. "It's been a lot of fun."
With the help of Buck, Spokane Live will give audiences advanced sound and visual displays on two 16- by-9-foot LED video walls above the stage.
The room is fully treated with acoustic dampening curtains, foam and other materials to ensure it's set for its state-of-the-art sound system.
Though audiences might not care about what kind of speakers their favorite band's music is coming through, the top-of-live JBL VTX A-Series is an important aspect to the space, Buck said.
"Bands are demanding the latest and greatest systems," he said. "Not every venue has that – but we do."
Perhaps it is no surprise, then, notable acts have already been booked.
Country singer Jerrod Niemann is among them. His album "Judge Jerrod & the Hung Jury" debuted at the top spot on the Billboard Top Country Sales Chart in 2010. The album was regarded as one of the New York Times' top 10 albums of the year.
On Saturday, hip-hop singer Nelly and R&B singer Ashanti are set to perform.
Nelly has won three Grammy Awards and nine Billboard Music Awards. Ashanti has won a Grammy Award for Best Contemporary R&B Album and a Billboard Music Award for Top Female Artist.
Next month, rock-band Everclear also will appear.
Stand-up comedian Nikki Glaser will stop by the new venue on her nationwide tour. She has performed on The Tonight Show with Jay Leno and Conan. Her stand-up specials have premiered on Comedy Central and Netflix.
According to Thayer, Spokane Tribe Casino officials have largely self-promoted but are working to secure a contract with a major promoting company to land bigger shows.
Though the music venue is new, Spokane Tribe casino officials are now thinking about other projects.
An adjacent hotel and restaurant and dining hall are under construction and will open within the next 60 days, according to Thayer.
Next up is a project to develop the outdoor space on the east side of the building. Spokane Live has garage doors on both levels of its east wall.
During warmer times of the year, the doors can open to patio space on each floor. When opened, capacity is expanded another 1,000 concertgoers. Speakers send live sound from the stage to the outdoor area so no one will miss a note or punch line.
The patios are adjacent to a large parking lot that Thayer said will host music festivals as large as 6,500 to 8,500 people.
"We are planning on an outdoor stage at the far end of the parking lot and also running the inside stage," he said. "If I could have it my way, we would get that kicked off this summer."
Casino officials are working with multiple event companies to organize the festival, Thayer said. As of now, there are no other available details.
Additional plans for the property include an RV park and parking garage.
Thayer said all projects are designed with the casino in mind.
"We're in the casino and entertainment business – we're not in a concert business," he said. "It's not about fitting as many people in shows as we can to squeeze every dollar out of a seat.
"We do this to bring people to the property as an amenity and just having a good time."
---