Late goal spoils solid effort; Spokane Chiefs fall to Prince Albert 3-2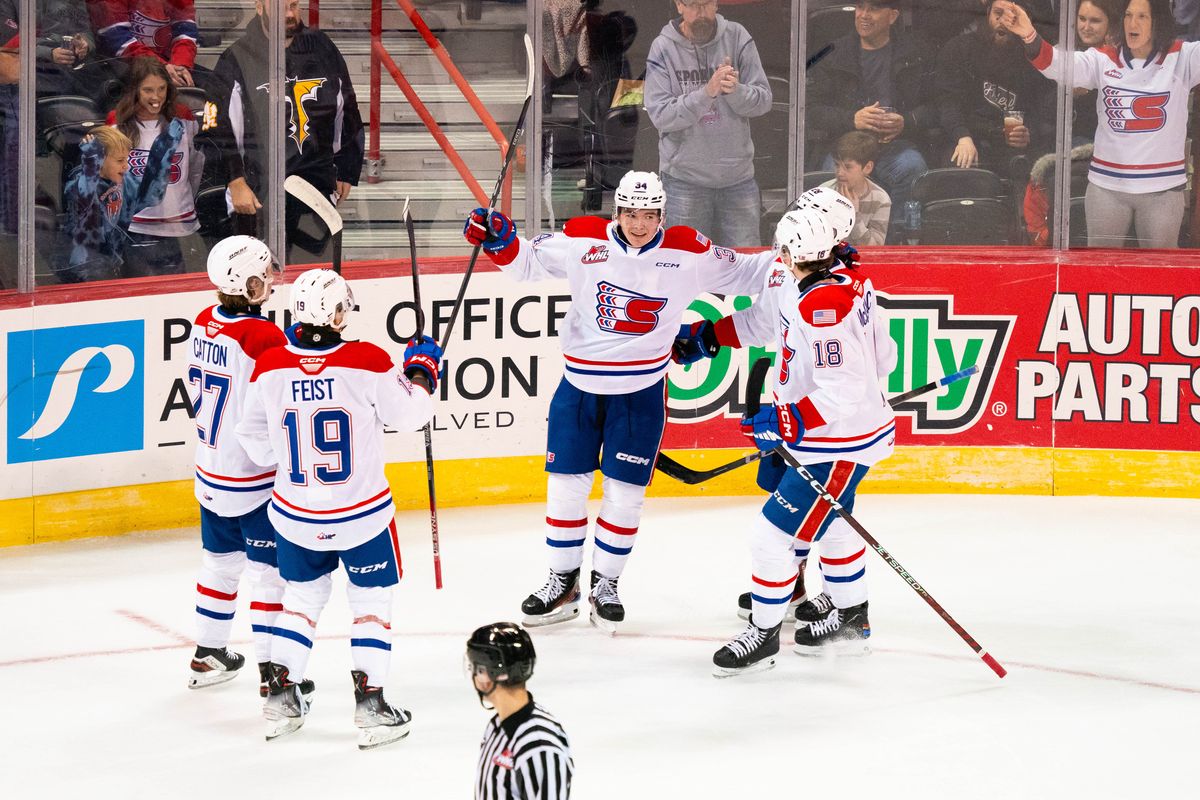 Sometimes it only takes one breakdown to change the direction of a game. On Friday at the Arena, that breakdown happened to the home team at the end of an otherwise strong effort that easily could have gone the other way.
Harrison Lodewyk scored his second goal of the game with 5 minutes, 41 seconds to go and the Prince Albert Raiders edged the Spokane Chiefs 3-2 in a Western Hockey League game.
"Two defensive breakdowns, by older players that know better, and that's the fine line between winning and losing at any level in any sport," Chiefs coach Ryan Smith said. "(Prince Albert) capitalized – they're a good team. They stuck with their plan, we stuck with ours. But yeah, it was a good hockey game."Sloan Stanick won a puck from two defenders behind the Spokane net and fed Lodewyk, who was alone out front. Lodewyk flipped it past a defenseless Dawson Cowan stick-side to take a one-goal lead.
The Chiefs pulled Cowan with 90 seconds left and almost immediately nearly gave up an empty-net goal. They recovered and got several good opportunities to tie it up. A loose puck in the corner made its way to Brayden Crampton at the point, but his shot went in just after the final horn sounded.
"Crampton was wide open in the slot," Chiefs forward Conner Roulette said. "Just a little too late."
Despite the result, it was one of the Chiefs' most complete games of the season.
"Early in the season I think we would come out of the gates flying, and late in the game guys would kind of sit back," Roulette said. "Obviously we have a lot of young guys that might not be used to playing these big intense games.
"We've had some games and practice time to get used to going a full 60 minutes now."The Chiefs (6-7-2-0) got on the board first, a little more than 7 minutes into the first period. Chase Bertholet was able to keep a puck in at the point, and he fired toward the net.
Roulette was camped just outside the crease, and Bertholet's shot bounced off his shoulder and past Prince Albert netminder Max Hildebrand for his 13th goal of the season.
"Having (Bertholet) back on our line has been good," Roulette said. "I like to just sit in front with those guys cause they're really good at making plays.""(Roulette) played well, he had some opportunities to score a second and third," Chiefs coach Ryan Smith said. "He's got a hot stick right now."
It stayed that way until midway through the second period. With Chiefs defenseman Layton Feist off for roughing, Aiden Oiring carried the puck into the Prince Albert (11-8-0-1) offensive zone down the left wing and dropped it for Sloan Stanick.
Oiring skated toward the net, creating a screen, and Stanick whipped it through traffic and past Chiefs goalie Dawson Cowan to tie it at 1 for his sixth goal of the season.
With 3 minutes left in the period, Will McIssac broke the tie with his first goal of the season – an innocuous-looking wrist shot from center point that got through Hildebrand and trickled over the goal line.
"I was just trying to get it on net," McIsaac said. "I got a lucky bounce a bit."
"He put it on net," Smith said. "He shot it hard and along the ice. It hits a stick and goes in through his legs. You take goals however you can get 'em."
Early in the third, Lodewyk carried the puck down the left wing and snapped a shot over Cowen's glove hand to tie it 2-2. The unassisted goal was his second of the season.
A turnover in open ice allowed Prince Albert's Luke Moroz to enter the zone on a breakaway, but Cowan made a right pad save to keep it knotted.
Suspended: Earlier in the week, the WHL announced a five-game suspension for Spokane forward Ty Cheveldayoff for a check to the head penalty against Tri-City last week. It's the second time Cheveldayoff has been suspended this season. Cheveldayoff will be eligible to return on Friday, November 24 at Wenatchee.
---