Analysis: Washington State needed a night like this, a win over Colorado on senior night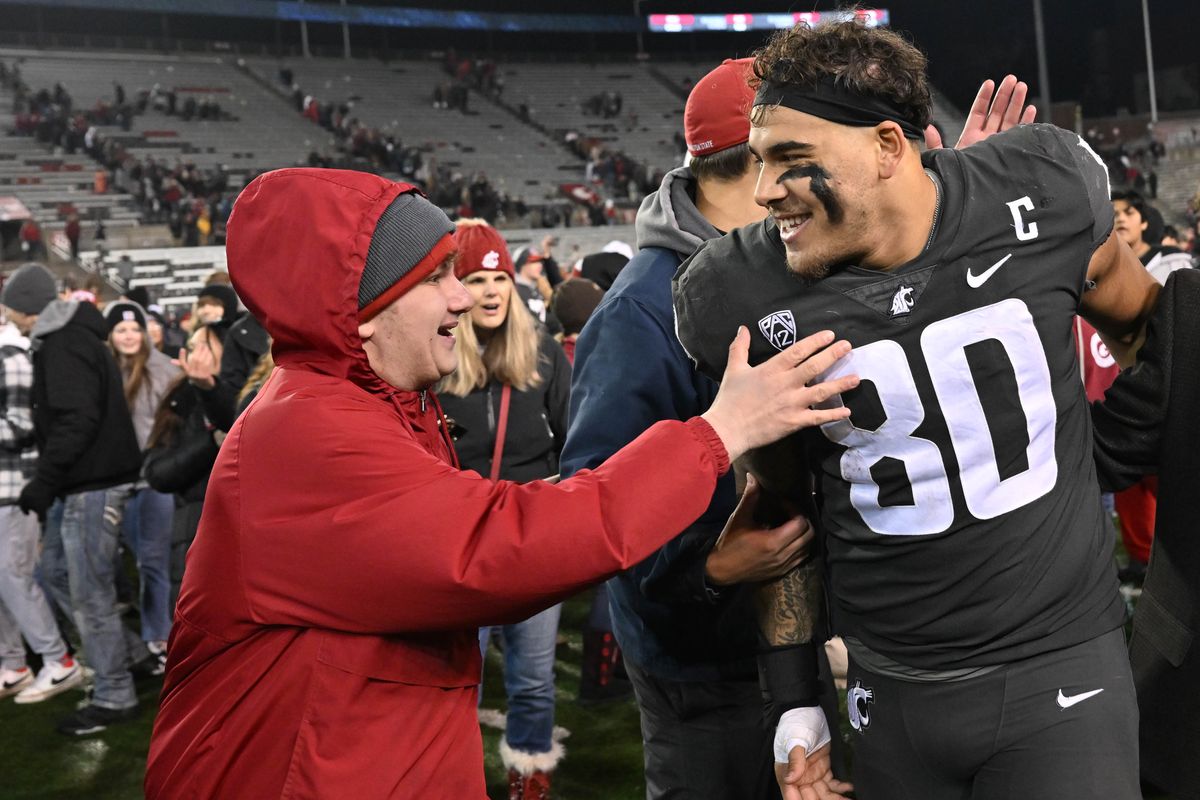 PULLMAN – The bass drum sounded like someone dropped a 50-pound dumbbell on the floor. The celebration sounded like they were trying to get a noise complaint. The coach sounded like he had strep throat and the players sounded like they were ready to storm the beaches of Normandy.
The locker room at Gesa Field, the site of Washington State's 56-14 win over Colorado on Friday night, sounded like the happiest place on earth – and isn't that what this is all about? Isn't this supposed to be fun, especially for teams like WSU, which followed a spotless start with a six-game skid?
Isn't this supposed to be an escape from all the bad stuff – the losing streak and the conference realignment, the uncertain future and the opening of the transfer portal?
For one night, Washington State rendered all of that meaningless. The outside noise was quieter than Colorado's defensive effort and as trivial as the Buffaloes' offensive line, which the Cougars torched for five sacks. For one evening, none of it mattered, and the Cougars set themselves up with an opportunity better suited for Hollywood: In next week's Apple Cup, beat No. 5 Washington, an archrival planning to leave WSU behind, and earn bowl eligibility.
Washington State isn't there yet, though. For one night, that could wait.
"When you go through stretches like that, it makes these moments even sweeter," WSU coach Jake Dickert said. "They really are. Our program wanted it so bad for these seniors and these guys for everything that they've given us. To see them smile and joy and make plays and have fun, and see a bunch of guys get an opportunity to play – I mean, what a special night on Gesa Field. It really was, and that's what you're seeing right there in that locker room."
The Cougs needed a night like this. They had not won a game in eight weeks. As their losing streak dragged on, their flaws were exposed and their depth was diminished, leaving them looking like one of the Pac-12's worst teams – if not the worst. Quarterback Cam Ward couldn't hold on to the ball, or the offensive line couldn't block, or the defense couldn't get stops, or some combination surfaced at the worst times.
They looked less like a team that opened with four straight wins and more like one that was ready to get this season over with already.
Then this week happened. On Tuesday, a judge ruled in favor of Washington State and Oregon State, granting the Pac-12's last two schools control of the conference and its roughly $400 million in assets (Washington State Supreme Court later granted a temporary stay on the decision for at least one month). Three days later, the Cougs embarrassed the Buffaloes, sending their seniors out in such poetic fashion that Disney might have rejected the script for being too cheesy.
Blowout win on senior night? Over one of the teams that left the Cougs behind? With the NCAA president in attendance? With a star defender scoring twice? It sounds more like something on a Hallmark rerun.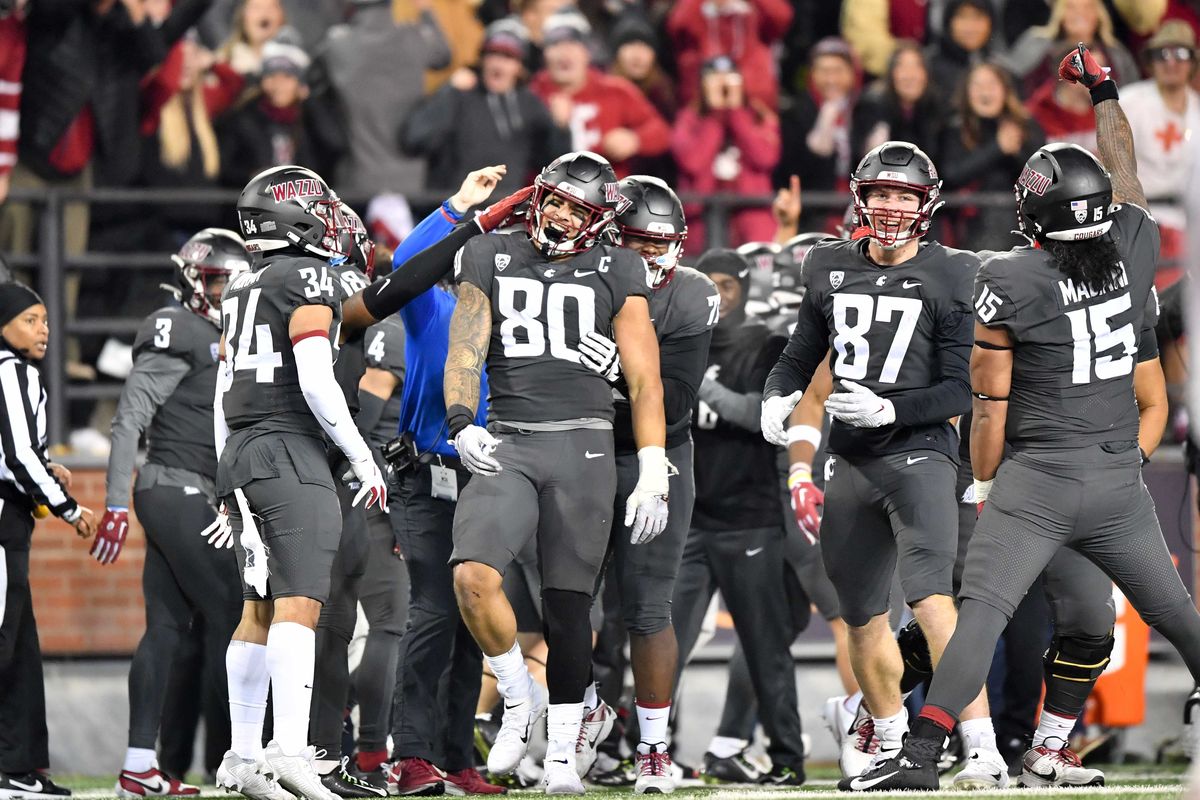 "You work through the hard stuff that the past six weeks have been happening," said receiver Lincoln Victor, who took a handoff for a touchdown rush, "and it's just great to see all the hard work come to fruition, and it's great to see everyone have fun and everyone making plays. It's not just the offense scoring points – special teams making plays, defense getting off the field, and Brennan Jackson scoring two touchdowns. It's just a great team win."
These opportunities only come around so often. When they get older, these seniors will be able to get a YMCA membership and play pickup basketball. They'll be able to join adult softball leagues. They can get into coaching. Heck, maybe they'll join the pickleball trend.
What they can't do is play college football again. There are no padded pickup football leagues. In no other walk of life can you throw touchdowns to your college buddies while fans cheer you on. Nothing else offers opportunities like Friday night's: Strap on the pads and walk out at Gesa Field, play in Washington State's final home Pac-12 game, and put smiles on the faces of fans who braved the chilly weather – just to see their boys give it one last go.
And did they ever. Edge rusher Ron Stone Jr. recorded his final two sacks in Pullman, one of which gave Jackson the chance to return his first for a score. Running back Nakia Watson looked rejuvenated and energized, like whatever was holding him back for the first 10 games of the season vanished into thin air, allowing him to total 47 rushing yards, his most all season, and catch a touchdown pass. Linebacker Kyle Thornton, as he has most of the year, collected four solid tackles.
Then came the highlights – many highlights. Sophomore Leyton Smithson took a kickoff back 98 yards for a touchdown, the Cougs' first kickoff return for a score in five years. Ward lobbed one up for receiver Kyle Williams, who beat cornerback Travis Hunter so thoroughly that he immediately held up his wrist, miming CU quarterback Shedeur Sanders' signature celebration.
Jackson recovered two fumbles for touchdowns. Ward accounted for four of his own. The Cougs weren't just playing to win. They were playing to make memories, and the ones they made on Friday night they'll cherish until they're old and gray and boring their grandkids with their stories.
"I love this team. That's the reason I'm back," Stone said. "Just this opportunity to go out with these guys. These are my brothers, man. These are gonna be guys that I'm gonna talk to for the rest of my life. So just really everything. I love Martin Stadium. I love the Cougar prowl. I think that's fantastic. I mean, every bit of it. So… all of it. I'm a Coug through and through. I've come back for six years. At this point, you know, there's no other choice but to love it."
---