Gonzaga women earn plenty of second chances, put away Wyoming 80-64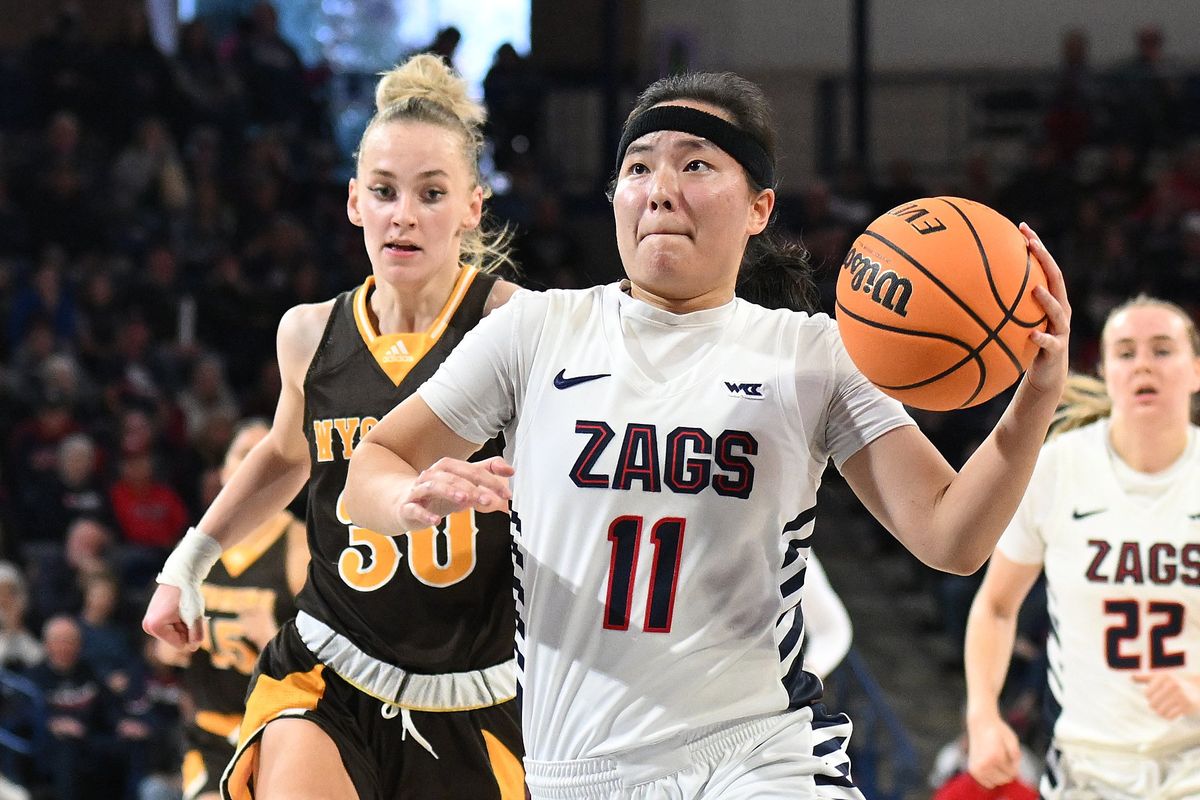 A number of statistics were telling in Gonzaga's victory over Wyoming on Saturday afternoon.
Rebounding. Second-chance points. Assists, especially on set inbounds plays. Combined, they led to a commanding 80-64 win by the Zags witnessed by 5,059 at McCarthey Athletic Center.
Gonzaga (4-1) outrebounded Wyoming 36-24. The Bulldogs punished the Cowgirls 24-5 in second-chance scoring. And the Zags finished with 22 assists, eight from Kaylynne Truong against no turnovers.
Her twin sister, Kayleigh Truong, added six assists, but took ownership of her three turnovers. Nonetheless, 14 combined assists from the twins was impressive.
"Our dad always taught us that the assist is probably the hardest stat you can get," Kayleigh Truong said. "Everything else is yourself. Points you get yourself, rebounds you get yourself, steals, etcetera. Assists take two people. (Kaylynne) and I always give praise to our teammates because we can make the best pass in the world (but) if they don't end up finishing we're not going to get it (the assist). They make the game a lot easier helping us."
Senior 6-foot-1 forward Yvonne Ejim set the pace on the glass, grabbing a game-high 10 rebounds to go with 17 points and five assists.
Kayleigh Truong led the offense with 18 points, Brynna Maxwell and Eliza Hollingsworth had 13 each and Maud Huijbens added 12 off the bench.
Both teams got off to a good start. The Zags made 9 of 18 shots for a 25-18 lead after the opening quarter.
Wyoming (3-2) pulled within 36-31 with an 8-0 surge midway in the second, but the Cowgirls wouldn't get any closer. The Zags led 43-33 at intermission.
Twice Gonzaga extended its lead to 19 points in the final two quarters. A 3-pointer from Kayleigh put the Zags ahead 70-51 at the 9:25 mark of the third, and Maxwell hit a 3-pointer in transition for a 77-58 lead with five minutes to go before the fourth.
"I liked how connected we were – especially on offense," Ejim said. "I feel defensively we were connected too and working through stuff, but definitely our synergy, our connectedness, it was very fluid."
Ejim enjoys working hard for extra shots.
"I remember that one play where I got a couple of rebounds and kept on kicking it out to (Kaylynne)," Ejim said. "Just being able to create those opportunities for my teammates, that's what hustle on the boards do. We want shots for each other, we want shots for this team, it's great to give that through my hustle on the boards."
Said Gonzaga coach Lisa Fortier: "I liked how we rebounded mostly. That was the thing I thought we did the best job of. They're tough (the Cowgirls). They're big, they're physical and they're feisty."
Ejim hustled not only on the boards but in the open court. She got a steal and went three quarters of the floor for an uncontested layup midway in the first quarter.
"(Yvonne) played really well right out of the gate," Fortier said. "She looked like she was a woman with her hair on fire going after all those rebounds. It seemed like she had more than 10. She really set the tone."
Wyoming was well aware of Ejim, who hit the game-winning shot in Laramie last year. The Cowgirls tried to make Ejim work for her shot and position, but in the end no tactic was successful.
"She's tough," Fortier said of Ejim. "If you can't stop her off the dribble then that's a problem. If you can't keep her off the glass then that's a problem. She's going to find a way to score enough of those."
Gonzaga heads to Texas this week for three games in five days, including matchups against No. 19 Louisville and Alabama.
---