100 years ago in Spokane: Mystery of kidnapped baby solved when mother comes forward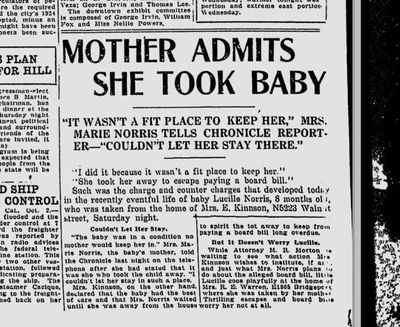 Who snatched little Lucille Norris, 8 months old, from her crib?
The mystery was solved when Marie Norris, Lucille's mother, admitted she took the child from the home of Mrs. E. Kinnson, where the baby was being boarded.
"I did it because it wasn't a fit place to keep her," said the mother.
This statement started a new controversy, as Kinnson offered a different opinion: "She took her away to escape paying a board bill."
Norris had taken Lucille there two months ago while she looked for work. She claimed that she subsequently discovered that "the baby was in a condition no mother would keep her in." So she arrived unannounced at the house while Kinnson was away and took the baby from her crib.
"I couldn't let her stay in such a place," she said.
Kinnson scoffed at that explanation, and said the baby was given the best care. She said the baby's board bill was long overdue, and Norris simply didn't want to pay it.
A Spokane Daily Chronicle reporter noted that the baby was now "cooing playfully" at the home of a friend of Norris.
"Thrilling escapes and board bills worry her not at all."
Also on this day
(From onthisday.com)
1937: U.S. President Franklin D. Roosevelt visits the construction site of the Grand Coulee Dam on the Columbia River in Grand Coulee, Washington. The dam forms Lake Roosevelt, which comprises a 600-mile shoreline and a surface area of 82,000 acres. Water from the dam irrigates roughly 600,000 acres in the Columbia River Basin project, according to usbr.gov.
---