Halloween is for kids. 'Kidults,' too.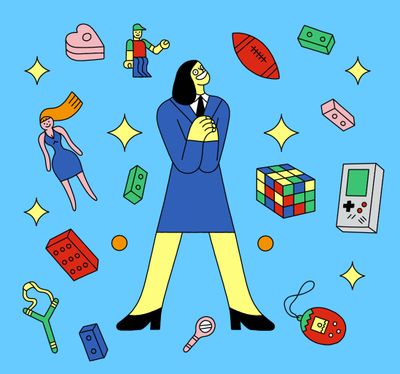 /kĭd-ŭlt-ĭng/
A portmanteau that refers to adults trying to recapture the magic of being a kid, through toys, costumes and movies.
This Halloween, expect to see lots of adults dressed as Barbie, according to the National Retail Federation. The blockbuster "Barbie" movie this summer is partly responsible but so is a decadeslong trend that has gained greater traction recently: Grown-ups are finding joy in "kidulting" – a term used by retailers that refers to adults buying toys, seeing movies about toys or dressing up as them to recapture the feeling of being a kid.
In a recent survey from the Toy Association, 41% of parents over age 18 said they bought toys for themselves in the past year – 13 per person on average. Millennial and Gen Z parents – who, to be fair, are still relatively close to their own childhoods – were most likely to say they would buy a toy for themselves.
Though the trend may be picking up, the term is not new. "Kidult" was coined in the 1950s by TV industry executives to refer to adults who watched shows intended for children. In 2001, Broadway star Mandy Patinkin released an album called "Kidults," about getting in touch with his inner child. In the decades since, as comic books and superhero movies have become more mainstream, so has the understanding of the trend from both adults and the businesses that seek to capitalize on it.
The pandemic helped fuel its latest rise, as more adults turned to the comforts of childhood as a form of self-care, said Nicole Booz, author of "The Kidult Handbook."
"I've seen it coming in and out of use over the years, and I feel it picks up more when there are nostalgic releases like the 'Barbie' movie that really connect with the 20- to 40-something generations," Booz said.
This holiday season, toy companies and retailers like Walmart are specifically marketing their toys and games to adults. The Toy Association says nearly 90% of adults plan to buy toys as holiday gifts for their peers. The kidult market has been growing in Europe as well, according to Circana, a global market information company.
Not nostalgic yet? Companies are betting you might be soon. Mattel has announced 13 films that would bring their toys to life, including Polly Pocket and Major Matt Mason, the predecessor to Buzz Lightyear. Dozens more are in development. And retailers are still hungry for those can't-miss-it Barbie partnerships, such as the one announced by Wrangler last month.
"Companies are ultimately trying to profit off the desire for nostalgia," Booz said.
This article originally appeared in The New York Times.
---