In win over Northern Colorado, WSU can learn something from backup QB John Mateer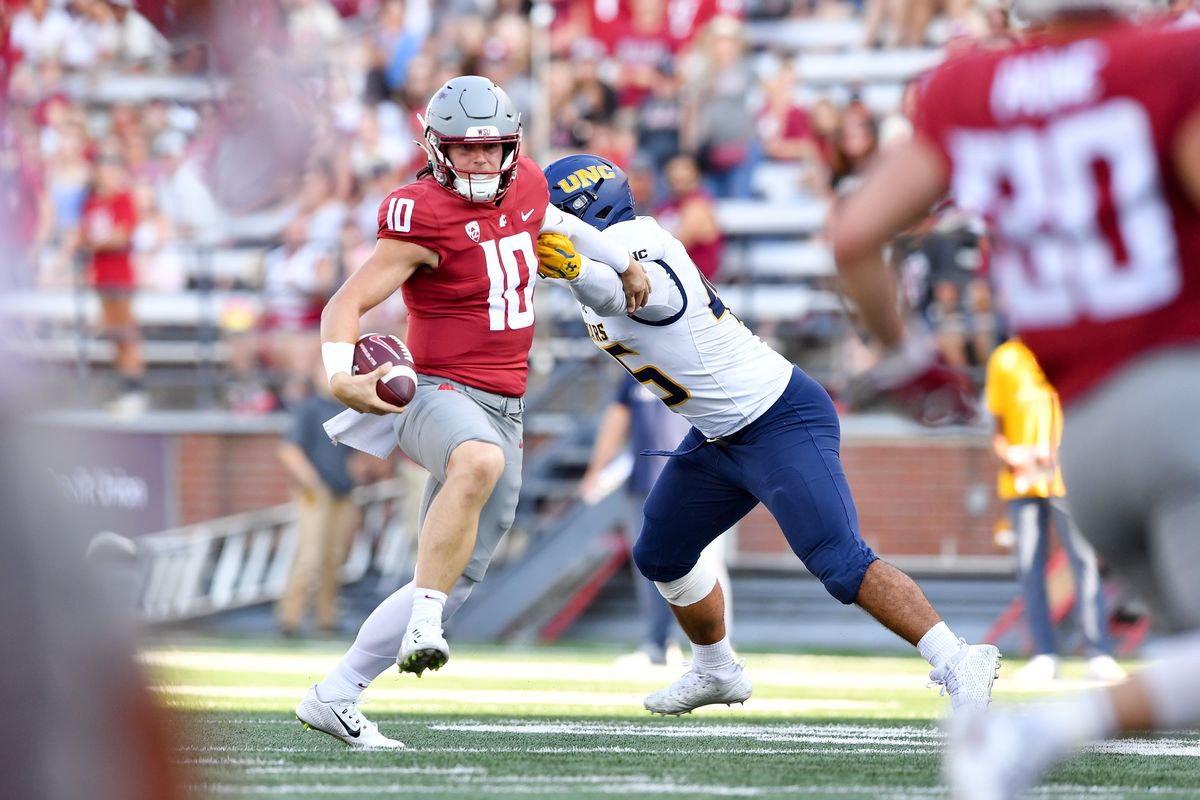 PULLMAN – John Mateer had to steel himself. Washington State's backup quarterback knew this moment might come, knew that the Cougars might pull away from FCS Northern Colorado and prompt his entry into the game, but he understood the stakes: Get too amped and he might risk future opportunities.
Mateer had to keep waging that battle as he took snaps. In WSU's 64-21 nonconference win over Northern Colorado on Saturday afternoon, he realized he wasn't in the game just to run quarterback keepers like he was last week. This time, he had license to throw and display his arm talent.
"I had to stay calm," Mateer said. "I couldn't get overexcited, because then I'd probably freak out."
So Mateer composed himself and unfurled a pair of touchdown passes, one a 25-yarder to redshirt sophomore Josh Meredith and the other 62-yarder to fellow redshirt sophomore Tsion Nunnally. By the time the 3-hour, 14-minute game came to an end, Mateer had completed 7 of 8 passes for 138 yards and two scores.
He did it all by staying poised, recognizing his green light and delivering accordingly. That described his approach to beating Northern Colorado, but for the Cougars, so much about the game was about preparing for the next, a home matchup with No. 16 Oregon State. They needed to test their depth, stay healthy and handle an overmatched foe.
WSU can learn a lot from its backup quarterback. In many ways, Mateer exemplified what No. 23 Washington State will need to do to take down the Beavers, perhaps the only team in the Pac-12 for which Cougar fans have any sympathy.
Mateer isn't just a backup quarterback. WSU likes to use him for his speed, like it did to beat Colorado State, like it did to topple Wisconsin. For as much as the Cougars can glean from Mateer, they can also put him to use.
Mateer totaled three rushes for 19 yards, but he gained 15 by running something like double that. Late in the third quarter, Mateer took a shotgun snap, scanned the field and didn't see anyone open. He scrambled to his right, saw nothing and rolled back to his left. He faked a pass, shook off a tackle, sprinted upfield, eluded another tackle, then fell forward just across the line to gain
.
"That's actually the first time I've reversed field like that in all my time playing," Mateer said. "I just remember after I got the first down, we were supposed to go tempo. But I was so tired. I didn't. I was on the ground for a little bit and took too long. But it was fun. It's fun."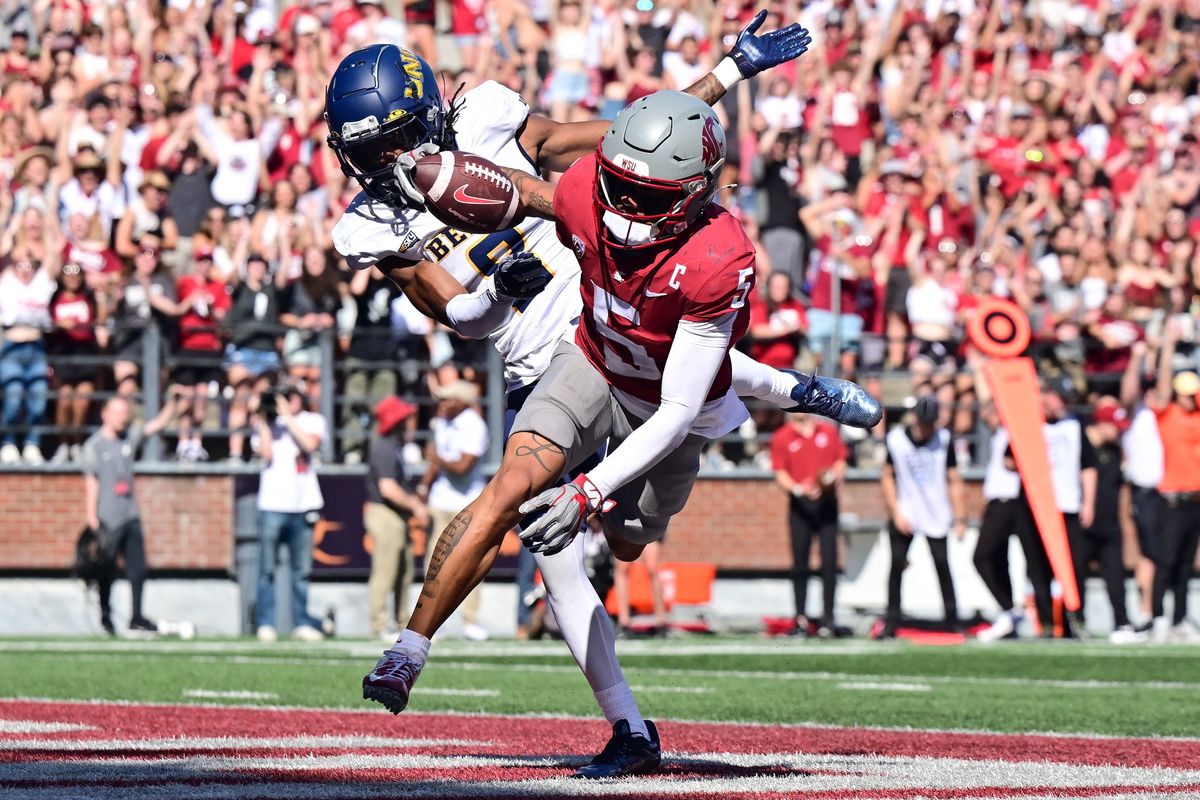 Mateer and the Cougars (3-0) made sure they had fun the whole way. More important, they did so while maintaining their edge for next week as Pac-12 play begins . In maybe the only blight on their outing, running back Nakia Watson exited early with an injury, which put an early end to his season-best game: nine carries for 41 yards and a 6-yard touchdown, the longest by a WSU running back this fall.
"Sounds like he's gonna be just fine. I just think he landed a little bit awkward," Washington State head coach Jake Dickert said of Watson. "Then it was kind of time to get them out of there. Thought he ran hard, inspired, focused. I would love to see a couple more of those runs pop like they did in the second half, because I think we're capable of that. We'll continue to go back to the drawing board, because we can't be one-dimensional."
Did the Cougars show enough of that to encourage Dickert on that front? It depends on how much stock he puts into these results against teams in the lower tier of the Big Sky. Watson looked good, recording his longest run of the season with an 11-yard burst, but he never wowed. He left the game before he got that opportunity.
That outing went to walk-on running back Dylan Paine, who supplied his best game as a Cougar, racking up 81 yards on seven carries, including a 52-yard run. He sounded grateful to himself for sticking with the running back position, when earlier in his career, Dickert offered him a chance to flip to defense.
What Dickert has on his hands now: How much solace can he take in his team's rushing outing, which has been underwhelming this season? In WSU's win over UNC, starting quarterback Cameron Ward was not the team's leading rusher, which was a first this fall.
"If that was it today," Dickert said, "we'd have to go back to the drawing board, for sure."
But in all likelihood, Paine will not be a part of the calculus next week. Watson had an abbreviated showing. The Cougars' second tailback, Jaylen Jenkins, recorded just 1 yard on one carry. Dickert and his coaches could probably draw up something more promising than that.
So where else can Washington State turn for encouragement – and lessons from its backup quarterback? Start with the list of play calls for when Mateer is in the game.
"On the call sheet," Mateer said, "it just says Mateer."
Next week, Washington State's call sheet might just say "Ward," and that might be enough to win. That became clear in the Cougars' first two victories when Ward let it fly to his heart's content, and during their third, when he found his favorite receivers with space to run.
On the first series of the game, Ward hit a 26-yard pass to senior wideout Lincoln Victor, who hauled in an acrobatic catch. That led to the Cougars' first touchdown, an 8-yard scramble from Ward.
They scored their second when Ward found Kyle Williams open across the middle.
They padded their lead with a 28-yard connection between Ward and Victor, and again when Ward lobbed it up for receiver Josh Kelly, who snared it over a UNC defender.
To take down the Beavers, the Cougars will need to be at their best. Against Northern Colorado, the Cougars needed to show depth. With the return of linebacker Ahmad McCullough, who had missed the back end of fall camp and the first two games of the season, they succeeded in that department.
They showed depth with Mateer, who is also wise for his age, using his composure to pass on lessons to his teammates that might come in handy when the competition gets stiffer.
---