'I want to get as many yards as possible': Idaho receiver Jermaine Jackson looks to make the most of final college season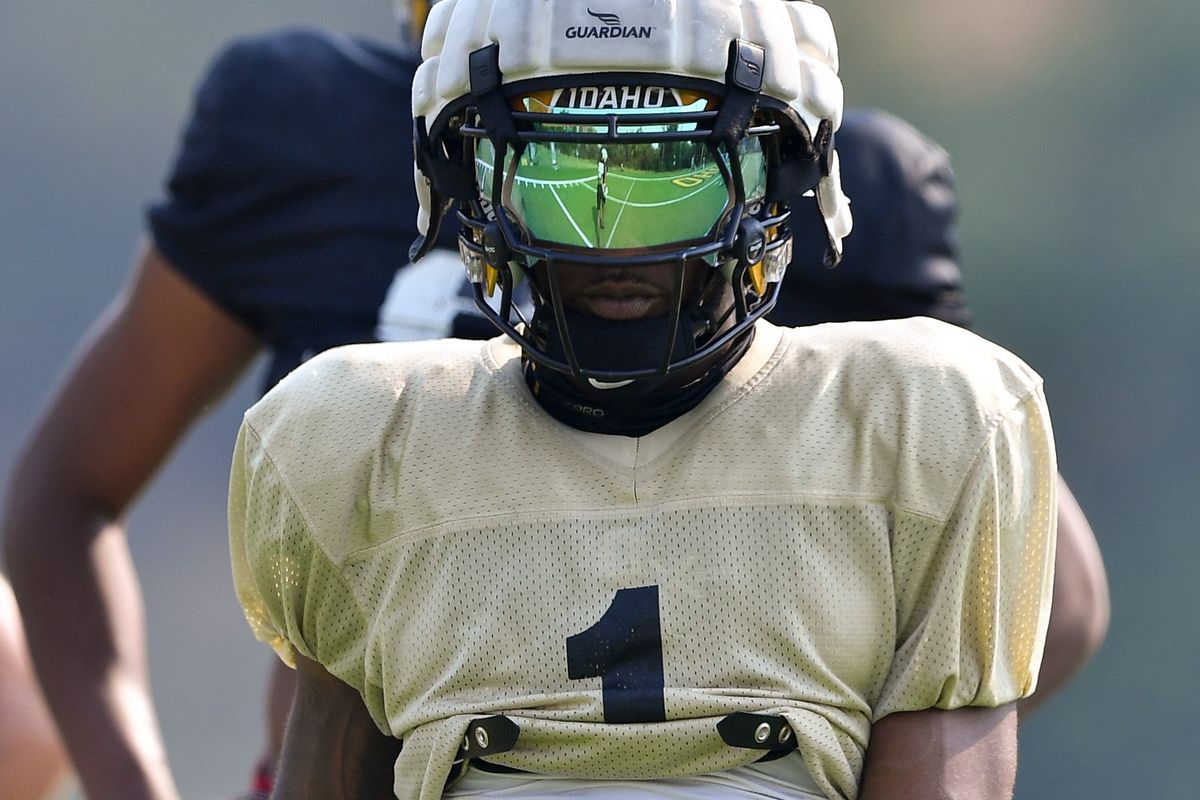 MOSCOW, Idaho – Jermaine Jackson's football career is concluding on a satisfactory arc.
After three games, Idaho's 5-foot-7, 170-pound wide receiver goes into his final season after earning All-Big Sky Conference honors as a first-team receiver and punt returner as a junior.
Jackson hasn't slowed down this year, with totals of 11 receptions for 130 yards; five kickoff returns for 69 yards; five punt returns for 32 yards and two for 14 yards.
Whenever Idaho needs to employ sheer speed to move the ball downfield. Jackson is a preferred option. There are not many defenders who can keep up with him.
It says everything about him that he has reached this pinnacle of college football after a difficult start with the Vandals.
In the 2021 COVID spring season, Vandals fans hoped Jackson, a junior college transfer, would improve Idaho's kicking game. That lasted all of two plays. Against Eastern Washington, he returned one kickoff about 30 yards. The second time he came out of the Kibbie Dome's east end zone to field a kick, he suffered a blow on his knee that tore his anterior cruciate ligament and medial collateral ligament.
What could have been a career-ending injury or one that took away a significant portion of his speed turned into merely a six-month setback. Jackson came back in the fall.
"I had a great day of practice the first day," Jackson said.
"I love JJ," Idaho head coach Jason Eck said. "He works tremendously hard. He is one of our hardest workers, and he takes a lot of leadership responsibility on the offense. He is well respected by his teammates, and he is one of our first-ballot captains.
"He's a tough kid. He is tough-minded."
Jackson has regained his speed and receiving touch. When the Vandals go three wide with Jackson, All-America Hayden Hatten, Terez Traynor or several other wideouts and productive tight ends, defensive backs and linebackers have a tough challenge ahead.
At a practice this week, in advance of Idaho's Big Sky Conference and home opener Saturday with Sacramento State, Jackson and quarterback Gevani McCoy were in sync. Jackson never dropped a ball, and some of McCoy's passes were as long as 40 yards and required Jackson to outrun scout team defenders, which he did with ease.
"He's explosive," Eck said, "He picked up our offense very fast."
Jackson said he and McCoy are getting dialed into the groove that allowed Jackson to finish with 54 receptions for 1,049 yards and four touchdowns a year ago. He joined Hatten as an All-Big Sky Conference's first-team receiver.
"We're getting back to our old selves, playing fast and fun with it out there," Jackson said. "It is fun playing in this offense."
Jackson said he harbors hopes of playing professionally after this season, figuring he can overcome teams' dubious perception of his stature with the opportunity to catch balls for scouts and show off his speed.
"Size is always a big thing in football," he said, "but I'm quick and slippery."
Whether that happens or Jackson finishes his career in a regular-season game or the Football Championship Subdivision playoffs, he plans to make a career from football as either a player or coach.
"I always want to stay around the game," he said. "I love football."
In the meantime, Jackson hopes to continue as one of Vandals' best receivers and a durable one they can count on.
The Vandals (2-1) are seventh in the FCS power rankings and 10th in the coaches' poll heading into the game with Sacramento State (3-0 and second in the FCS rankings following an upset over Stanford).
The Vandals have spent a good part of practice this week concentrating on stopping the Hornets' running attack. But the Hornets are no doubt putting in equal time trying to figure out how to slow down Idaho's passing game, that in large part features Jackson.
"I want to get as many yards as possible," Jackson said, "and help to win games for this team."
---