Shadle Park's Abbey Flerchinger following sister's footsteps to athletic greatness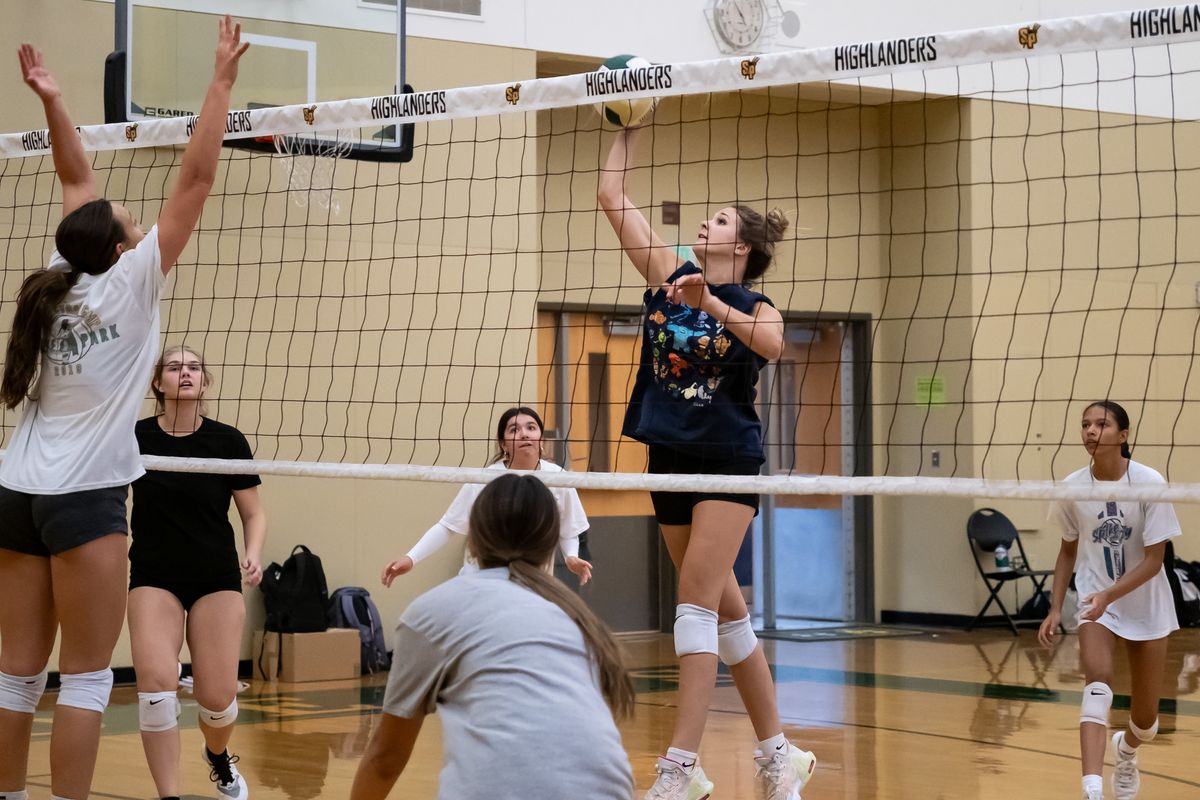 Abbey Flerchinger has never had to look far for athletic inspiration. In fact, her toughest competition grew up just across the hallway.
Flerchinger, a standout middle hitter for the Shadle Park volleyball team and reigning Greater Spokane League 2A MVP, is the sister of former Highlanders star softball and volleyball player Chloe Flerchinger.
Abbey credits her sister, who graduated last year after claiming 2A MVP honors on the softball diamond, for fueling her desire to be the best at her craft from a young age.
"The relationship was always very competitive, because I always wanted to outplay her at anything we did," Abbey said. "We only got two years to play together, but we made the most of it. That family aspect really made me love the game more, and then when she left I knew I had to fill that role as a player and leader."
This season, Abbey has improved on her own MVP form from last season, leading the Highlanders to a 5-0 record – which includes victories over perennial 2B power Colfax and 3A programs Ferris and Cheney. Flerchinger has totaled 80 kills on the season, leading a potent Highlanders attack.
"Her drive is second to none," Shadle Park coach Brooke Meyer said of Abbey. "She doesn't miss a day all summer. She will come back from the lake or a vacation just to show her desire, and I think that brings the rest of the team along with her."
That teamwide drive has helped propel the Highlanders up to the No. 3 spot in the latest MaxPreps 2A rankings, just one year after Shadle fell short of a state tournament berth. The state coaches poll has the Highlanders No. 9, and the Washington Interscholastic Activities Association RPI put them No. 1 in 2A.
"I knew I needed to come into this season and really step up after missing out (on state) last season," Flerchinger said. "I had so much hope coming into this season though knowing we returned key pieces and added some really talented freshman and JV pieces as well."
There was also welcome news for all GSL 2A members this season as the league was granted a second berth to state, instead of having to cross over with traditional powers out of the CWAC.
"This year, too, you have teams like West Valley and Clarkston that are really tough along with us and Pullman," Meyer said. "So it's a very tough league that will really prepare whichever two teams make it out and into state."
For Shadle to be one of those teams, it needs Flerchinger to continue playing at the top of her game. Especially with the first of two matches against defending league champ Pullman set for Tuesday at Shadle.
"There's definitely a revenge factor, but right now we are not worrying about them at all," Flerchinger said. "We beat them in a jamboree and I think we have gotten much closer since then."
Once Abbey is finished making the Flerchinger name a household one at Shadle Park, the sisters will look to do the same next year when they reunite at NAIA's College of Idaho. Abbey said Chloe, a sophomore on the softball team this spring, is hoping to join the volleyball squad next season as a practice player so they can share the court again.
"I know that having her down there I will just feel more at home, so it will ease that transition for me as a student-athlete," Abbey said. "I'm her little sister, and I've always been very competitive with her, but she's always been my biggest role model."
---