For Egypt, Menendez was key to access to billions in U.S. aid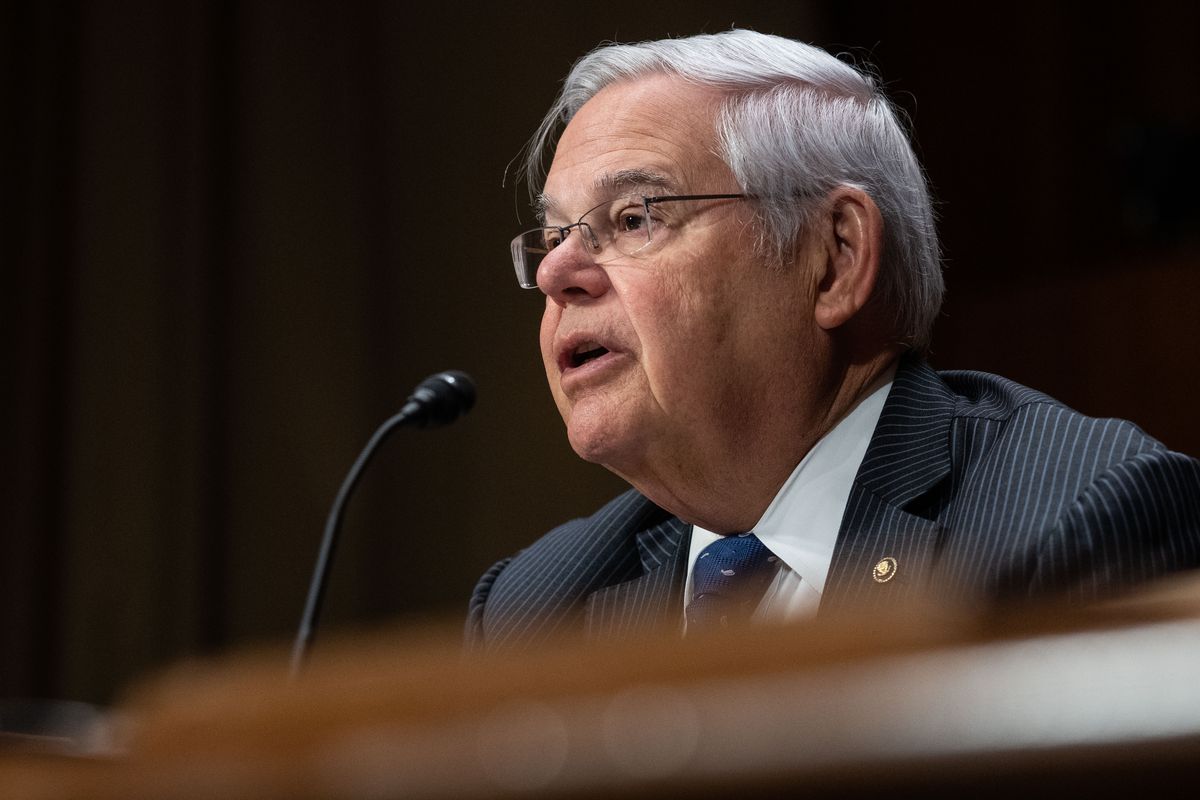 CAIRO – After decades as one of the world's largest recipients of United States foreign aid, the Egyptian government was nervous about how long the largesse would continue at that level. But when the United States cut a sliver of the aid in 2017 over Egypt's grim human rights record, stunning Cairo, Egyptian officials found an ally in Sen. Robert Menendez, D-N.J.
He happened to be the top-ranking Democrat on the Senate Foreign Relations Committee, a position that Egypt evidently felt could help its footing in Washington. And even as he accused the Trump administration of being lax when it came to Egypt, prosecutors say he was doing favors for Egyptian officials who had gotten to know him through his then-girlfriend – signing off on arms sales and secretly helping it lobby Washington to release funding.
In return, according to a federal indictment of Menendez unsealed Friday, Menendez and his wife, Nadine Menendez, received hundreds of thousands of dollars in cash, checks and bars of gold.
It was a price that Egyptian officials clearly felt was worth paying.
Since the late 1970s, Washington has sent Cairo up to $1.3 billion each year as a legacy of Egypt's peace agreement with Israel in the Camp David Accords – money that Egypt treasures as a sign of its strategic importance, and which has paid for its ever-growing military arsenal.
For Egypt, the United States is an indispensable patron, one that it constantly tries to convince of its value on issues such as terrorism, security for Israel and migration to Europe. Sitting in the southeastern Mediterranean on Israel's western border, it paints itself as an island of stability in a turbulent region that includes Sudan and Libya.
Egypt's strategic hand also includes the Suez Canal, which is crucial to world trade, and liquid-natural-gas facilities that send energy to Europe. And in a reflection of Egyptian recognition that U.S. aid is not guaranteed, Egypt has successfully played the United States against its rivals by pursuing arms or business deals with Russia and China.
Successive administrations in Washington have bought Egypt's argument, approving all but $85 million of its $1.3 billion package this year. Although Egypt is not the only undemocratic state that receives U.S. aid, the package has especially incensed rights advocates, members of Congress and other critics who question why the United States is supporting an authoritarian, corruption-riddled regime.
After the indictment, critics urged Congress to put more of the aid on hold. About $300 million a year is subject to human rights conditions, and the Biden administration has released $235 million to Egypt this year.
Since President Abdel-Fattah el-Sissi took power in 2013 by deposing the country's first democratically elected leader, Egypt has arrested tens of thousands of activists, opposition politicians, researchers, journalists and other perceived political opponents, including some Egyptians whose only apparent offense is resharing Facebook posts critical of the government. It has also muzzled the news media and quashed all protest.
On a practical level, critics point out that Egypt often spends the aid on equipment that makes little sense for its security needs, which mostly center on fighting scattered bands of radical Islamist insurgents in North Sinai province, near Israel. Much of the aid goes toward air defense, large ships and fighter jets.
And despite receiving the second-highest amount of U.S. military aid, after Israel, Cairo has an uneven relationship with Washington. Americans in Cairo who work with the Egyptian military describe Egyptian officers' attitude toward their U.S. counterparts as wary at best. Egypt also has considered sending arms to Russia for its war in Ukraine, leaked Pentagon documents show.
During the years when prosecutors say Menendez was doing favors for Egypt, other members of Congress were clamoring for more restrictions to be put on the military assistance, or for tranches of it to be frozen, until Egypt improved its human rights record.
To all appearances, Menendez was one of those calling for change. He was one of 17 senators who signed a 2018 letter pressing the Trump administration to raise "the erosion of political and human rights" in Egypt when el-Sissi visited Washington.
Egypt had reason to fret about his objections. As the top-ranking Democrat on the Senate Foreign Relations Committee, Menendez has an ability, shared with only three other members of Congress, to stymie Washington's weapons sales.
Before approving arms sales to most countries, the State Department's long-standing practice is to first informally notify the chairs and ranking members of the House and Senate panels that oversee foreign affairs. If those lawmakers do not sign off on the proposed transfers, the process is paused until the administration addresses their concerns.
Menendez has used this authority in recent years to block shipments of materiel to countries including Saudi Arabia and Turkey over human rights concerns. But the indictment indicates that Menendez, despite making repeated statements and even introducing legislative proposals denouncing Egypt over its rights record, was not using his power to force a reckoning over Egypt's military aid.
Although other top Democrats and Republicans on the Senate committee also declined to block arms sales to Egypt, prosecutors maintain that Menendez did so because he was in Egypt's pocket.
Egypt's government has declined to comment.
The indictment lists several instances in which Menendez is said to have told his wife that he intended to approve arms sales, information that she then passed on to a friend, Wael Hana, an Egyptian-American businessperson in New Jersey who owned a company that certified halal meat, and who then passed that information to Egyptian officials.
Hana rewarded the Menendezes with cash, gold and other bribes, prosecutors say. The deals also helped enrich him, and served as a way for Cairo to get money to Menendez, according to the indictment.
In May 2019, Egypt awarded Hana's company, IS EG Halal Certified, the multimillion-dollar business of certifying all meat imported from the United States into the country – even though he had no prior experience in halal meat, and even though the U.S. Department of Agriculture argued that his monopoly would raise prices and disrupt the market.
One of Egypt's few remaining independent media outlets, Mada Masr, has reported that IS EG Halal Certified worked in tandem with a company linked to Egypt's intelligence services. And a U.S. government report at the time found that the company's monopoly increased the price of American beef liver in Egypt by 32.1%.
In another indication of the importance Menendez held for Egypt, the senator met with someone whom the indictment describes as a senior Egyptian intelligence official at a Washington hotel in June 2021, the day before the official was to meet with other senators who were expected to emphasize human rights.
Menendez sent his wife an article that outlined the expected questions, which she then forwarded to another Egyptian official, according to the indictment, adding in a message, "This way you can prepare your rebuttals."
News reports from the time show that Abbas Kamel, Egypt's intelligence chief, who is widely regarded as the country's second-most powerful man, was visiting Washington that week, when he was scheduled to meet with members of Congress.
Two days after Menendez's meeting with the senior official, Hana went shopping for 22 1-ounce gold bars, according to the indictment. Federal agents later found them at the Menendezes' home.
This article originally appeared in The New York Times.
---