Seeing things in stone: Retired teacher John Johnson follows in father's artistic footsteps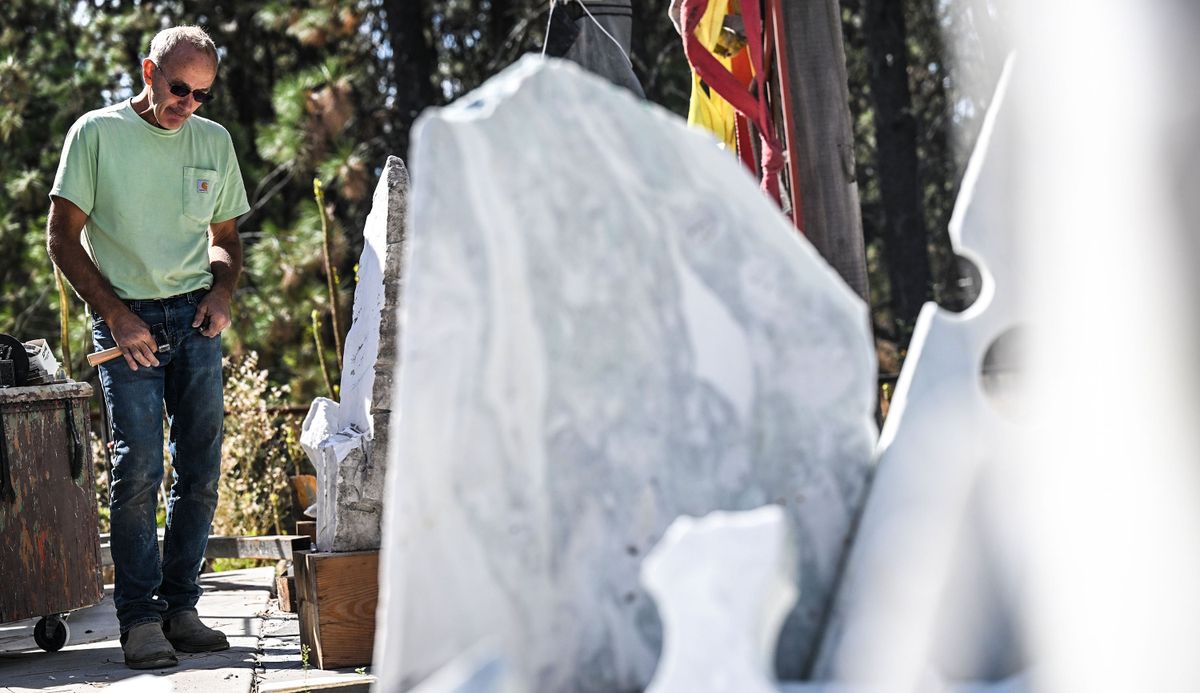 John Johnson sees things in slabs of marble.
A woman's profile. A calla lily. A cat.
He blames his father.
"My dad (Eric Johnson) was really into woodcarving and whittling," Johnson recalled. "When we moved to Oregon, he got into carving black marble."
Eric Johnson eventually opened the Redstone Art Center in Colorado, before returning to Oregon to open the Johnson Gallery in Port Orford.
His son wasn't impressed.
"I thought it was kind of foolish," he admitted. "He was in the basement beating on stone."
The younger Johnson eschewed the artist's life and pursued an education degree, teaching special education and working in administrative roles in public schools.
When his father passed away in 2017, Johnson took some of his dad's carving tools to his home in Mead.
Soon he was tinkering with stone carving and sharing what he learned with his students in Chewelah.
Then his wife decided she wanted solid surface counters in their kitchen.
"I told her I could go to Colorado and pick up some marble from a guy I know and have it sliced."
He found some beautiful white marble and made some tables from the remnants of the countertop material.
While in Colorado, he also picked up several scrap pieces of marble, and soon he was chiseling away in his garage.
Johnson shook his head.
"After I swore I wouldn't get into it!"
His wife wasn't fond of the mess and dust in the garage, so for a time he worked out of a storage unit.
He retired from teaching in 2020, and they bought property in Garden Springs. Their new home is underway, but his studio was the first thing they built.
"I love the solitude of it," he said of stone carving.
An avid scuba diver and underwater photographer, Johnson drew inspiration from the sea.
He ran his hands along the smooth slope of a manta ray's fin.
"In a remnant of marble there he was," said Johnson. "It starts with what you see."
A baby orca with his nose poised to break the water's surface came from another large chunk of discarded marble.
Unlike most art, these sculptures are meant to be touched – the smooth stone remains cool under exploring fingers.
"Our job as kids in Dad's gallery in Colorado was to make sure visitors knew they could touch his work."
Another piece also takes inspiration from the sea. Johnson sawed a conch shell in half and marveled at the scalloped design within. Using a chunk of marble that had been quarried 100 years ago, he repeated that design in stone.
"It's really close to being done – a little bit more sanding – a little bit more shaping," he said.
He sees a different image emerging on the back of the shell.
"Maybe a Native American wrapped in a shawl," he mused as he walked around the sculpture.
On a nearby table, a family pet has been immortalized.
"I saw this cat in the marble," said Johnson. "The marble has a little orange in it, just like our cat, Georgie."
An elegant calla lily reveals the dilemma of those who work in this medium. Johnson started working on it at a symposium in Colorado, but the flower broke at the base.
"The hardest part is dealing with breakage and fractures," he said. "You have to be able to go with the breaks."
Above the wooden chessboards he makes, a profile of a woman catches the eye from a wall in his studio. Carved out of green marble, her hair flows behind her.
"Her face fell out of the rock," said Johnson.
Chunks of marble still wait for the carver's touch. A piece of Portuguese pink marble, sourced from a contact in Kansas. More remnants from Colorado quarries, some with fossils embedded in the edges.
"Look at this gold vein – so Italian-like," he said, pointing at another piece. "There's just so many things to carve!"
Johnson plans to open the gallery to the public when he's completed 10 pieces and will also teach carving classes. Winter is his most productive time, so he anticipates the gallery will open in the spring.
"I guess I've learned what happened to my dad in the '70s," Johnson said. "He fell in love with this stone and what he could do with it. Like my old man, I'm 'seeing' things."
See more of Johnson's art at https://www.gardenspringsartgallery.com/
Contact Cindy Hval at dchval@juno.com.
---