100 years ago in Spokane: There was a new spot for the home for unwed mothers after a long NIMBY battle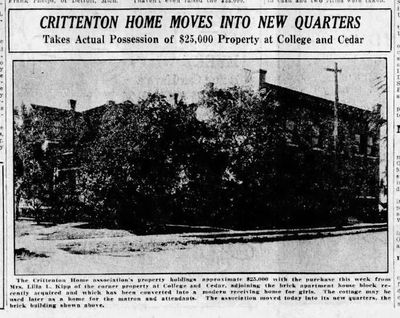 Spokane's Crittenton Home for unwed mothers finally had a new location following months of controversy after a fire destroyed the former building.
The Crittenton Association purchased a home at 707 N. Cedar and also purchased an adjoining property for future expansion. Ten girls and several babies were in the process of moving in.
The Crittenton Home had spent months trying to find a new home after the fire. Several other sites had been considered, and down payments made, but neighbors protested vehemently because they didn't want such an institution in their neighborhood.
There was no sign of protest in this case, and the real estate transaction went relatively smoothly.
By the way, the home ran an advertisement nearly every day in the classified ads section of The Spokesman-Review. The ad included a phone number for "women and girls in trouble" to call for assistance.
From the spiritualist beat: A fad for spiritualists and seances was sweeping the country, and Spokane was no exception. Five spiritualists were listed in the classified ads, including "Madame Davis, a divine spiritual trance mediator."
Others were listed as palm readers or card readers.
Also on this day
(From onthisday.com)
1781: 9,000 American and 7,000 French troops begin the siege of Yorktown.
1937: President Franklin D. Roosevelt dedicates Bonneville Dam on the Columbia River.
1980: Carl Sagan's 13-part "Cosmos" premieres on PBS.
---