Veteran Eastern Washington cornerback Marlon Jones Jr. key cog in defensive secondary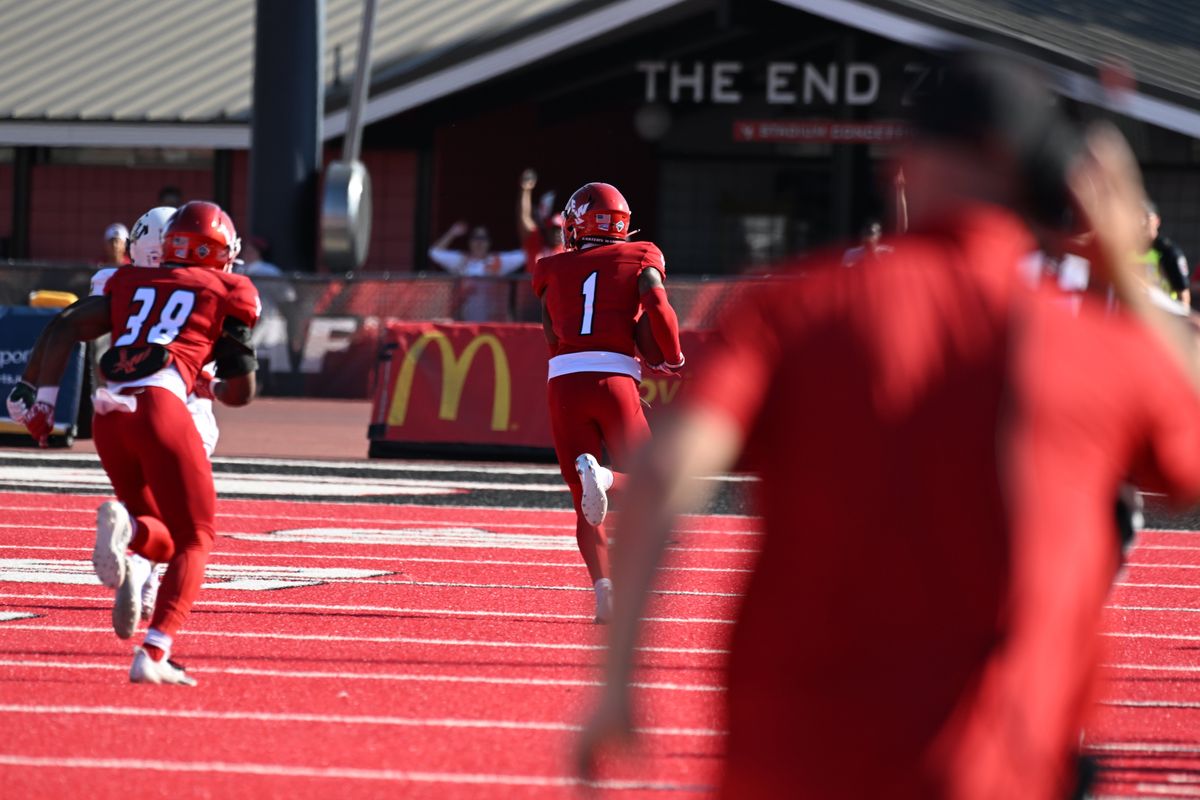 It doesn't exactly test Marlon Jones Jr.'s counting skills to add up how many times UC Davis quarterback Miles Hastings threw in his direction last weekend.
There was the deep ball in the third quarter that fell incomplete. Late in the first quarter, there was a bubble screen that Jones and Brock Harrison interrupted for a 2-yard loss. And then there was that sideline throw the redshirt senior undercut and ran back for a touchdown, giving the Eastern Washington Eagles an early lead in a football game they won 27-24.
"To be honest, it wasn't really anything special on my part," Jones said Tuesday. "It really came from film recognition. Just something we had seen all week."
Jones is big on trying to recognize routes players run in certain situations, and that pick-six – Jones' second in as many games – was one of those times it worked out.
"I took a calculated risk on that one play," he said. "I thought I knew what it was, and I ended up being right."
Jones is quick to downplay his role on the defense. After all, the other 10 guys are doing their jobs, too, he said.
But it's undeniable that having a cornerback score touchdowns in consecutive games has been a game-changer for the 19th-ranked Eagles (2-2, 1-0 Big Sky), who at 1 p.m. Saturday host fourth-ranked Idaho (3-1, 1-0) in a rivalry game at Roos Field in Cheney.
"Marlon Jones early on putting us up in that game with a pick-six," EWU coach Aaron Best said during media availability on Tuesday, "that's almost like two (turnovers) in one."
Jones has long been a great athlete. He was a state champion sprinter in high school as well as someone in whom Eastern coaches saw great potential during his time at Curtis High School in University Place, Washington.
But in four-plus years in the program, Jones has come into his own as one of the Big Sky's most respected cornerbacks, earning a preseason all-conference selection after landing on the third team last year.
"He's done an excellent job of accepting a role," EWU cornerbacks coach Wes Nurse said Tuesday. "This is his first year where he's really had a chance to focus on playing mostly corner."
Eastern Washington's secondary has undergone a significant overhaul since the start of last season, specifically among its starters. The former nickelback Jones and the current nickelback Cage Schenck are the only starters who filled that role regularly last year.
But the players who are starting now – players like DaJean Wells, Armani Orange and Drew Carter – have been in the program for two or three years. They are just getting the opportunity to show what they can do.
"We have a lot of young guys that haven't had the chance to play (a lot) yet," Wells said, counting himself as one of those guys. "I believe in every single one of them because I've seen them work. I've seen them practice. I believe in them to go out and make plays."
Wells, a redshirt sophomore, missed almost a year of college football due to an undiagnosed hip injury. But after surgery and rehab, Wells earned a starting cornerback spot heading into this season and has made nine tackles, including one sack.
"He's played exceptionally well," Nurse said of Wells. "Coming off the injury, he didn't get real reps until this fall. But he's always been engaged, in tune with what's going on."
Nurse also praised the work of Alphonse Oywak, a redshirt sophomore who spent the 2020 and 2021 seasons at Washington State. Oywak has eight tackles and two pass breakups while mostly alternating with Wells at the cornerback position opposite Jones.
The redshirt freshman Carter, who is set to start again at safety alongside the redshirt sophomore Orange, has nine tackles and leads the Big Sky with five pass breakups.
Redshirt sophomore starting safety Kentrell Williams Jr. was injured against UC Davis and isn't listed on the depth chart this week. But the Eagles are awaiting the return of senior cornerback Darrien Sampson, one of the team's captains and oldest players. Sampson injured his knee almost exactly a year ago in a game at Florida.
Nurse said Sampson "will be back sooner than later" and that "he is right on track where he needs to be."
"(Sampson) plays a position where you've got to have your legs working at 95% and feel good," Nurse said. "Guys in the room have done a great job stepping up in his place and filling his void until he's able to come back."
On Saturday, the Eagles' secondary will face arguably its toughest test yet, an Idaho offense that features two receivers who were first-team All-Big Sky last year in Hayden Hatten and Jermaine Jackson.
This year, Hatten, a redshirt junior, ranks third in the Big Sky with 27 receptions and second with 328 receiving yards. Jackson, a redshirt senior, has 13 catches for 168 yards, and redshirt junior Terez Traynor has 10 catches for 182.
"Idaho does a good job of getting the ball in their hands," Jones said. "Specifically Hayden (Hatten). He does a great job of attacking the ball, high-pointing it. I respect the way he plays."
Jones and the Eagles know that as well as anyone: In Idaho's 48-16 win over Eastern last year in Moscow, Hatten had 10 catches for 146 yards and a program-record four touchdowns.
"We're really focused on this year's team," Jones said. "We're not using (last year) as motivation or a revenge game. We're still preparing and following the same process (as every week)."
That preparation process is something that's important to Jones. He credited preparation for the pick-six the previous week against Southeastern Louisiana, one that sealed Eastern's 40-29 victory.
Jones has long been a great athlete and a hard worker, said Chris Paulson, who was Curtis High School's head football coach as well as its track and field coach when Jones was there.
"He was always a very good football player, but he was very instinctual," said Paulson, the athletic director at Sumner (Wash.) High School. "He would outwork everybody. I don't think he ever missed a workout."
Jones won the 100-meter title at the 2019 State 4A meet in 11.03 seconds, a hair slower than his career best of 10.97.
"In high school he was very good (at football), super athletic and super quick," Paulson said. "But we coaches would say we bet he's going to be a better college football player than a high school player. He was going to tap into it."
Jones – who has one more year of eligibility – has played in 33 games at Eastern, including 24 starts. His two interceptions this year have boosted his career total to eight, but the touchdowns were the first of his career.
One more interception would move Jones into a tie for 11th on Eastern's career list.
Wells was on the opposite side of the field when Jones scored against UC Davis. Any play like that is a memorable one for a cornerback, he said. Wells had one at Ballard High School in Seattle – where as a senior he earned Metro League Sound Division MVP honors – that he recalls clearly.
"I knew the ball was getting thrown at my side. Their receiver ran a hitch, and the quarterback was staring him down," Wells said. "I took the chance, (caught the ball) and started running."
Like Jones, Wells was a sprinter in high school. (When asked to put together a hypothetical EWU football 4x100 relay team, both corners came up the same quartet: Jones, Wells, Orange and true freshman receiver JT Weir.) So, speed is a big part of his game.
"The first thing Coach Nurse (would) say is, 'Don't get caught,' " Wells said. "We're always the fastest on the team, and if you get caught, I don't know what (he'd) tell (me)."
Even before the touchdowns, Jones said teams haven't been throwing at him often this year. But he wasn't ready to accept the moniker of being a shutdown cornerback.
That demands a respect he said he hasn't earned.
"I don't like to think that I'm at that level where I've just commanded the respect to stop being thrown to," Jones said, "but hopefully, one day I will actually get to that point."
---