Topics
Metropolitan Mortgage
Metropolitan Mortgage
Summary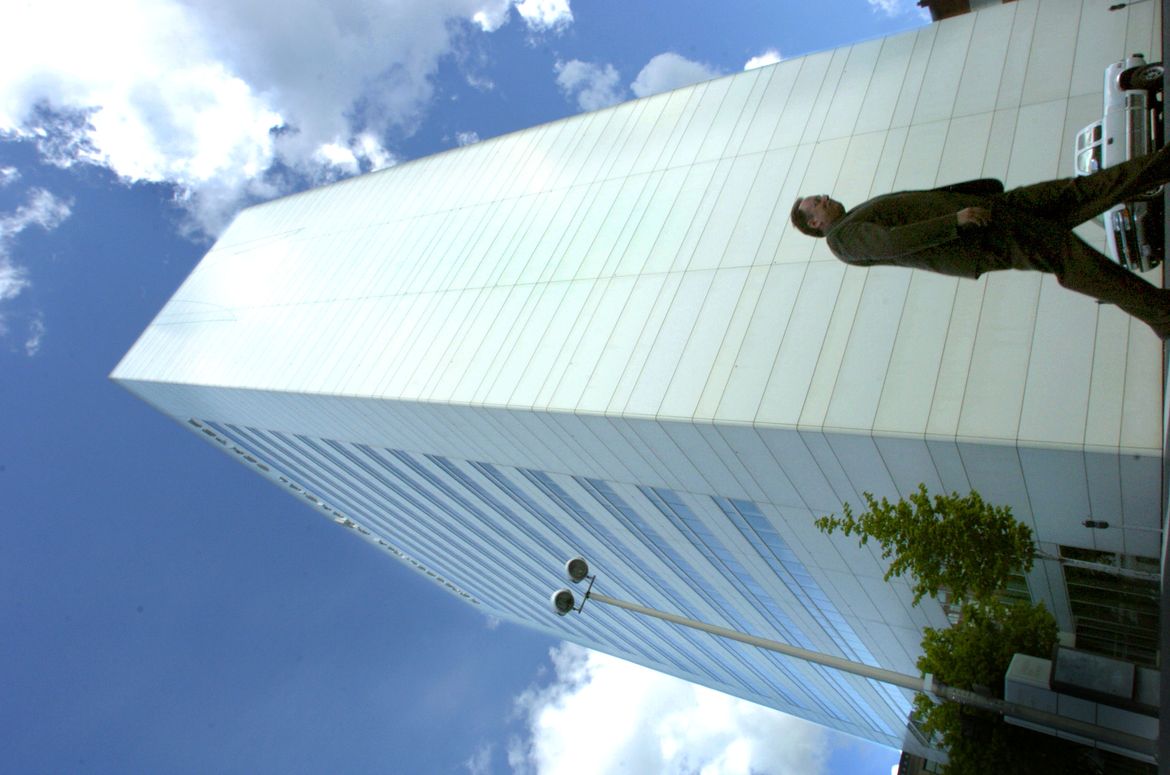 The $2.3 billion collapse of the homegrown Spokane financial conglomerate ranks as the largest business failure in Spokane history.
The bankruptcy begun in February 2004 was marred from the outset by an accounting scandal, a major investigation by the U.S. Securities & Exchange Commission, an FBI inquiry that resulted in the conviction of a senior Metropolitan executive, receivership actions by insurance regulators in three states, numerous lawsuits including an investor class action, arbitration cases and a tangle of claims and insider business dealings.
The millions of dollars spent on high-stakes litigation and experts attempting to unravel Metropolitan's flawed transactions and financial records unfolded against this backdrop: Most of Metropolitan's 16,000 investors were older residents living across the Northwest. Many had invested their life's savings in a company that once claimed its unsecured corporate bonds were as safe as certified deposits from banks.
Summary written by staff writer John Stucke
Key people
Maggie Lyons

Maggie Lyons was appointed by a federal judge to be the administrator of the Metropolitan Creditors Trust during the bankruptcy and after the expulsion of the company's executives. An accountant and manager, she continues to discover, orchestrate and pursue the financial recoveries for the bondholders and other creditors.

C. Paul Sandifur Jr.

C. Paul Sandifur Jr. is the son of the company's founder. A colorful and controversial figure in Spokane's political and business community, investigators determined that his overbearing management style and penchant for questionable business dealings helped spur the company's collapse. He was forced out of his family's company, lost his personal fortune, was forced to pay hundreds of thousands of dollars in fines. He was never charged with crimes.

Thomas Turner

Tom Turner worked as a top executive for the Metropolitan family of companies. He was convicted of federal crimes for his role in perpetrating an accounting fraud that deceived auditors and investors.
Latest updates in this topic
---

Then and Now: Union Pacific rail yard

Now the site of the Kendall Yards mixed use development, the area northwest of downtown Spokane and the river was once home to the Union Pacific rail yard. The railroad …

---

Settlement squeezes out a bit more Met money

C. Paul Sandifur Jr., the former chairman and chief executive officer of Metropolitan Mortgage & Securities Co., will pay $23,000 to investors in the bankrupt company as part of a …

---

New settlement in Met suit

A $38 million settlement proposed Tuesday in the Metropolitan Mortgage & Securities Co. class action lawsuit would help several thousand investors recoup some losses from Spokane's largest business collapse. Investors …

---

Met Mortgage creditors get 2 more cents on the dollar

More checks are in the mail for creditors of bankrupt Metropolitan Mortgage & Securities Co. This third round of partial payouts splits about $10.4 million among 15,500 people who held …

---

---

Ex-Met officer has filed Chapter 7 papers

Thomas Masters, a former Metropolitan Mortgage and Securities Co. executive implicated in one of the fraudulent real estate schemes that unraveled the firm, has filed a $26 million personal bankruptcy …

---

Sandifur to pay $150,000 settlement

C. Paul Sandifur, the former chief executive officer of bankrupt Metropolitan Mortgage & Securities Co., will pay $150,000 to refund investors and settle allegations that he improperly paid himself dividends …

---

Met class action suit advances

A class action lawsuit involving more than 6,000 Metropolitan Mortgage & Securities Co. investors is moving toward trial in 15 months.

---

Met investors to get $45 million

About $45 million is set to be distributed to investors of Metropolitan Mortgage and Securities Inc. at the end of next week. It will be the second repayment following the …

---

Second Met payout planned

A long-awaited cash distribution to investors of bankrupt Metropolitan Mortgage and Securities will be mailed in late July.

---

Met's insurance affiliate sold

Another chapter of the Metropolitan Mortgage & Securities Co. debacle nearly closed Thursday as the state receiver sold the defunct company's largest asset – insurance affiliate Western United Life Assurance …

---

Court approves sale of Met affiliate

A $55 million deal to sell a Metropolitan Mortgage & Securities Co. insurance affiliate received court approval Friday. It remains unknown how much cash from the sale of Western United …

---

Met insurance deal struck

Insurance Commissioner Mike Kreidler has struck a $52 million deal to sell the key insurance affiliate of bankrupted Metropolitan Mortgage & Securities Inc. The agreement, pending court approval, would end …

---

Creditors want control of Met affiliate

Saying the state has mismanaged a former insurance affiliate of bankrupt Metropolitan Mortgage & Securities Co., creditors have asked a judge to force Washington Insurance Commissioner Mike Kreidler to relinquish …

---

Met trust and accounting firm settle

The Metropolitan Mortgage & Securities Co. investors' trust has reached a settlement agreement of about $30 million with an accounting firm accused of making mistakes that led to the company's …

---

CEO's ex-wife to pay $325,000 settlement

Helen Sandifur, the ex-wife of Metropolitan Mortgage & Securities Co.'s chief executive, will pay $325,000 into a special trust to refund investors in the bankrupted company under a settlement disclosed …

---

Met investors win key reversal

Burned Metropolitan Mortgage & Securities Co. investors will have their day in court against a big auditing firm they accuse of professional negligence. They have a shot at a potential …

---

Met investors' hopes fade

Some legal efforts to win money from deep-pocketed companies that audited Metropolitan Mortgage & Securities Co. are failing, potentially dashing the hopes of thousands of investors who looked to those …

---

Business in brief: SEC, Met Mortgage settlements approved

A federal judge has approved settlements between the U.S. Securities and Exchange Commission and several Metropolitan Mortgage and Securities Co. figures, ending the agency's sprawling legal action. C. Paul Sandifur …

---

Sandifur, SEC settle

Disgraced Metropolitan Mortgage & Securities Co. figure C. Paul Sandifur Jr. will pay about $151,000 to settle allegations that he masterminded fraudulent commercial real estate deals that backfired into an …

---

Met's Turner gets 2 years

SEATTLE – A federal judge sentenced former Metropolitan Mortgage & Securities Co. executive Thomas Turner to prison for two years, saying that Turner shouldn't be held solely accountable for the …

---

Met figures agree to deals

Key figures in the Metropolitan Mortgage & Securities Co. accounting scandal have reached deals to settle costly lawsuits filed by the U.S. Securities and Exchange Commission. Among them: C. Paul …

---

Adelphia deal may hearten Met creditors

A settlement requiring auditing firm Deloitte & Touche to pay $167.5 million to a special trust recovering money for Adelphia Communications Corp. creditors provides some buoyancy to the difficult task …

---

Turner convicted in Met case

SEATTLE – A federal jury convicted former Metropolitan Mortgage & Securities Co. executive Thomas Turner of three felonies Friday morning. It took the jury several hours to reach its guilty …

---

Trial of ex-Met exec goes to jury

SEATTLE – Former Metropolitan Mortgage executive Thomas Turner is either a scapegoat for shoddy and negligent auditing work, or a sophisticated white-collar criminal.

---

Turner says he obeyed his boss

SEATTLE – Former Metropolitan Mortgage & Securities Co. executive Thomas Turner testified in his criminal trial Wednesday that he was only doing the bidding of his boss, C. Paul Sandifur …

---

Former auditor grilled by ex-Met executive's lawyer

SEATTLE – Metropolitan Mortgage & Securities Co.'s former auditor Jack Behrens once told the U.S. Securities and Exchange Commission that he thought just about everyone in the defunct Spokane company …

---

Auditor testifies Metropolitan needed 'extra attention'

SEATTLE – Ernst & Young LLP charged Metropolitan Mortgage & Securities Co. a hefty $1 million each year for auditing services, betting its reputation that it could handle a firm …

---

Met Mortgage auditor says exec misrepresented sale

SEATTLE – Metropolitan Mortgage & Securities Co.'s financial auditors counseled executives of the Spokane company again and again about special accounting rules designed to prevent financial fraud, one auditor testified …

---

Testimony begins in Met exec fraud trial

SEATTLE – Federal prosecutors called a former executive of Metropolitan Mortgage & Securities Co. a liar who schemed to mask losses at the Spokane financial conglomerate by deceiving auditors. The …

---

Met trial set to begin

The criminal trial of a leading executive of defunct Spokane financial conglomerate Metropolitan Mortgage & Securities Co. begins Tuesday in Seattle, three years after the company filed for bankruptcy amid …

---

Met Mortgage figures reach deals

Two former Metropolitan Mortgage & Securities Co. executives and a Rochester, Wash., businessman accused of fraud have settled lawsuits pressed by the U.S. Securities and Exchange Commission. The men, including …