Brandon Clarke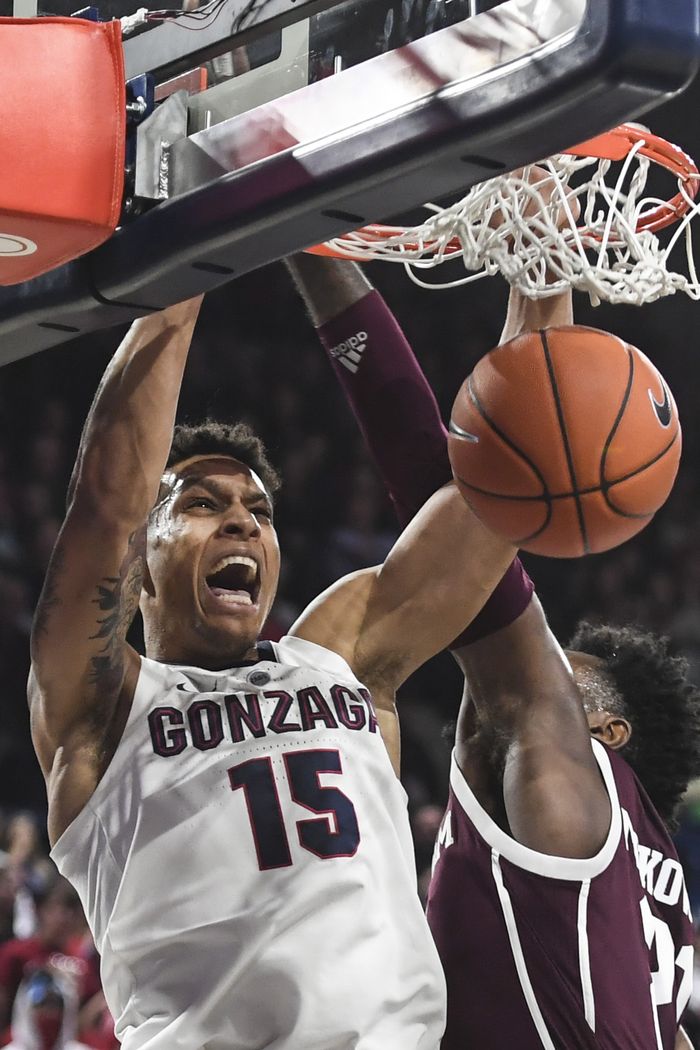 Jersey: 15 Position: F
Age: 26 Height: 6-8 Weight: 210
Hometown: Phoenix, Arizona, United States
Birthdate: Sept. 19, 1996
Bio: Standout for two seasons at San Jose State before transferring to Gonzaga. All-Mountain West first team and All-Defensive team selection as a sophomore. Averaged 17.3 points, 8.7 rebounds and 2.6 blocks (15th nationally). Made 59.2 percent from the field, 25th nationally. Elevated scoring (19.3) and rebounding (9.2) in Mountain West games. Scored career-high 36 points against Air Force. Played in 31 games as a freshman and was selected MWC Sixth Man of the Year. Averaged 10.1 points and 7.3 rebounds in conference games. Tallied season-high 21 points in victory over Boise State. Highly touted prospect out of Desert Vista High in Phoenix. Posted 10 triple-doubles as a senior to lead Desert Vista to 2015 state championship game. Averaged 15 points, 7 rebounds and 4 blocks as a junior.
Jr

Scouting report:
Bouncy, athletic forward should make an immediate impact on Gonzaga's frontcourt, either as a starter or key contributor off the bench. Quality rebounder, defender and capable scorer. Has agility to defend shorter players on the perimeter and the athleticism to provide rim protection in the paint. Had 8 points, 6 rebounds and 5 blocks in Kraziness in the Kennel scrimmage and won dunk contest for second straight year. Added eight pounds of muscle during redshirt season and worked to extend shooting range. Attempted just nine 3-pointers in two seasons at San Jose State.
Jr.

Scouting report:
Sat out last season under NCAA transfer rules. Won dunk contest at Kraziness in the Kennel.
Sports > Gonzaga basketball

UPDATED: Thu., Nov. 1, 2018

Sports > Gonzaga basketball

UPDATED: Wed., Dec. 26, 2018

Sports > Gonzaga basketball

UPDATED: Wed., Oct. 10, 2018

Sports > Gonzaga basketball

UPDATED: Fri., Dec. 21, 2018

Sports > Gonzaga basketball

UPDATED: Wed., Aug. 30, 2017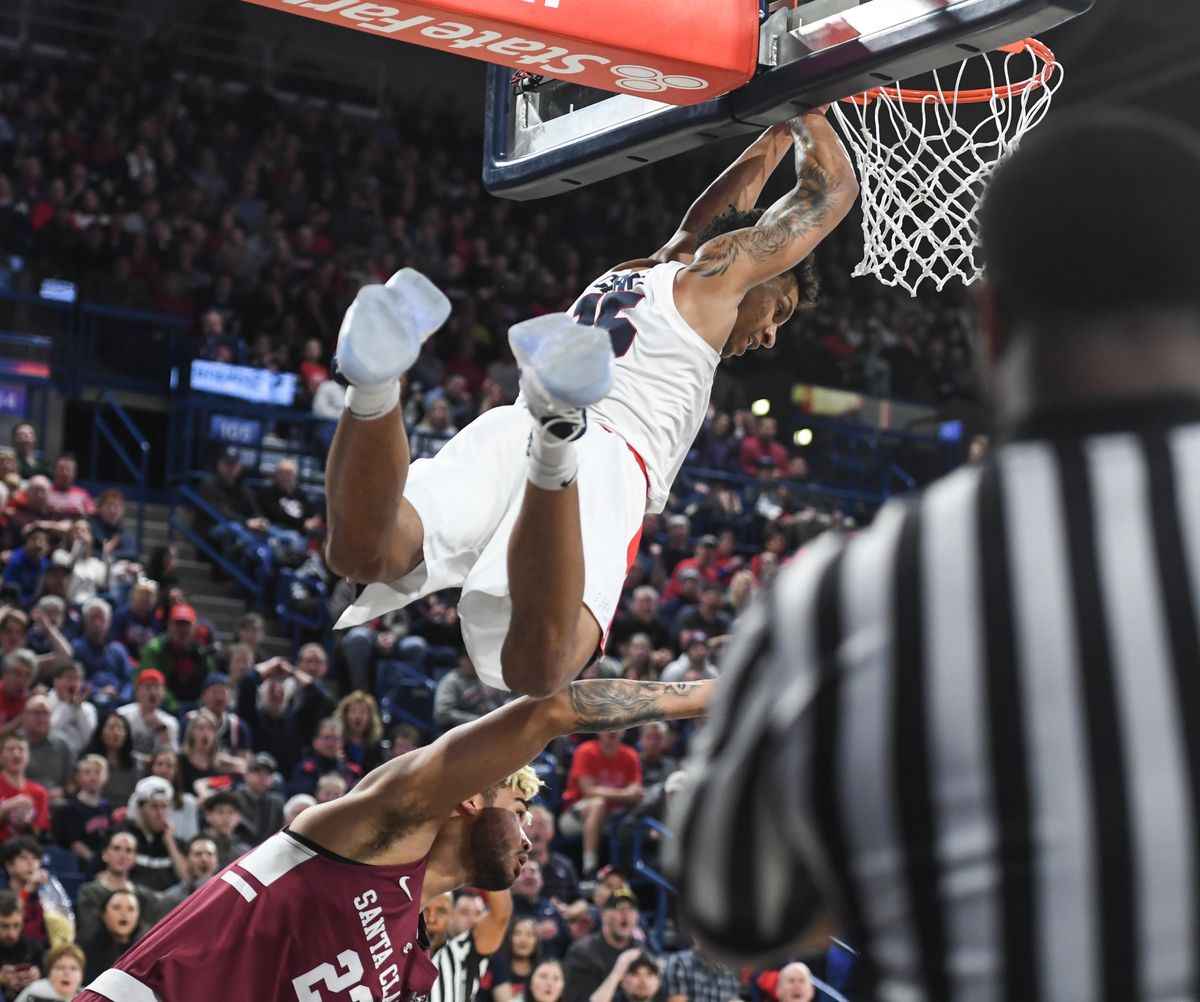 Gonzaga forward Brandon Clarke goes for a flying dunk over Santa Clara center Zeke Richards, Saturday, Jan. 5. 2019, in the McCarthey Athletic Center. (Dan Pelle / The Spokesman-Review)
Career Stats
Per Game
Team
G
GS
MPG
PPG
RPG
APG
SPG
BPG
TOPG
PFPG
FG%
3P%
FT%
15-16
SJSU
31
3
23.5
8.8
5.6
1.5
0.7
1.3
1.1
1.7
.634
.167
.561
16-17
SJSU
30
30
31.9
17.3
8.7
2.3
1.2
2.6
1.8
2.6
.592
.333
.572
18-19
Gonz
32
31
27.4
16.6
8.4
1.9
1.2
3.2
1.4
2.3
.692
.308
.682
Career
93
64
27.6
14.2
7.6
1.9
1.0
2.3
1.4
2.2
.637
.273
.609
Totals
Team
G
GS
Min
FGM
FGA
3PM
3PA
FTM
FTA
OR
REB
A
Stl
Blk
TO
PF
Pts
15-16
SJSU
31
3
728
109
172
1
6
55
98
65
174
46
22
39
35
54
274
16-17
SJSU
30
30
957
219
370
1
3
79
138
89
261
69
35
77
53
78
518
18-19
Gonz
32
31
878
218
315
4
13
90
132
99
269
60
38
101
44
72
530
Career
93
64
2563
546
857
6
22
224
368
253
704
175
95
217
132
204
1322
Game Logs
| | | | | | | | | | | | | | | | | | |
| --- | --- | --- | --- | --- | --- | --- | --- | --- | --- | --- | --- | --- | --- | --- | --- | --- | --- |
| Date | Opp | Result | Min | FGM | FGA | 3PM | 3PA | FTM | FTA | OR | REB | A | Stl | Blk | TO | PF | Pts |
| 11/6 | IdaSt | W 120-79 | 21 | 6 | 8 | 0 | 0 | 3 | 5 | 2 | 9 | 2 | 2 | 0 | 0 | 4 | 15 |
| 11/10 | TxSo | W 104-67 | 27 | 9 | 13 | 0 | 0 | 1 | 2 | 6 | 13 | 0 | 2 | 6 | 0 | 3 | 19 |
| 11/15 | TexA&M | W 94-71 | 25 | 6 | 10 | 0 | 0 | 2 | 2 | 4 | 11 | 2 | 1 | 3 | 2 | 3 | 14 |
| 11/19 | @Ill | W 84-78 | 24 | 4 | 4 | 0 | 0 | 2 | 6 | 2 | 2 | 2 | 1 | 5 | 1 | 2 | 10 |
| 11/20 | Ari | W 91-74 | 29 | 8 | 9 | 1 | 1 | 1 | 3 | 2 | 4 | 2 | 0 | 4 | 1 | 4 | 18 |
| 11/21 | Duke | W 89-87 | 23 | 7 | 10 | 1 | 1 | 2 | 5 | 1 | 5 | 1 | 0 | 6 | 3 | 4 | 17 |
| 11/26 | NDakSt | W 102-60 | 22 | 9 | 9 | 0 | 0 | 0 | 0 | 1 | 8 | 1 | 1 | 5 | 1 | 3 | 18 |
| 12/1 | @Cre | W 103-92 | 35 | 9 | 12 | 0 | 0 | 9 | 11 | 5 | 10 | 1 | 2 | 2 | 1 | 3 | 27 |
| 12/5 | Wash | W 81-79 | 27 | 4 | 11 | 0 | 0 | 2 | 2 | 8 | 11 | 1 | 2 | 0 | 5 | 4 | 10 |
| 12/9 | @Tenn | L 73-76 | 30 | 8 | 12 | 0 | 0 | 5 | 9 | 6 | 9 | 1 | 3 | 2 | 0 | 3 | 21 |
| 12/15 | @UNC | L 90-103 | 32 | 5 | 8 | 0 | 0 | 5 | 6 | 1 | 3 | 2 | 3 | 3 | 3 | 2 | 15 |
| 12/18 | Tx-Ar | W 89-55 | 29 | 7 | 12 | 0 | 1 | 3 | 4 | 3 | 13 | 3 | 1 | 3 | 2 | 1 | 17 |
| 12/21 | Denver | W 101-40 | 29 | 10 | 12 | 0 | 1 | 3 | 4 | 2 | 7 | 2 | 1 | 3 | 1 | 1 | 23 |
| 12/28 | NortAL | W 96-51 | 28 | 7 | 10 | 0 | 0 | 2 | 3 | 5 | 12 | 2 | 3 | 4 | 2 | 1 | 16 |
| 12/31 | CS-Bk | W 89-54 | 33 | 6 | 11 | 0 | 1 | 4 | 6 | 4 | 7 | 4 | 2 | 1 | 4 | 2 | 16 |
| 1/5 | SantaC | W 91-48 | 26 | 6 | 10 | 0 | 1 | 4 | 7 | 0 | 6 | 0 | 2 | 5 | 0 | 0 | 16 |
| 1/10 | Pac | W 67-36 | 28 | 4 | 5 | 0 | 0 | 2 | 4 | 2 | 8 | 2 | 2 | 5 | 1 | 1 | 10 |
| 1/12 | @SanFr | W 96-83 | 29 | 9 | 15 | 0 | 1 | 6 | 7 | 5 | 9 | 2 | 0 | 4 | 1 | 4 | 24 |
| 1/17 | LyMnt | W 73-55 | 23 | 5 | 5 | 0 | 0 | 3 | 5 | 1 | 3 | 4 | 0 | 3 | 2 | 1 | 13 |
| 1/19 | @Por | W 89-66 | 24 | 5 | 6 | 0 | 0 | 1 | 2 | 4 | 6 | 2 | 0 | 0 | 1 | 4 | 11 |
| 1/24 | @SantaC | W 98-39 | 20 | 6 | 11 | 0 | 0 | 0 | 0 | 4 | 6 | 0 | 1 | 2 | 1 | 0 | 12 |
| 1/31 | @BYU | W 93-63 | 31 | 10 | 13 | 1 | 1 | 2 | 2 | 2 | 9 | 2 | 1 | 1 | 1 | 1 | 23 |
| 2/2 | SD | W 85-69 | 28 | 5 | 9 | 0 | 0 | 2 | 2 | 1 | 8 | 1 | 0 | 2 | 0 | 3 | 12 |
| 2/7 | SanFr | W 92-62 | 31 | 8 | 13 | 0 | 1 | 4 | 6 | 6 | 16 | 2 | 2 | 5 | 2 | 2 | 20 |
| 2/9 | StMry | W 94-46 | 23 | 9 | 12 | 1 | 1 | 5 | 8 | 2 | 6 | 2 | 1 | 3 | 1 | 1 | 24 |
| 2/14 | @LyMnt | W 73-60 | 36 | 7 | 12 | 0 | 1 | 3 | 3 | 1 | 12 | 4 | 1 | 3 | 1 | 2 | 17 |
| 2/16 | @SD | W 79-67 | 28 | 6 | 7 | 0 | 0 | 2 | 2 | 3 | 8 | 2 | 0 | 2 | 1 | 4 | 14 |
| 2/21 | Pepper | W 92-64 | 28 | 8 | 10 | 0 | 0 | 0 | 0 | 3 | 11 | 0 | 0 | 5 | 1 | 1 | 16 |
| 2/23 | BYU | W 102-68 | 24 | 4 | 9 | 0 | 1 | 3 | 3 | 3 | 10 | 1 | 1 | 3 | 1 | 3 | 11 |
| 2/28 | @Pac | W 86-66 | 34 | 8 | 10 | 0 | 0 | 5 | 6 | 4 | 13 | 4 | 1 | 5 | 1 | 1 | 21 |
| 3/2 | @StMry | W 69-55 | 29 | 7 | 10 | 0 | 1 | 1 | 2 | 3 | 7 | 1 | 1 | 4 | 1 | 2 | 15 |
| 3/11 | Pepper | W 100-74 | 22 | 6 | 7 | 0 | 0 | 3 | 5 | 3 | 7 | 5 | 1 | 2 | 2 | 2 | 15 |