Gonzaga's Brandon Clarke makes splash in return to competitive basketball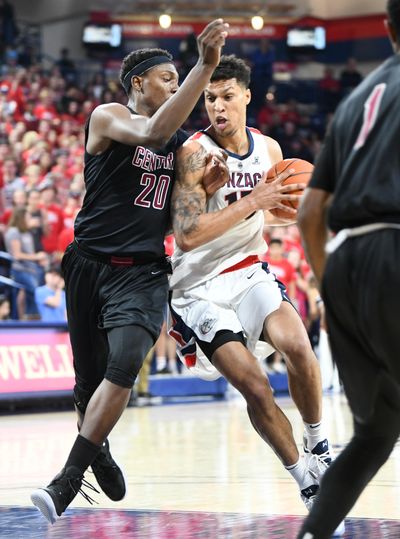 It had been 603 days since Brandon Clarke last laced up his shoes for a competitive basketball game.
The redshirt junior knew it had been a long time, but the actual number was shocking.
"Really? It has … 603 … OK," Clarke said.
His previous game came on March 3, 2017, when the San Jose State Spartans lost to Utah State 90-64 in the first round of the Mountain West Tournament. Head coach Dave Wojcik resigned because of personal matters four months later and Clarke's decision to transfer became clearer.
Clarke, initially from Vancouver, British Columbia, reportedly had 12 schools in mind. He quickly narrowed that list down to Oregon, Washington State and Gonzaga. On Aug. 30, a week after that report, Clarke was a Bulldog.
"Very happy. Like you said, it has been 603 days, so that feels like it has been way too long, so definitely just feels great to just be on the court and actually play basketball again in a game that actually counts," Clarke said after Gonzaga's 108-69 rout of Central Washington in an exhibition game on Thursday in the McCarthey Athletic Center.
"It is pretty crazy when you really think about (the 603 days) and obviously you have scrimmages, you have practices, but nothing mimics the first live action, so I was actually really, really happy with how he played tonight," GU assistant coach Brian Michaelson said.
The Zags' ability to transform players during their redshirt year was enticing to Clarke.
"I wanted to go to a team that I knew had a good redshirt program," Clarke said. "There have been so many great players who have flourished under that, so that made coming here easy."
Since 2000, more than 20 percent of GU's roster has been comprised of transfer players, many of them redshirting before they step onto the floor of the Kennel.
"Also they have had so many years of having great teams and they have gone to the tournament for the last 20 years, so it made it pretty easy to make my choice," Clarke said.
In Clarke's two seasons as a Spartan, they went 23-38, losing in the first round of the MWC Tournament both years.
As a sophomore, Clarke averaged better than 17 points and eight rebounds a game, earning All-Mountain West first-team honors as well as a spot on the all-defensive team.
He played a hyperefficient game Thursday, finishing with 18 points on 4-of-5 shooting and 11 rebounds. A double-double in his first career game – albeit in an exhibition game – was the perfect start, as was his 10-for-14 effort from the free-throw line.
"Free throws are just free points pretty much, so definitely have to cash in on those when I can," Clarke said. "It was part of my game that I had to work on, so I definitely made sure to shoot lots of free throws in the offseason."
In his first two seasons, Clarke shot 57 percent from the line. He reworked his shooting mechanics in the last 1 1/2 years to help improve that number.
"Obviously, that is going to be helpful to our team if we can raise that (57 percent) because he is a guy who is so active and so athletic in there that he draws a lot of fouls," Michaelson said. "The ability to make free throws is going to be the most important."
Clarke also had to make the significant change to his game to fit in with the Zags' system.
"That was big for Brandon, kind of teaching him how to play the way we want him to play and I feel really good about the things he has added," Michaelson said. "He has added a significant array of post moves, his drive game has really grown, and obviously the thing everyone is talking about right now is that his shot has come a long way."
Now that he's back in this corner of North America, who is Clarke most excited to see at upcoming home games?
"My mom and my stepdad," Clarke said. "It had just been so long since they've seen me play on the court and they love watching me play, so definitely looking forward to having them watch me again."
---