Rui Hachimura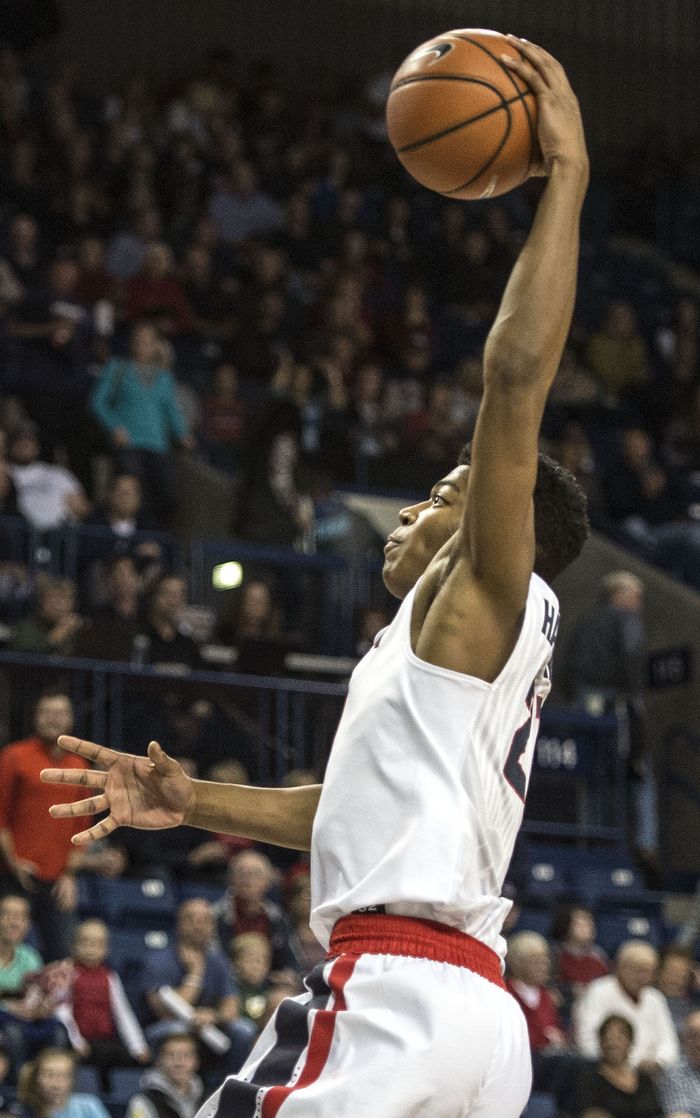 Jersey: 21 Position: F
Age: 25 Height: 6-8 Weight: 230
Hometown: Sendai, Miyagi Prefecture, Japan
Birthdate: Feb. 8, 1998
Bio: First name pronounced ROO-ee; last name pronounced HATCH-ee-MURR-uh. Breakout performance at the 2014 FIBA U17 World Championships, averaging a tournament-best 22.1 points. Led Meisei High School to a second straight winter All-Japan High School Tournament title by averaging 28.0 points in five games. Only Japanese player invited to play in the Jordan Brand Classic's international game at the Barclays Center in 2015.
Jr.

Scouting report:
Athletic forward has made some preseason All-America teams and projected by many as an NBA lottery pick, particularly if he shows improvement on perimeter shot. Opted to return for junior season without testing draft waters. Provides offensive spark and has improved defensively. Great upside because of his explosive athleticism, versatility and room for growth in his game. Helped Japan win four FIBA World Cup Asian qualifier games last spring and summer. Scored 25 points in victory over Iran and 24 in win over Kazakhstan.
So.

Scouting report:
Emerged as key piece in the rotation. Started two games and came off the bench in 35, but still earned first-team All-WCC honors. Named to NABC second-team All-District 9. Averaged 11.6 points and 4.7 rebounds. Team's leading scorer in conference games (12.9 points). Scored 20 points in overtime win against Texas, 23 points in loss to Saint Mary's and career-high 25 in NCAA Tournament win over Ohio State.
Fr.

Scouting report:
Became just fifth Japanese-born male to play in a Division I game. Played 128 minutes in 28 appearances in a reserve role. Averaged 2.6 points. Contributed season highs with 10 points and nine rebounds against Mississippi Valley State.
Sports > Gonzaga basketball

UPDATED: Wed., Jan. 9, 2019

Sports > Gonzaga basketball

UPDATED: Tue., May 22, 2018

Sports > Gonzaga basketball

UPDATED: Mon., Nov. 26, 2018

Sports > Gonzaga basketball

UPDATED: Thu., Nov. 22, 2018

Sports > Gonzaga basketball

UPDATED: Mon., Nov. 5, 2018

Sports > Gonzaga basketball

UPDATED: Sat., April 14, 2018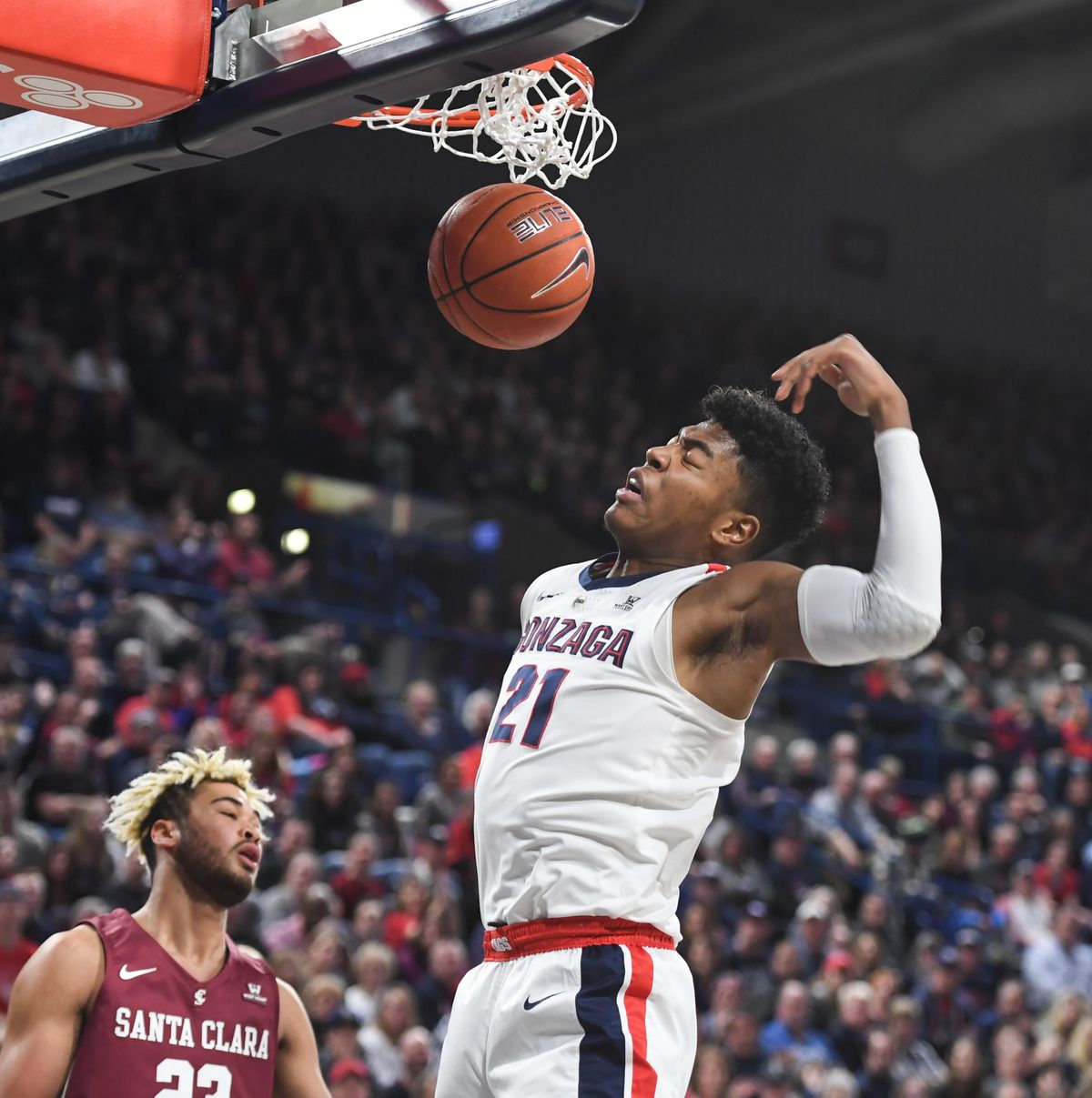 Gonzaga forward Rui Hachimura hammers home a dunk over Santa Clara center Zeke Richards, Saturday, Jan. 5. 2019, in the McCarthey Athletic Center. (Dan Pelle / The Spokesman-Review)
Career Stats
Per Game
Team
G
GS
MPG
PPG
RPG
APG
SPG
BPG
TOPG
PFPG
FG%
3P%
FT%
16-17
Gonz
28
0
4.6
2.6
1.4
0.1
0.2
0.1
0.3
0.6
.528
.286
.542
17-18
Gonz
37
2
20.7
11.6
4.7
0.6
0.5
0.5
1.2
2.0
.568
.192
.795
18-19
Gonz
32
32
30.3
20.4
6.6
1.6
1.0
0.8
1.8
2.1
.611
.484
.749
Career
97
34
19.2
11.9
4.4
0.8
0.6
0.5
1.1
1.6
.589
.338
.752
Totals
Team
G
GS
Min
FGM
FGA
3PM
3PA
FTM
FTA
OR
REB
A
Stl
Blk
TO
PF
Pts
16-17
Gonz
28
0
128
28
53
4
14
13
24
12
38
2
6
4
8
16
73
17-18
Gonz
37
2
766
159
280
5
26
105
132
47
174
23
19
19
44
73
428
18-19
Gonz
32
32
970
248
406
15
31
143
191
45
212
51
33
25
58
66
654
Career
97
34
1864
435
739
24
71
261
347
104
424
76
58
48
110
155
1155
Game Logs
| | | | | | | | | | | | | | | | | | |
| --- | --- | --- | --- | --- | --- | --- | --- | --- | --- | --- | --- | --- | --- | --- | --- | --- | --- |
| Date | Opp | Result | Min | FGM | FGA | 3PM | 3PA | FTM | FTA | OR | REB | A | Stl | Blk | TO | PF | Pts |
| 11/6 | IdaSt | W 120-79 | 24 | 13 | 18 | 0 | 0 | 7 | 9 | 1 | 4 | 2 | 0 | 1 | 0 | 0 | 33 |
| 11/10 | TxSo | W 104-67 | 20 | 7 | 13 | 0 | 2 | 3 | 5 | 2 | 6 | 1 | 1 | 0 | 3 | 3 | 17 |
| 11/15 | TexA&M | W 94-71 | 30 | 7 | 11 | 1 | 1 | 3 | 6 | 0 | 7 | 0 | 0 | 1 | 2 | 1 | 18 |
| 11/19 | @Ill | W 84-78 | 35 | 7 | 14 | 2 | 3 | 7 | 9 | 0 | 5 | 0 | 0 | 0 | 4 | 2 | 23 |
| 11/20 | Ari | W 91-74 | 31 | 10 | 16 | 0 | 1 | 4 | 5 | 0 | 6 | 1 | 2 | 0 | 1 | 3 | 24 |
| 11/21 | Duke | W 89-87 | 37 | 7 | 14 | 1 | 2 | 5 | 9 | 1 | 7 | 5 | 0 | 3 | 2 | 4 | 20 |
| 11/26 | NDakSt | W 102-60 | 26 | 6 | 9 | 1 | 1 | 5 | 8 | 1 | 3 | 0 | 1 | 0 | 3 | 3 | 18 |
| 12/1 | @Cre | W 103-92 | 30 | 9 | 14 | 1 | 2 | 3 | 4 | 2 | 11 | 3 | 3 | 0 | 2 | 3 | 22 |
| 12/5 | Wash | W 81-79 | 40 | 9 | 20 | 0 | 0 | 8 | 8 | 4 | 7 | 2 | 0 | 0 | 0 | 2 | 26 |
| 12/9 | @Tenn | L 73-76 | 34 | 8 | 18 | 1 | 3 | 4 | 6 | 0 | 8 | 2 | 0 | 0 | 4 | 4 | 21 |
| 12/15 | @UNC | L 90-103 | 35 | 5 | 14 | 0 | 1 | 7 | 9 | 2 | 7 | 4 | 2 | 1 | 0 | 3 | 17 |
| 12/18 | Tx-Ar | W 89-55 | 26 | 8 | 11 | 0 | 1 | 4 | 5 | 3 | 11 | 2 | 2 | 1 | 3 | 1 | 20 |
| 12/21 | Denver | W 101-40 | 26 | 9 | 9 | 1 | 1 | 4 | 5 | 0 | 5 | 2 | 1 | 1 | 4 | 2 | 23 |
| 12/28 | NortAL | W 96-51 | 28 | 5 | 7 | 0 | 0 | 4 | 6 | 1 | 6 | 1 | 1 | 1 | 3 | 1 | 14 |
| 12/31 | CS-Bk | W 89-54 | 31 | 7 | 10 | 1 | 2 | 7 | 9 | 1 | 4 | 2 | 1 | 1 | 1 | 2 | 22 |
| 1/5 | SantaC | W 91-48 | 25 | 8 | 12 | 0 | 0 | 9 | 9 | 1 | 5 | 2 | 1 | 1 | 1 | 1 | 25 |
| 1/10 | Pac | W 67-36 | 23 | 4 | 6 | 0 | 0 | 2 | 2 | 0 | 0 | 0 | 2 | 0 | 1 | 4 | 10 |
| 1/12 | @SanFr | W 96-83 | 31 | 9 | 17 | 0 | 2 | 3 | 3 | 2 | 7 | 0 | 0 | 2 | 2 | 2 | 21 |
| 1/17 | LyMnt | W 73-55 | 28 | 4 | 8 | 1 | 1 | 1 | 2 | 3 | 7 | 1 | 0 | 0 | 1 | 2 | 10 |
| 1/19 | @Por | W 89-66 | 37 | 8 | 13 | 0 | 0 | 1 | 3 | 5 | 9 | 4 | 0 | 0 | 3 | 2 | 17 |
| 1/24 | @SantaC | W 98-39 | 18 | 6 | 7 | 0 | 0 | 4 | 4 | 2 | 6 | 4 | 2 | 1 | 0 | 2 | 16 |
| 1/31 | @BYU | W 93-63 | 32 | 8 | 13 | 0 | 0 | 4 | 8 | 1 | 9 | 2 | 1 | 1 | 3 | 2 | 20 |
| 2/2 | SD | W 85-69 | 34 | 11 | 15 | 1 | 1 | 9 | 14 | 2 | 7 | 0 | 1 | 2 | 1 | 2 | 32 |
| 2/7 | SanFr | W 92-62 | 30 | 6 | 15 | 0 | 0 | 5 | 6 | 0 | 5 | 0 | 1 | 1 | 0 | 0 | 17 |
| 2/9 | StMry | W 94-46 | 24 | 8 | 11 | 0 | 0 | 2 | 2 | 2 | 7 | 2 | 3 | 2 | 0 | 2 | 18 |
| 2/14 | @LyMnt | W 73-60 | 37 | 7 | 13 | 0 | 1 | 8 | 8 | 3 | 7 | 1 | 0 | 1 | 3 | 3 | 22 |
| 2/16 | @SD | W 79-67 | 38 | 10 | 15 | 0 | 1 | 2 | 2 | 2 | 10 | 0 | 1 | 0 | 3 | 2 | 22 |
| 2/21 | Pepper | W 92-64 | 33 | 10 | 13 | 1 | 1 | 2 | 2 | 1 | 7 | 3 | 1 | 2 | 2 | 3 | 23 |
| 2/23 | BYU | W 102-68 | 30 | 8 | 13 | 0 | 0 | 7 | 11 | 2 | 10 | 1 | 1 | 0 | 0 | 1 | 23 |
| 2/28 | @Pac | W 86-66 | 30 | 11 | 16 | 1 | 1 | 4 | 5 | 1 | 6 | 1 | 2 | 0 | 1 | 1 | 27 |
| 3/2 | @StMry | W 69-55 | 39 | 7 | 10 | 1 | 2 | 2 | 2 | 0 | 8 | 1 | 2 | 0 | 3 | 2 | 17 |
| 3/11 | Pepper | W 100-74 | 28 | 6 | 11 | 1 | 1 | 3 | 5 | 0 | 5 | 2 | 1 | 2 | 2 | 1 | 16 |