MONDAY, AUG. 25, 2014, 4:57 P.M.
City To Unveil Public Art In September
From draft minutes of Coeur d'Alene City Council meeting last week: "Councilmember Evans stated that the Arts Commission has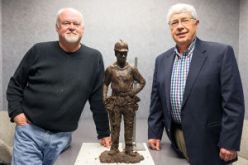 announced that two installations will take place in September; the "American Worker" and "The Explorers." The "American Worker" piece will be located between 5th and 6th Street on Front Avenue and "The Explorers" will be installed south of the splash pad at the base of Tubbs Hill at the trail confluence." Dean Haagenson (on right in inset photo from CdA Press), of Contractors Northwest (the general contractor for the McEuen Park makeover) is donating the $50,000 "American Worker" to the city of Coeur d'Alene. Terry Lee (on left in inset photo) is the artist who is creating the bronze statue. More here.
Question: Are you ready for 2 more pieces of public art to decorate McEuen Park?
---
---