Wed., Feb. 4, 2009
Yesterday's free breakfast at Denny's…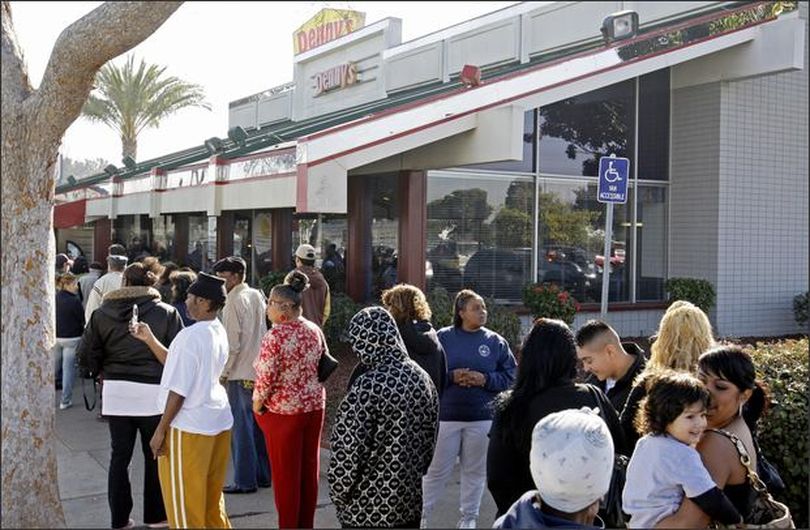 Good morning, Netizens...
Rather than set traps for wolverines or badgers this morning, I turned my rheumy eyes toward one of those icons of American plenty, Denny's Restaurants. (http://www.dennys.com/en/) Although I cannot personally tolerate the food at Denny's, as corporate chow nearly always makes me ill, at least it beats roasted wolverine over an open campfire, and I don't have to discover where I hid my Swiss Army Knife.
Apparently Denny's had a national advertising campaign which offered free Grand Slam breakfasts yesterday, and judging by the look of this picture, a lot of people decided to take Denny up on their offer. As one Spokane Denny's manager stated, "When you're in a recession like this, free counts."
The South Carolina-based restaurant chain figured they would be giving away over 2 million free Grand Slam breakfasts, excluding the coffee and orange juice, of course. Customers lined up in really long lines at most major cities in the United States to hold Denny's to their promise. According to the AP at several cities, Denny's had to hand out rain checks simply because the lines were so long, people were still waiting in line at 2:00 PM, when the deadline expired for this event to conclude.
At least in a state like California, which recently began issuing IOU's to its creditors, at Denny's a rain check for a free breakfast is good for something more substantial it would seem.
Not having been born yet, this reminds me of the historied food lines in the Great Depression, except people didn't eat nearly so well then.
Dave
---
---