Fri., Nov. 13, 2020
Time to reflect on plenty of wonderful RV meals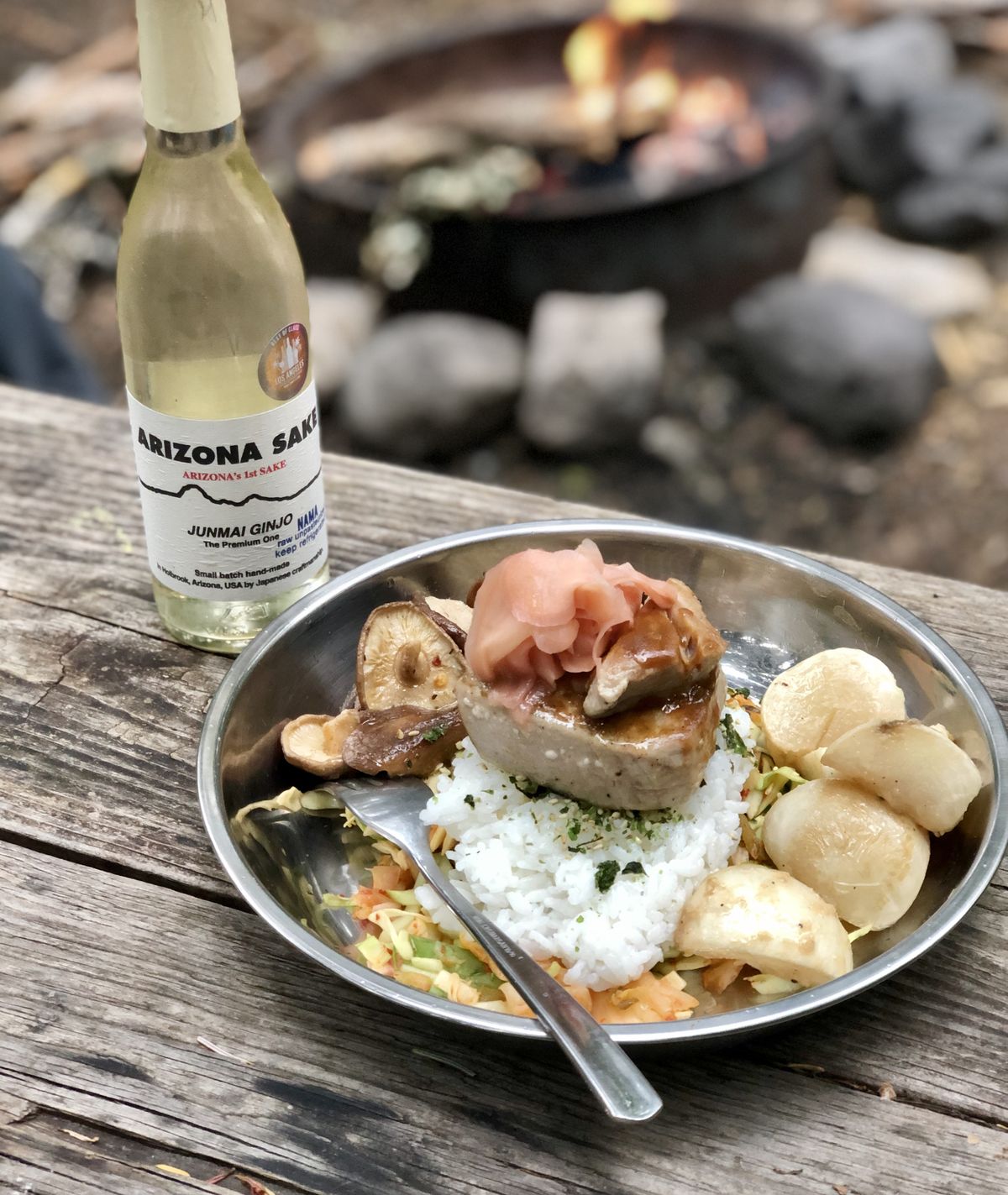 A seared tuna sushi bowl was one of the year's best meals, enjoyed at Mount Rainier National Park last July. (Leslie Kelly)
Our tiny RV kitchen has produced some big flavors this past year.
These moveable feasts have truly benefited from the ever-changing ingredients picked up along the way, a chore that's thoroughly enjoyed by Going Mobile's head cook and chief mess-maker, Leslie.
We're a bit early in climbing on the end-of-year roundups, but the table was set for this top meal retrospective because we got a head start on the holiday season a couple of weeks ago.
Our grown-up kiddo, Claire, flew up from Los Angeles and we decided to celebrate Thanksgiving at Deception Pass State Park on Whidbey Island. Before she traveled, she got a COVID-19 test (negative) and we were able to gather for a lovely early holiday.
For that spectacular spread, Leslie did most of the cooking at home before hitting the road. She wrote about that prep project for Allrecipes.com. The big takeaway was pretty obvious: If you're going to take on a major meal, a full-size kitchen is essential.
But even a tiny RV kitchen can turn out some fantastic meals with just two burners. And when possible, cooking outside -- either on the George Foreman Smokeless Grill or over the campfire -- also delivered some of our most memorable meals of 2020.
Here are some of our favorites:
Pizza on the Foreman was an experiment that was a surprise hit. Leslie's not even sure what prompted her to grab the pre-made pizza crust while shopping in Cottonwood, Ariz., but sometimes inspiration comes in unexpected, popping-fresh forms. Using the bin that the grill is stored in to sit on top of the cooking surface created a makeshift oven. The unadorned crust was flipped halfway through cooking. At that point, sauce and cheese and toppings were added. The RV-ready pizza is now on our regular rotation.
Pulled pork ramen was a creative use of leftover barbecue from the world-famous Rendezvous in Memphis. Leslie was doing "research" on the best Q you can order online. While we loved that porky package that arrived in Sedona, Ariz., by Day 3 of pulled pork sandwiches, we were ready to change things up -- and pork ramen stepped in for a sensational meal.
Brunch at the beach in early February with family was a blast. The star of this Toast Party was, once again, the Foreman. It cooked the beautiful Benton's Bacon to crispy perfection before being turned into a toaster. After eating, we took a short walk from Dockweiler RV Park to the Pacific Ocean and jumped in!
Pork chops, yams and slaw on a chilly summer evening reinforced our commitment to spend as much time as possible outdoors. We bundled up and ate at the picnic table we'd set at Grayland State Park even though it was in the 50s. Brrr and pass the Pinot noir!
Fish tacos by the campfire at Fort Stevens State Park in Oregon were extra-special thanks to the mini-tortillas made from jicama Leslie bought at Trader Joe's. So crunchy and fresh.
Pork and beans were on the menu when Leslie's brother Chris visited the RV while it was parked at the KOA in Leavenworth last summer. Those thick, bone-in chops from Jack Mountain Meat were downright spectacular.
Seared tuna sushi bowl was a riff on the traditional preparation, mild Japanese turnips and shiitake mushrooms on the side. That dinner was the cherry on top of a wonderful Sunday wandering around Mount Rainier National Park in early July.
Fried chicken seems like something you'd not want to try in a tiny kitchen and the shrieking smoke alarm agreed, but it was totally worth it. The secret? A little bacon grease in the cast iron skillet. It was gobbled up on a beautiful winter day at the Happy Traveler in Palm Springs.
Check out the Going Mobile blog on spokesman.com for a slideshow of more memorable meals.
---
---