Fri., March 5, 2021
'Nomadland' gives a glimpse of RV culture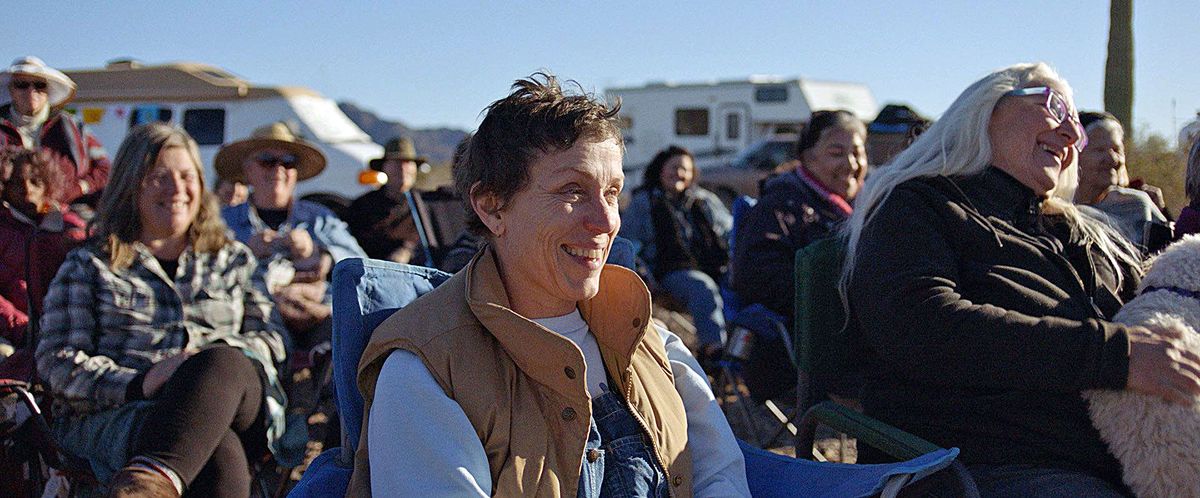 Many of the scenes in "Nomadland" were filmed near Quartzite, Ariz., ground zero for avid boondockers. (Courtesy Searchlight Pictures)
Director Chloé Zhao's critically acclaimed film "Nomadland" doesn't reflect our RVing reality, but we've seen plenty of examples on the road that reaffirm the raw truth of this powerful story. It focuses on the struggles — and accomplishments — of Fern, brilliantly portrayed by Oscar-winning actress Frances McDormand.
Real life full-timers are some of the shining stars of the film, now streaming on Hulu. They also appear in the Jessica Bruder book the movie is based upon, living as modern pioneers of the pavement.
Fern's story is particularly compelling as she travels the country in a vehicle she has named Vanguard, coping with the death of her husband and the dramatic shutdown of a town where they had once lived, a tale that's all too familiar to many people across America.
Her travels take her in search of seasonal jobs — also known as "workamping" — and she increasingly finds a welcoming community among fellow nomads. The memorable locations in the movie include many places we've visited, such as Badlands National Park in South Dakota, and Quartzite, Ariz., a town that has become Ground Zero for boondockers during the winter months.
Linda May, one of the real-life stars of "Nomadland," told the Los Angeles Times that she's seen the popularity of Quartzite increase in the past few years, especially for an annual gathering. "The first Rubber Tramp Rendezvous I went to was about 250 people," she says of the annual event held near Quartzsite. "The last one I went to, there were over 5,000 people. There's always been a community of every walk of life. We have business executives, people with PhDs, scientists and artists and photographers and writers. We have quite an eclectic group that come together and bond, and we have each other's back."
That kind of shared experience isn't as common when staying at RV parks, where residents mostly keep to themselves. (Well, except at the Happy Traveler in Palm Springs, where happy-hour get-togethers are a daily occurrence.)
One very relatable scene in "Nomadland" involves a trip to the auto repair shop, when a mechanic tells Fern that she should probably consider trading in Vanguard because the fixes are going to cost more than the value of the vehicle. She won't even think about that because the van is her home, her tiny happy place.
Since creating her memorable character, McDormand says she still feels an attachment to Vanguard, taking it out of storage to attend the "Nomadland" premiere at a drive-in theater in Pasadena late last year.
She told the New York Times she had considered the van "the interior life of Fern, and therefore me," she said, and to see Vanguard dirty and filled with junk after two years apart was almost too much to bear. An hour and a half into their reunion, (her husband Joel) Coen found McDormand still scrubbing and dripping sweat over Vanguard. "I'm cleaning her," McDormand told him. "I can't let her go!"
We totally get that. Even though we're hunkered down this winter at our home base, each time we've returned to the road for short regional trips has reminded us that our Thor Gemini is our real home.
It's a good year for RV-focused movies that depict the road dog lifestyle. Besides "Nomadland," "The Sound of Metal," streaming on Amazon, features a very cool Airstream 345 motorhome and a fantastic performance by actor Riz Ahmed.
But "Nomadland" stands out for the way it shows the real lives of people RVing full time.
These pioneers aren't cut from the same cloth as the Joad clan in "Grapes of Wrath." No final destination is in sight, and roaming is their sign of resilience. It's about having the courage to try living an off-the-grid existence even when things get rough.
---
---