Sun., Jan. 18, 2015
Seahawks try to earn a return trip to the Super Bowl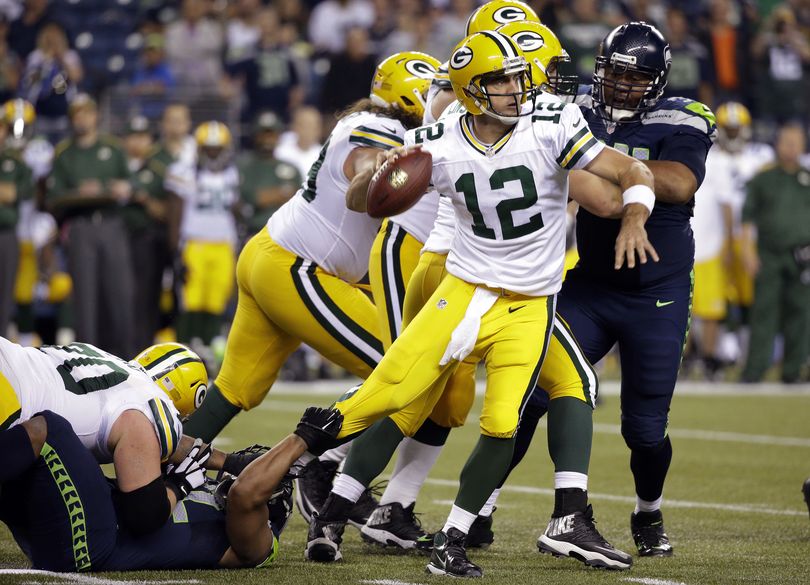 A GRIP ON SPORTS • This is the day. The day of the NFC title game. A berth in the Super Bowl. Who you got? It seems everyone has the Seahawks. The sharps in Las Vegas. You folks in our poll. Commentators. Yep, everyone. Well, just about everyone. Read on.
••••••••••
• Before I changed our poll this morning, I checked the numbers. Nearly 50 percent of you figured the Hawks would win a close game today against the Packers. A third said Seattle would win in a laugher. That's at least eight of every 10 folks picking the Seahawks. After all, they are basically a touchdown favorite in all the Vegas books, so the Packers are considered a considerable underdog. It makes sense. Seattle won the first meeting between the two. The Hawks are on a roll, having won seven consecutive games. Green Bay's quarterback, Aaron Rodgers, may be the NFL's best, but he's working on a bad wheel – or was last week. It's windy and wet in Seattle, favoring the better defensive team and the one with the beast in its backfield. Still, I can't shake this feeling the Packers are ready to spring a monumental upset. I'm a firm believer football games, crucial football games, are won in the trenches. For all the ink the Legion of Boom received last year, the key to the Hawks' Super Bowl success began up front with a dominating defensive line. The Broncos couldn't run the ball and Peyton Manning never felt comfortable. I'm not sure that will be the case today. The Packer offensive line is playing at a high, high level. Last week, with a quarterback who couldn't move more than a foot either way, they kept the Cowboys at bay. Yes, I know the Boys don't measuring up to the Seattle front seven (who does?) but they had been pretty effective this season putting pressure on the quarterback. Rodgers was relatively clean. But more than that, for Green Bay to win, it has to run the ball effectively. And that worries me. Since run-stuffer Brandon Mebane went down, and the Hawks began to win, surprisingly no one has been successful at it. Well, except San Francisco and Carolina. The 49ers rushed for 140 a few weeks back and the Panthers 132 last week. If Green Bay can go for a buck-and-half on the ground (that's 150 yards in FoxSports-speak) then the Pack has a good chance to put some points on the board – and win. That scares me. Or scared me, to be more precise. I dug a little deeper into the numbers and realized this: Both those teams have big, mobile quarterbacks. And both those quarterbacks ran for, relatively speaking, pretty good yardage against Seattle. In fact, take their yardage out and the 49ers didn't gain 100 yards and the Panthers are just above it. If there is anything Green Bay doesn't have right now, it's a running quarterback. In fact, the Packers quarterback is much more Chester Goode than Jim Brown, to drop some 1950s references on you. That made me breathe a bit easier. And tipped the scales toward the Hawks as far as I'm concerned. Shut down Eddie Lacy and James Stark (and occasionally Randall Cobb) running the ball, make Rodgers move a bit and the Packer offense, second in the league in scoring, won't be nearly as effective. Earlier this week I was leaning toward the Packers. Heck, yesterday morning I was still feeling that way. Today, not so much. Let's say Seattle 17-14 and call it good.
•••
• WSU: The immovable object won last night in Pullman. Oregon State's defense easily resisted the Cougars' offensive attacks and OSU picked up a 62-47 Pac-12 victory. Jacob Thorpe covered the game with this game story, a couple blog post including video of Ernie Kent and players postgame and the box score, and then wrapped it all up this morning with this post. ... Jacob's morning post also covers some football coaching staff news.
• Gonzaga: The Zags had it much easier Saturday afternoon. After all, the South Bay traffic is pretty light on the weekends. Wait, I mean Loyola Marymount isn't all that good. Jim Meehan was there and he has this game story and blog post. He'll also be back this morning with a look back before he flies from 70-degree weather to our 30-degree stuff. ... The key game in the WCC last night occurred in Moraga, where St. Mary's and Brad Waldow held off a beat-up BYU bunch, 82-77. Next up for the 7-0 in conference Gaels? A trip to the Kennel on Thursday night. ... Santa Clara outworked USF for a 70-64 home win. ... USD couldn't shoot – again – and lost at Pacific. ... Portland is struggling right now, losing at Pepperdine 67-63. ... The Gonzaga women remained perfect in WCC play with a 76-62 home victory (pictured) over winless Loyola. Tom Clouse has the game story and Dan Pelle has the photographs.
• EWU: The Eagles didn't have their best inside player last night as Venky Jois sat out with an ankle injury. And Sacramento State took advantage, winning 90-77 with a big second half in front of 902 at the Nest. The loss dropped Eastern from atop the muddled Big Sky standings. ... Southern Utah shocked Weber State in Cedar City, winning 70-60. ... Northern Colorado got past North Dakota in overtime while Montana had little trouble with Montana State in the rivalry game.
• Idaho: The Vandals suffered through a lost weekend, dropping another Big Sky Conference road game, this one at Portland State. Sean Kramer has more in this blog post. ... Sean also has some football coaching news, as it looks as if Mike Breske, late of WSU, will be the Vandals' new defensive coordinator. Expect more roster changes as well before spring football. ... The Vandal women won.
• Chiefs: The Tri-City Americans got some revenge for the Chiefs ruining their New Year's Eve game, winning 7-0 last night in Kennewick. ... Everett also shut out Seattle while Portland defeated Prince George on the road.
• Preps: Saturdays in prep sports this time of year usually consist of a wrestling tournament or two and boys and girls playing basketball around the area. This Saturday was no different.
• Seahawks: We'll start with something fun before we move into the meat of the links. The Times has a personality quiz today that matches your personality with that of a well-know Seahawk. I took it. Turns out I'm a perfect match for Tom Cable, body and all. ... There is a lot to watch today and a lot to read. As a special, added attraction, I've got some links here to stories from the Milwaukee Journal-Sentinel, the paper of record in Wisconsin's largest city. ... If the Hawks can win twice more this season, they'll finish something really special. Dave Boling is confident they will get the first one today. ... To do that, Russell Wilson will probably have to see a way to win and then play well.
•••
• And that's it. The Hawks play early today (noon), so get your reading out of the way and settle in. We're having a lunch feast built around the game, then an afternoon of recuperating. I'm guessing we're not alone in that, considering how crowded Costco was yesterday afternoon. Until later ...
---
---