Sports
Sooners pummel Cougars in Pasadena
Thu., Jan. 2, 2003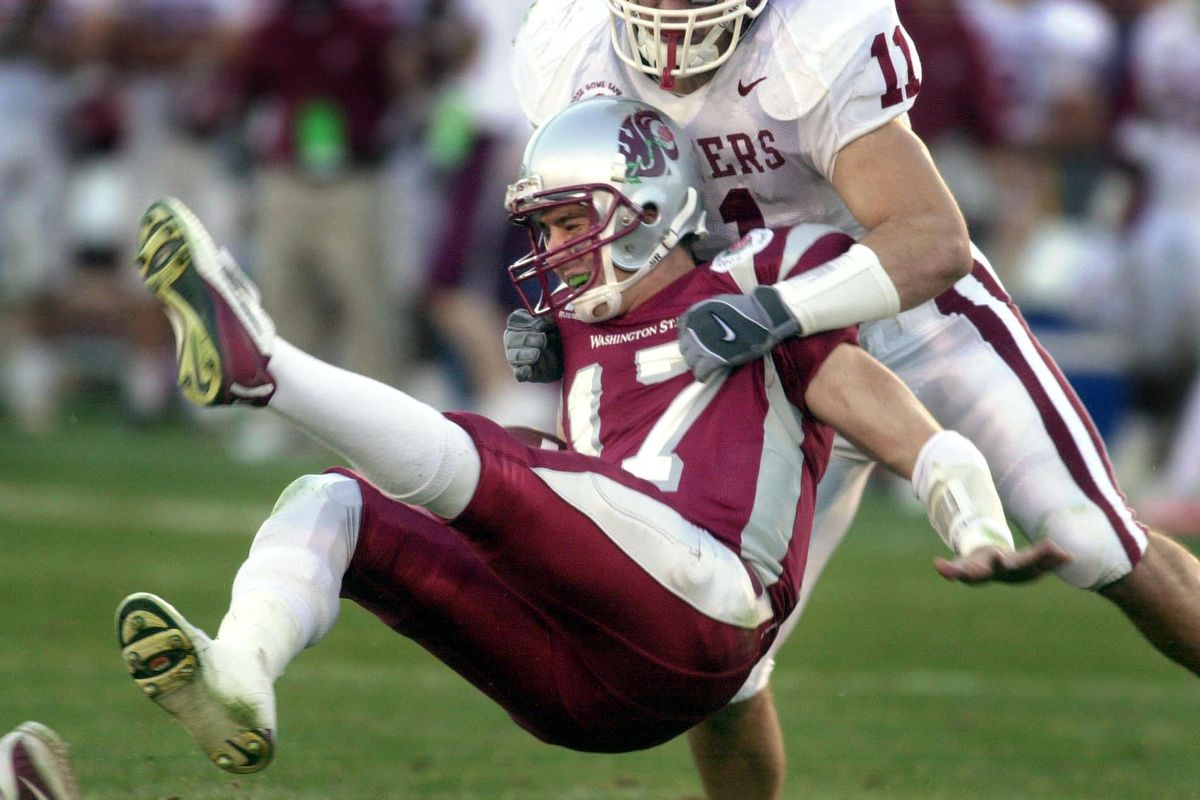 WSU quarterback Jason Gesser gets sacked by OU linebacker Teddy Lehman during the Rose Bowl NCAA football game on Wednesday, Jan. 1, 2003 in Pasadena, Calif. (Kevin German / The Spokesman-Review)
PASADENA, Calif. – So much for two coaches being better than one.
Oklahoma coach Bob Stoops and his Sooners showed up and shut down the two-headed monster that was Washington State's co-coaches, Mike Price and Bill Doba, in a 34-14 Rose Bowl win in front of 86,848 on Wednesday.
"It wasn't the way I wanted to leave," said Price, who has already accepted the head coaching job at Alabama.
It turned out Price's exit wasn't up to him. Oklahoma's defense proved to be the bouncer who unceremoniously showed the coach the door.
Washington State, which came into the game ranked No. 7, finished the season 10-3. Eighthranked Oklahoma finished 12-2.
The Sooners pulled the plug on what had been one of the Pac-10's most prolific offenses. The Cougars were held to 243 yards, their lowest total of the season. (The previous low was 280 against Ohio State, also a WSU loss.)
WSU senior quarterback Jason Gesser never had time to stop and smell the roses. Instead, he had a nose full of grass. Oklahoma used speed off the edge and zone blitzes and got to Gesser six times. No other team had sacked Gesser that many times this year.
"We didn't know which side they were coming from," said Price.
"Everything they did on defense worked," said tackle Calvin Armstrong. "It was like they knew what we were going to do, and their game plan was perfect."
Gesser was far from perfect. All that pressure forced two interceptions and a less-than-average day. He finished 17 of 34 for 239 yards with a touchdown and those two interceptions.
"We came out flat," said wide receiver Sammy Moore.
Then got flattened. The Cougars didn't help matters by stumbling over themselves time and again. The offense had six motion, procedure or illegal substitution penalties. The Cougars failed to score on every drive on which they committed a penalty.
A motion penalty on third-and-3 at the OU 29 was one of the most egregious mistakes. It negated a first down and forced a 51-yard field-goal try, which was tipped by Andre Woolfolk, and fell short.
"You can always expect when you miss, they are going to come out and try something tricky," said cornerback Jason David.
The Sooners, already leading 3-0, did just that. Oklahoma's Nate Hybl hit Antwone Savage for a 30-yard gain. Two plays later, Savage got past Al Genatone and into the end zone for a touchdown with 1:51 left in the first half.
"It was my responsibility to take anything that goes in the flat," said Genatone. "He ran a wheel (route) and I didn't make the play."
The Washington State special teams failed next.
A procedure penalty, chased by a sack, pinned the Cougars deep. Punter Kyle Basler hit a low liner. Antonio Perkins fielded it and took off.
"I got some blocking, saw the hole, and was gone," Perkins said.
Right into the end zone.
"The momentum twisted in the last 2 minutes of that half," Price said. "But honestly, I still thought we were in it when it was 20-0."
They weren't.
The defense, which held all-everything running back Quentin Griffin to one big play in the first half, was worn out.
"It seemed like we were out there forever," said linebacker Pat Bennett.
The problem with that was so were Hybl and Griffin.
Oklahoma controlled the clock and the tempo of the game for more than 37 minutes. Griffin ran for 144 yards on 30 carries and a touchdown. Hybl finished 19 of 29 for 240 yards with two touchdowns.
Hybl was so effective because Washington State jammed the box and allowed the line to pick up any blitzes. That helped, and so did Hybl's composure.
"He is a senior and he did what senior quarterbacks are supposed to do. He led them to a win," said WSU defensive tackle Rien Long.
Gesser is a senior, too. But he didn't even lead the Cougars to the end zone until the fourth quarter. All the final two touchdowns did was make the score look less onesided.
"It was frustrating," said Armstrong. "We were sort of bickering with ourselves."
"We were iffy," added Moore.
But the players said the coaching style, despite having two head guys on the sideline, wasn't.
"It was the usual speech before the game,""said offensive lineman Billy Knotts. "It wasn't like, 'Screw these guys, I'm outta here.'"
But Price did get out of there faster than anyone. With a phalanx of security guards around him, the coach shook Stoops' hand and got to the locker room before any of the players.
"I wanted to get there to greet them as they came in," Price said. "I hugged every one of them."
Local journalism is essential.
Give directly to The Spokesman-Review's Northwest Passages community forums series -- which helps to offset the costs of several reporter and editor positions at the newspaper -- by using the easy options below. Gifts processed in this system are not tax deductible, but are predominately used to help meet the local financial requirements needed to receive national matching-grant funds.
Subscribe to the sports newsletter
Get the day's top sports headlines and breaking news delivered to your inbox by subscribing here.
---