Sports
Raiders give Woodson boot
Wed., July 28, 2004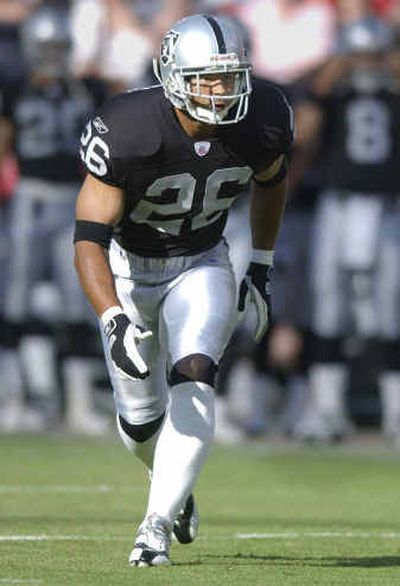 The Oakland Raiders released safety Rod Woodson on Tuesday after the 11-time Pro Bowler failed a physical.
The 39-year-old Woodson had a chronic left knee injury last season and had surgery in December. He was placed on injured reserve Nov. 26.
Woodson had said he'd like to return to the Raiders this season and doesn't want to end his career injured.
"Rod Woodson is one of the greatest defensive backs to ever play the game," Raiders coach Norv Turner said in a statement. "He has been a leader on and off the field during his time with the Silver and Black. We appreciate Rod's contributions to the success of the Raiders."
Woodson, a 17-year veteran who spent the last two seasons with Oakland, is third on the NFL's career list with 71 interceptions. His 1,483 yards on interception returns are the most in league history.
He was the first player to make the Pro Bowl as a cornerback, kick returner and safety during a career also spent in Pittsburgh, San Francisco and Baltimore. He was a member of the Ravens' Super Bowl-winning team.
Taylor signs with Redskins
Sean Taylor, the No. 5 overall pick out of Miami, signed a seven-year, $18 million contract with the Washington Redskins. The details of the contract were confirmed by a Redskins official and a person involved in the negotiations, who both spoke to AP on condition of anonymity. The sources said Taylor will receive a $7.2 million signing bonus, and the total bonus money in the deal — including option and roster bonuses — exceeds $13 million.
Colts sign WSU cornerback
The Indianapolis Colts agreed to contracts with fourth-round draft picks Jason David, a cornerback from Washington State, and Kendyll Pope, a linebacker from Florida State. Pope signed a three-year deal for about $1.2 million with a $329,000 signing bonus, his agent said. Terms of David's deal were not disclosed.
Eagles sign first round pick
First-round pick Shawn Andrews agreed to a six-year contract with the Philadelphia Eagles. Andrews, the 16th overall pick from Arkansas, will compete for the starting spot at right guard.
Jets' No. 1 pick signs
Jonathan Vilma, a linebacker from Miami and the No. 12 overall selection in the draft, signed a five-year deal worth about $10 million with the New York Jets, two days before players report for the start of camp. Though his agent, Mitch Frankel, declined to give specific figures, the deal is in the same ballpark as the one given to Dunta Robinson, who signed a $10.7 million deal with the Houston Texans as the No. 10 pick in the draft.
Mixon appealing two-game suspension
The NFL has suspended Minnesota Vikings defensive end Kenny Mixon for two games for violating the league's substance abuse policy, according to published reports. The Star Tribune of Minneapolis and the St. Paul Pioneer Press reported that Mixon is appealing the suspension, and a decision was expected before the start of the regular season.
• Former World Wrestling Entertainment star Brock Lesnar, a former NCAA heavyweight wrestling champion, signed with the Vikings. Lesnar has not played organized football since his senior year of high school.
Texan safety convicted of drunk driving
A judge sentenced Houston Texans safety Marcus Coleman to three days in jail and a $2,000 fine, a day after a jury convicted him of a misdemeanor drunken driving charge. Coleman, 30, faced up to six months in jail. He crashed his new car in May after leaving a bar.
Around the league
Former All-Pro linebacker John Mobley was released by the Denver Broncos because of a lingering neck injury that will keep him from playing this season. Coach Mike Shanahan emphasized Mobley could be back if he recovers. … New England Patriots linebacker Rosevelt Colvin, who missed most of last year with a broken left hip, has been placed on the team's physically unable to perform list. … Quarterback Jeff Smoker and defensive end Anthony Hargrove have signed three-year deals with the St. Louis Rams. Terms of the deals were not disclosed. … The Dallas Cowboys waived Chad Hutchinson, ending their attempt to turn the former major league pitcher into a starting quarterback. The team also said back surgery on safety Darren Woodson went well. He's expected to be out up to eight weeks, although the team is optimistic he could return sooner. … Mark Hatley, the Green Bay Packers' vice president of football operations, has died at age 54. The cause of his death was unknown.
Local journalism is essential.
Give directly to The Spokesman-Review's Northwest Passages community forums series -- which helps to offset the costs of several reporter and editor positions at the newspaper -- by using the easy options below. Gifts processed in this system are not tax deductible, but are predominately used to help meet the local financial requirements needed to receive national matching-grant funds.
Subscribe to the sports newsletter
Get the day's top sports headlines and breaking news delivered to your inbox by subscribing here.
---