News > Idaho
Time spent with live moose helped sculptor create model
Sat., June 19, 2004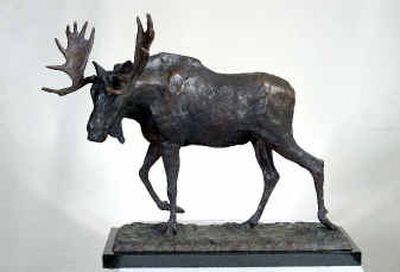 The moose that are gracing Coeur d'Alene are creating quite a stir, but how the basic form of the physique of the moose was created is a story in itself.
Bryan Ross, a trust and investment consultant by day and sculptor by night, is the talent behind the original bronze moose that served as the prototype for the large fiberglass moose.
Ross and his wife, Kaye, own and operate the 105-acre Stillwater Ranch in Sagle, where they have six draft horses and offer hay rides in the summer and sleigh rides in the winter. He had wanted to sculpt since he was a boy making sculptures out of ice and snow.
In the mid-1990s, he was at a car wash waiting for his car to be done, visiting with the minister of his church about his horses. Pam Carlson, wife of North Idaho sculptor and renowned artist George Carlson, overheard them and asked about the horses. George enjoys sculpting large horses, she told him. She invited him to talk to her husband.
It took Ross three months to get up the nerve to call Carlson. He was invited to Carlson's studio in Harrison, where the first advice he was given was that if he wanted to learn to sculpt, first he had to learn to draw. For the next two years he and Carlson attended a drawing class every Monday night at artist Terry Lee's studio.
Carlson invited Ross to a sculpting workshop in Ojai, Calif., where all of the other students were professional sculptors.
"I was really intimidated," Ross said, "but if you're going to learn you may as well learn with the best."
The EXCEL Foundation, the organization behind the "No Moose Left Behind" public art project, contacted Ross last year and requested that he apply to create the moose. Once he got the job, he read five books on moose, and made a trip to the Calgary Zoo where he studied a moose named Rutherford. The zoo keeper let him in first thing every morning for three to four days so he could observe Rutherford.
"I wanted a live moose to sculpt," Ross said. "To really make a sculpture work, you want to sculpt from the inside out."
The fiberglass casts for the moose were made in Chicago and then shipped to Coeur d'Alene in January. They were delivered to the various artists in March.
Because of this project, Ross was contacted by Holly Peterson, a professor of environmental science at Montana Tech in Butte. It seems the folks at the Berkeley Mine had a rather famous dog they wanted sculpted.
The dog is called "Auditor," because he shows up at any time, unannounced, for food or attention. Auditor has lived at the Butte mine for about 15 years. Peterson fell in love with the dog, so she headed up the Auditor Foundation to educate kids about environmental sciences because this dog basically lives in a pit of mine tailings.
Peterson liked Ross's moose, so she has asked him to sculpt Auditor, a full-breed Puli. Pulis were used as sheep dogs in Hungary, according to Ross. He found some folks, Frank and Sally Washburn, in Hope, Idaho, who raise Pulis. Ross used one of their males for his model. The sculpture went to the founder's recently, and the finished product will reside in Butte, possibly in front of the mine.
Ross continues to study art, attending weekly sculpting workshops at Lee's studio. His work is available through Reflections Gallery in San Juan Capistrano, Calif., and on his Web site, bryanross.com. He also has shown his work at Art Spirit Gallery on Sherman Avenue.
The original bronze of the moose will be raffled off July 1 at the Hayden Lake Country Club, during an event from 5 to 8 p.m., where all of the moose artists will have a chance to display their other work. The public is invited to the event. The raffle tickets are $20 and can be purchased at Idaho Trust National Bank, 608 Northwest Blvd., Suite 300.
Local journalism is essential.
Give directly to The Spokesman-Review's Northwest Passages community forums series -- which helps to offset the costs of several reporter and editor positions at the newspaper -- by using the easy options below. Gifts processed in this system are not tax deductible, but are predominately used to help meet the local financial requirements needed to receive national matching-grant funds.
Subscribe now to get breaking news alerts in your email inbox
Get breaking news delivered to your inbox as it happens.
---