News > Idaho
Cool, cloudy forecast for CdA's Ironman triathletes
Fri., June 25, 2004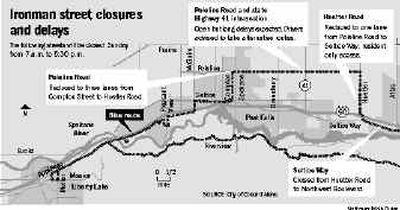 There might never be a good time to travel 140 miles on muscle power alone, but conditions for Sunday's Ironman triathlon are looking pretty ideal.
Temperatures should top out in the mid-70s, with a gentle southwest wind and a 30 percent chance of rain, according to National Weather Service Meteorologist Paul Bos of Spokane. The chance of showers rises after midday, during the cycling and running segments of the race. Clouds should be present during the entire race.
Cooler, rainier weather can be expected throughout the weekend, Bos said.
Although a dream race course includes a perpetual tailwind and no rain, the Ironman competitors are pleased with what's in store.
"It sounds really good to me," said Tom Henson, a Michigan resident who hopes to finish his 13th Ironman on Sunday.
During last year's Ironman in Lake Placid, N.Y., it rained so hard and the clouds were dark enough that streetlights came on along the race course.
Nonetheless, the Lake Placid race had one of the highest finish rates of any Ironman, according to Shane Facteau, a spokesman for the race. This contrasts with the relatively dismal 88 percent finish rate of the 2003 races in Coeur d'Alene and Madison, Wis., where temperatures reached the 90-degree range. Last year, 232 competitors didn't finish the race, many because of the heat.
Henson spent part of the day Thursday testing the 2.4-mile swim course in Lake Coeur d'Alene. Near the finish line at the beach, the shallow water was 70 degrees, according to race officials.
A few feet offshore, however, the temperature dipped to 62 degrees. Competitors wear wetsuits and most say the water temperature is not a concern.
"It's great water, so long as the wind doesn't pick up and make it all choppy," said racer Chris McKelvey, of Aspen, Colo. "It's really clear, which is good to see the other swimmers."
Excessive heat, wind or rain are more worrisome than cool water, McKelvey said. The rain can make cycling particularly treacherous. The wind is just a major pain in the neck.
"I could work in extreme heat better than a headwind," she said.
Between 1,700 and 1,800 competitors are expected to compete in the triathlon, Facteau said. About 2,100 paid the $400 entry fee for the race, but each race has no-shows. If the prime weather forecast holds, about 92 percent of the racers are expected to cross the finish, Facteau said.
"That's about as good as you're going to get," he said.
The weather forecast was a popular topic of conversation in Ironman Village on Thursday in downtown Coeur d'Alene, but racers are a bit like farmers: the conditions are never perfect, yet somehow they manage to endure.
"They've trained in all sorts of conditions," Facteau said.
"These guys are going to go no matter what."
Local journalism is essential.
Give directly to The Spokesman-Review's Northwest Passages community forums series -- which helps to offset the costs of several reporter and editor positions at the newspaper -- by using the easy options below. Gifts processed in this system are not tax deductible, but are predominately used to help meet the local financial requirements needed to receive national matching-grant funds.
Subscribe now to get breaking news alerts in your email inbox
Get breaking news delivered to your inbox as it happens.
---