Sports
Freddy gets his due against Twins
Fri., May 7, 2004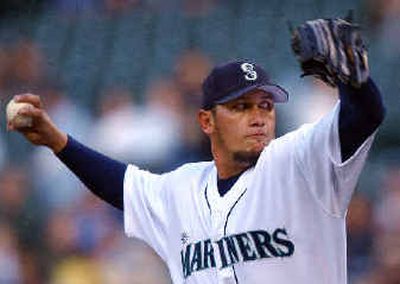 SEATTLE — With minimal help from his offense and some nerve-wracking play by the defense behind him, Freddy Garcia showed Thursday that he really might have put last year behind him.
He worked out of trouble and pitched the Seattle Mariners to a 2-1 victory over the Minnesota Twins at Safeco Field. Garcia, the enigma of the Seattle Mariners' pitching staff in 2003 when bloops, bleeders and blunders were the fodder that tore him apart, held himself together Thursday when the circumstances were difficult.
The Mariners' offense again made contact with the ferocity of a pillow fight — they had five hits and scored the game-winning run on Dan Wilson's double-play grounder in the seventh inning — and the defense committed an error and let a catchable fly ball drop.
Those would have been enough for Garcia to fall apart a year ago. Thursday, he maintained his focus and got tough. Garcia limited the Twins to six hits in seven innings and pitched out of peril four times with runners in scoring position, three of them with less than two outs.
Despite an earned run average that was fifth-lowest in the American League, Garcia hadn't won a game until Thursday. He's now 1-1 with a 2.11 ERA.
"I am trying to concentrate more and focus more, throw strikes," Garcia said. "I feel better this year. When I came to spring training, I was ready to go."
Of his eight strikeouts, two ended innings when the Twins had runners on second base. That included the seventh, when Garcia struck out the side despite a one-out walk and a two-out throwing error on third baseman Scott Spiezio.
"I have a good slider now and I throw the slider every time I have a tough situation," Garcia said. "That pitch has helped me a lot."
Pitching coach Bryan Price was just as impressed that Garcia didn't let the hits and defensive misplays bother him.
"I think he has really made an effort to keep his focus and not get distracted by the things that are going to happen from time to time," Price said. "He had conviction in every pitch he threw."
With command of his fastball, slider, changeup and sinker, Garcia threw first-pitch strikes to 19 of the 29 hitters he faced.
"This is as good as I've ever seen him all the way around," Price said. "Not just as far as his stuff and his command, but his composure and his focus. It's really been a treat to watch."
Garcia lasted seven innings, just long enough for the Mariners to find their offensive footing, shaky as it was in the series.
The Twins led 1-0 on back-to-back doubles in the third inning by Luis Rivas and Shannon Stewart before the Mariners finally reached Twins starter Brad Radke to tie the score in the sixth.
Ichiro Suzuki singled with one out, stole second and scored on Bret Boone's base hit up the middle to make it a 1-1 game.
The M's scored the winner in the seventh with a little execution and some luck. Edgar Martinez led off with a single against reliever Juan Rincon and John Olerud followed with a walk. Rich Aurilia dropped a sacrifice bunt that Rincon misplayed for an error, moving pinch runner Quinton McCracken to third.
Wilson then grounded sharply to shortstop Christian Guzman, who could only turn a double play as McCracken scored the go-ahead run.
"Just the way we drew it up," Mariners manager Bob Melvin said.
Mike Myers and Julio Mateo stopped the Twins in the eighth and Eddie Guardado pitched a 1-2-3 ninth for his fifth save.
Local journalism is essential.
Give directly to The Spokesman-Review's Northwest Passages community forums series -- which helps to offset the costs of several reporter and editor positions at the newspaper -- by using the easy options below. Gifts processed in this system are not tax deductible, but are predominately used to help meet the local financial requirements needed to receive national matching-grant funds.
Subscribe to the sports newsletter
Get the day's top sports headlines and breaking news delivered to your inbox by subscribing here.
---