News > Business
Northwest Mailing delivers
Fri., May 7, 2004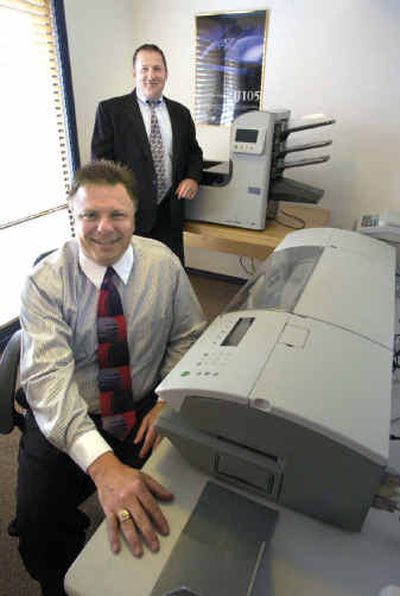 Selling office mailing equipment is much like selling golf clubs in West Palm Beach. The market is always there. The key question is: How hard do you work to close the sale?
One large company, Pitney Bowes, Inc., has parlayed its technology to become the dominant player in that market. Pitney Bowes, through its various sales and service offices, generates $4.66 billion in annual revenue.
Two Spokane partners, John Allen and Dwayne Alexander, were working for Pitney Bowes and decided in 2002 they could do better on their own.
They started their own company, Northwest Mailing Inc., and focused on being quicker, more agile and more flexible than their former employer.
"Pitney Bowes has 100 branch offices, but all the decisions are made at one place," said Allen, Northwest Mailing's chief financial officer.
"We decided to go with another company's equipment, and that company (Neopost) allows every local office to decide its own prices and how to handle our customers," he said.
Neopost, based in France, is the No. 2 global manufacturer of office mailing and metering machines.
Its flexible policy allows distributors and dealers like Northwest Mailing to tailor contracts to each customer's needs, said Alexander, the company's president.
"It's all about giving great service to every customer," he said.
Alexander worked for Pitney Bowes in this area for 15 years, while Allen spent 18 with the company before leaving.
Both said they were among the most successful sales reps in Spokane's Pitney Bowes office. "We left within 15 days of each other," Allen said, "and we had accounted for about 60 percent of their local accounts."
All major companies in their industry do three things to generate money: selling the metering and document-handling equipment; providing supplies; and selling maintenance contracts.
Alexander and Allen estimate that Pitney Bowes has about 60 percent of the local market. Northwest Mailing, which started with 300 customers but now has 1,800, commands about 28 percent, Allen said.
The rest belongs to two or three other competitors.
Allen and Alexander project net company revenue of about $4 million this year, up from $3.8 million in 2003. That 2003 figure includes revenue from the company's North Spokane headquarters and its two branch offices in Kennewick and Boise.
The three offices employ 32 people. Alexander said the company hopes to add a few more regional offices over time, targeting about $10 million in annual revenue "and not trying to get any larger than that."
While the costs of metering equipment are holding steady or declining, overall mail volume is increasing, which is propelling the steady increase in business, Allen explained.
"You think that the Internet and e-mail have reduced the mail sent from companies. That's not true. The amount of bulk mail has increased in recent years," he said.
A year ago, Craig Landron was in charge of selecting office postage equipment for a new North Spokane branch office of Edward Jones Investments. He got calls from reps of both Pitney Bowes and Northwest Mailing, he said. The Pitney Bowes contract cost more, but what sold Landron on a Northwest Mailing contract was a personal visit from both Alexander and Allen.
"It was the combination of that face-time, personal contact and a much better price that made the difference. I'm totally happy with what they've provided," Landron said.
Allen said most of Northwest Mailing's customers in the area are paying between $90 and $500 a month for contracts with the company; that figure typically includes service agreements.
The higher-end contracts are for a full package — machines that slice open mail in seconds, plus an array of equipment that does the "three S" chores: seal, stack and stamp.
The major hurdle they've overcome, Alexander said, was handling a cash crunch caused by rapid expansion during 2003. Money owed was coming in much slower than money invested in equipment to be sold to customers.
"We bought everything we sold without going into debt. We're proud of that," Alexander said.
Local journalism is essential.
Give directly to The Spokesman-Review's Northwest Passages community forums series -- which helps to offset the costs of several reporter and editor positions at the newspaper -- by using the easy options below. Gifts processed in this system are not tax deductible, but are predominately used to help meet the local financial requirements needed to receive national matching-grant funds.
Subscribe to the Coronavirus newsletter
Get the day's latest Coronavirus news delivered to your inbox by subscribing to our newsletter.
---