News > Business
Passing the torch
Sat., May 8, 2004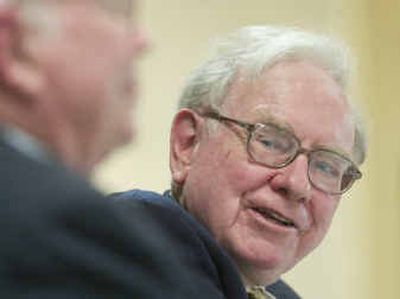 OMAHA, Neb. — Gray and bespectacled, Warren Buffett would seem an unlikely character to garner the kind of adoration usually reserved for rock stars.
But on Wall Street, Buffett is king, and as with all monarchies, the question of succession is never far from the minds of his followers.
As chairman of investment company Berkshire Hathaway Inc., Buffett has amassed a financial empire worth $100 billion that owns furniture, carpet, jewelry and candy companies, restaurants, natural gas and corporate jet firms. His personal worth is estimated at $42.9 billion.
Speculation has swirled for years about who will succeed Buffett. But as he prepares for his 74th birthday in August, buzz about the inevitable seems to be growing louder, and never more so than at last weekend's Berkshire shareholders meeting in Omaha.
"He'll tell you he's got this all figured out on who's going to take over, and not to worry about it," shareholder Jim Pape, of Bellevue, said as he watched Buffett pass amid a throng of admirers for the start of a six-hour meeting in which Buffett took questions from shareholders.
"I'll tell you this: When Warren's gone, I'm selling my stock," Pape said.
It's no secret that Buffett's eldest son, Howard is set to succeed his father as chairman. However, the title won't carry the same authority it currently wields, explained Andy Kilpatrick, a stockbroker in Birmingham, Ala., who wrote "Of Permanent Value, the Story of Warren Buffett."
"Howard Buffett would be the chairman of the board as a sort of titular head figure," Kilpatrick said in an interview. "I think it would be more like keeping the culture of Berkshire. … He would not make any investment or business decisions."
It's Warren Buffett's most important jobs — those of investing and operations management — that has people asking who could follow a man who took $100 from his own pocket in 1956 and turned it into a multibillion-dollar company. Buffett has said his current duties will be split into two parts, with one executive handling investments and another dealing with day-to-day operations.
In recent years, Buffett has indicated that Lou Simpson, 67, who runs investments for auto insurance company GEICO, would handle the investment responsibilities. But Buffett told shareholders other candidates could be considered the longer he leads the company.
"We wouldn't want to pick someone who was on up in age," he said.
As for the head of operations, Buffett said in his annual letter this year that four internal candidates have been identified to possibly replace him upon his death or disability.
Barron's magazine last month named five favorites for that post: Joe Brandon, chairman and CEO of the insurer General Re; Ajit Jain, who runs Berkshire's reinsurance division; GEICO chief executive Tony Nicely; Richard T. Santulli of NetJets, and David Sokol, CEO of Iowa-based utility MidAmerican Energy.
It's not unusual for corporate heads to be reticent in choosing a successor, said Steven Kaplan, an expert in corporate governance and professor of finance at the University of Chicago Graduate School of Business. Openly declaring a list of possible successors would enlighten shareholders, but it could put the candidates in a tough position — especially considering the stature of the man they would replace, Kaplan said.
Local journalism is essential.
Give directly to The Spokesman-Review's Northwest Passages community forums series -- which helps to offset the costs of several reporter and editor positions at the newspaper -- by using the easy options below. Gifts processed in this system are not tax deductible, but are predominately used to help meet the local financial requirements needed to receive national matching-grant funds.
Subscribe to the Coronavirus newsletter
Get the day's latest Coronavirus news delivered to your inbox by subscribing to our newsletter.
---