Sports
Roof at root of problems
Sat., May 8, 2004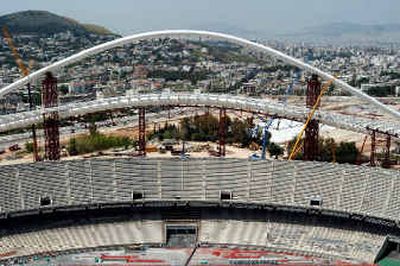 ATHENS — There is figurative and literal significance to getting the massive roof over the 2004 Olympic Stadium out of the way.
The literal part is more important.
If the two arches of the roof cannot be moved as planned from their current positions, to the immediate east and west of the stadium, it will cause enormous disruption in finishing the entire construction project.
The moving date for the first (west) section, April 28, was postponed because more work was needed on the 9,000-ton arch and spider web of roof beams attached to it. The next projected date was Friday, but that also passed with no movement. A Greek official says Sunday is the best bet.
"The importance of sliding the roof is to allow construction work around the stadium," said Denis Oswald, chairman of the International Olympic Committee coordination commission, which oversees the Athens Games. "If it fails, we will have to find ways to prevent difficulties with access to the stadium. That's the big problem."
The IOC coordination commission begins its final pre-Olympic inspection Monday. Athens organizers moved a similar but smaller roof over the velodrome when Oswald was in town in late March.
"That showed the (moving) technique can work," Oswald said.
Hydraulic pistons are to push the west arch 225 feet along specially constructed tracks, a process that will take 36 to 56 hours. When both arches are in place, they will cover 70 percent of the stadium.
Figuratively, moving the stadium roof will remove some of the doubts that Athens can complete the essential parts of its Olympic setup before the Aug. 13 Opening Ceremonies.
The stadium is among 24 sports and non-sports venues listed as incomplete in the most recent report (April 5) of the Greek Ministry of Culture, which is responsible for the country's Olympic preparations. The report calls 15 others complete.
The stadium lacks its 75,000 seats, but installing them is a simple if labor-intensive project. Like most of Athens' Olympic venues, it also lacks landscaping.
If piles of dirt remain around the venues, U.S. television viewers likely won't see them. NBC will focus its cameras on ancient ruins rather than modern ones.
Just put on some makeup
But Athens has a plan to make sure it looks good: If something can't be fixed, cover it up!
Experts in graphic design and public relations created a series of giant colorful banners to fasten over the facades of drab buildings around venues and along busy roads.
The pressure is on — not just to finish Olympic projects in time, but also to make them aesthetically appealing.
"We want Athens to look as good as possible on television," said Theodora Mantzaris, head of the organizing committee's image and identity department.
The group is in charge of decorating 60 facilities, including the airport and central squares.
"The banners are going to be very festive," Mantzaris told The Associated Press. "We are going to be very vibrant, very lively and very Olympic during the games."
Visitors to the public order ministry — on a colorless block north of the city center that also houses the secret service — will be greeted with a banner bearing a scene from Ancient Olympia, birthplace of the games.
There will be plenty of shades of blue and purple, colors associated with the sea and bougainvillea plants that adorn Greek islands.
In total, organizers will produce 6,700 banners, plus hundreds of thousands of square feet of fabric to cover fences and yet more to decorate inside sports arenas.
The giant cover-up is seen as a tacit admission that this cement-heavy city of 4 million people failed to carry out earlier plans of a grandiose overhaul.
Terror threat dismissed
Greek and U.S. officials have no intelligence information to indicate that international terror cells are operating in Greece and no evidence of plots aimed at the Olympics, Greece's top law official said.
Possible security problems at the games are causing serious misgivings. U.S. officials have pressed the Greeks repeatedly to do more to ensure the safety of athletes and spectators.
Greek Minister of Public Order George Voulgarakis met with top U.S. intelligence and law enforcement officials in Washington and delivered new assurances that security measures will be ready to protect the games.
"Our plans are very well-prepared," Voulgarakis said at a news conference after the meetings. "We have taken into account all the scenarios that the mind can think of."
Voulgarakis said he was given no evidence in meetings with CIA Director George Tenet, FBI Director Robert Mueller or national security adviser Condoleezza Rice that al-Qaida or any other international terror group has an active presence in Greece.
"We do not have terrorist cells in Greece," he said.
Local journalism is essential.
Give directly to The Spokesman-Review's Northwest Passages community forums series -- which helps to offset the costs of several reporter and editor positions at the newspaper -- by using the easy options below. Gifts processed in this system are not tax deductible, but are predominately used to help meet the local financial requirements needed to receive national matching-grant funds.
Subscribe to the sports newsletter
Get the day's top sports headlines and breaking news delivered to your inbox by subscribing here.
---