Sports
Jefferson sparks Nets
Mon., May 10, 2004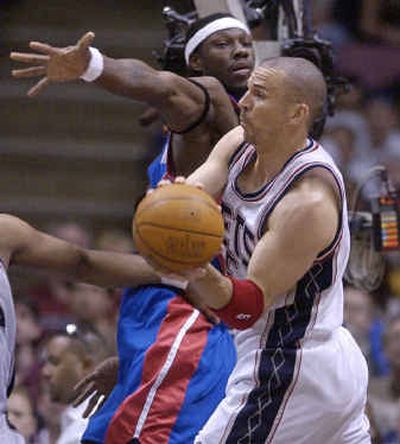 EAST RUTHERFORD, N.J. – Richard Jefferson was the reason why Kenyon Martin's foul trouble and Jason Kidd's poor shooting didn't make much of a difference.
The Nets used their fast break to take a big early lead, and Jefferson scored a career playoff-high 30 points to help New Jersey finally put together 48 minutes of decent basketball and defeat the Detroit Pistons 82-64 Sunday night.
The Pistons still lead the Eastern Conference semifinal series 2-1, with the Nets looking to tie it in Game 4 Tuesday night.
In order to do so, they'll likely stick with what worked best – using their superior speed as much as possible, letting Jefferson carry a bigger load on offense and keeping things relatively even on the boards.
"I would say I was due more than anything," said Jefferson, who shot 6 for 25 in Games 1 and 2 before going 11 for 19 in Game 2. "I've progressively gotten better in this series. You get used to the way they're playing you, you make adjustments, you find your shots and you've just got to knock them down."
Ben Wallace grabbed 24 rebounds but was the only Detroit player to display the same type of energy that fueled lopsided victories in Games 1 and 2.
Plenty of factors could have hurt the Nets, including another awful shooting performance by Kidd (2 for 14) and foul trouble for Martin that limited him to 21 minutes.
But New Jersey never let an early 21-point lead get too diminished, answering each time the Pistons got anywhere near striking distance.
Kerry Kittles scored 17 for the Nets, but his biggest contribution was his defense on Chauncey Billups, who averaged 17 points in the first two games of the series but was limited to two on 1-for-10 shooting.
Ben Wallace and Richard Hamilton had 15 points each for the Pistons, who shot only 22 for 76 (29 percent).
Local journalism is essential.
Give directly to The Spokesman-Review's Northwest Passages community forums series -- which helps to offset the costs of several reporter and editor positions at the newspaper -- by using the easy options below. Gifts processed in this system are not tax deductible, but are predominately used to help meet the local financial requirements needed to receive national matching-grant funds.
Subscribe to the sports newsletter
Get the day's top sports headlines and breaking news delivered to your inbox by subscribing here.
---