Sports
NO HEADLINE
Wed., May 12, 2004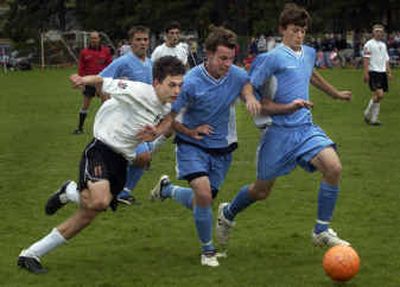 Lewis and Clark soccer coach Kenny Krestian was relieved C.J. Moe's leg was feeling stronger Tuesday afternoon.
Moe saw limited playing time last Saturday when the Tigers were stopped short of a third consecutive district championship, losing to Ferris.
With Moe stronger and his team coming in with added motivation after the Ferris loss, Krestian felt his team was ready to capture the second and final seed into the State 4A tournament in a loser-out matchup against Central Valley (13-5) at Hart Field on Tuesday.
And that's what happened as the Tigers took a 3-2 victory.
"We knew it was going to be a good game," Krestian said after the win over the Bears. "We really took the loss to Ferris to heart and came out knowing what we wanted to do today. Every good team has to lose once, so hopefully that will be our loss of the season."
LC (16-1) scored twice in the first 10 minutes, once when league-leading scorer Moe launched a rocket inside the left post and again when Brad Posten placed a corner kick perfectly in front of the goal for junior forward Matt Harnetiaux to head into the right side of the goal.
In a desperate scramble to close the gap, CV's Blake Trimmer broke through in the 17th minute when he picked up a ball from teammate Luke Chesher.
But before the end of the first half, Stefan Andersson answered for the Tigers when he picked up a rebound off another close shot by Moe that was saved by CV's goalkeeper Ryan Skay.
That gave LC its insurance goal and a 3-1 lead heading into the break.
That also gave Moe an opportunity to rest his sore leg for a good portion of the second half.
CV's scored its final goal when Trimmer crossed the ball to Jeff Mathwig, who sent the ball to Jay Vela on the right side for an easy finish.
With 9 minutes to play, a shot that was only stopped by the brilliant coverage from senior defender Tim Olson called for action.
Moe re-entered the game to help secure the win.
"(Moe) is an impact player," Krestian said.
"It's a mental thing for our team. He brings stability."
Local journalism is essential.
Give directly to The Spokesman-Review's Northwest Passages community forums series -- which helps to offset the costs of several reporter and editor positions at the newspaper -- by using the easy options below. Gifts processed in this system are not tax deductible, but are predominately used to help meet the local financial requirements needed to receive national matching-grant funds.
Subscribe to the sports newsletter
Get the day's top sports headlines and breaking news delivered to your inbox by subscribing here.
---