News > Nation/World
World's heaviest raccoon dies
Fri., May 14, 2004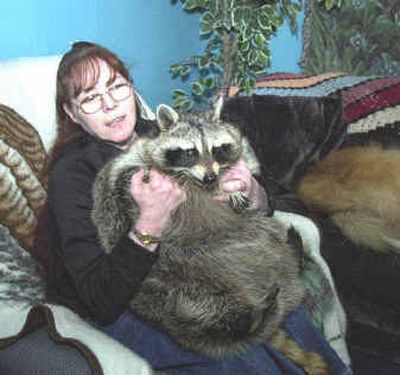 PALMERTON, Pa. – The world's weightiest raccoon, famed for his junk-food jones, has died after tipping the scales at nearly 75 pounds.
Bandit will no longer raid his owner's pantry, hunting down chips and cheese curls, Froot Loops and french fries.
"I haven't been eating, I haven't been sleeping," a bereaved Deborah "Pepper" Klitsch said Monday, two days after she euthanized her favorite pet.
Klitsch, who lives in Palmerton, about 90 miles west of New York City, denied the occasional charge that she overfed the rotund raccoon, whose weight ballooned to nearly 75 pounds, three times the average for his breed. He was born with a bad thyroid gland, she said.
When he hit 52.5 pounds in 1999, Bandit's girth garnered him a spot in Guinness World Records. Bandit continued to plump up, hitting 54.4 pounds in late 1999, then 64.9 pounds in 2001 and finally pushing past 70.
Klitsch told the tale to news outlets, and Bandit snagged a spot on cable TV's Food Network.
The raccoon was a regular at Ice Cream World, where owner Tim Pitts would watch him hold a cup of blue raspberry Slush with his paws and drink through a straw.
"He was a good customer," said Pitts, who had sold a birthday cake for Bandit a few days ago.
Bandit started to decline earlier this spring, following the deaths of two puppies he had grown up with. He had also developed a cancer-like growth on his side.
Local journalism is essential.
Give directly to The Spokesman-Review's Northwest Passages community forums series -- which helps to offset the costs of several reporter and editor positions at the newspaper -- by using the easy options below. Gifts processed in this system are not tax deductible, but are predominately used to help meet the local financial requirements needed to receive national matching-grant funds.
Subscribe now to get breaking news alerts in your email inbox
Get breaking news delivered to your inbox as it happens.
---