News > Idaho
Republicans face choice in primary
Wed., May 19, 2004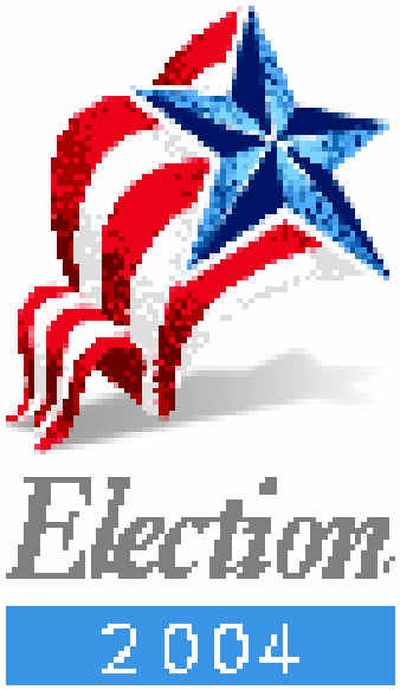 Last time around, the Republicans emerged from the primary race for Coeur d'Alene's District 4 with nearly three times as many votes as the Democrats. Yet the Republican primary winner, Jim Hollingsworth, went on to be narrowly beaten by upstart Democrat Bonnie Douglas.
Hollingsworth lost by 27 votes. Some blamed a Libertarian spoiler candidate for stripping away 418 votes that could have otherwise boosted the Republicans into office. Others said Hollingsworth shot himself in the foot with his positions on topics ranging from AIDS victims to the U.S. Environmental Protection Agency (he has professed contempt for both).
Hollingsworth, 63, has since tempered his words. The self-employed contractor has been going door-to-door since November asking voters for another chance.
"This will probably be a different race," Hollingsworth said. "We're trying not to make so many radical statements."
Retired Coeur d'Alene businesswoman Marge Chadderdon believes she will be a more mainstream choice for a Republican candidate. Chadderdon, 66, took pains to avoid publicly criticizing Hollingsworth, except to say that his views during the 2002 election turned away many swing voters and moderate Republicans.
"That was not good for the party," Chadderdon said. "I never set out to run. But I'm running because we're going to take this seat back. … I have much stronger support from within the party."
Chadderdon has been active in Republican Party causes since working for Dwight Eisenhower's presidential campaign in 1956. She has since been active in a variety of grassroots party causes, including recently being appointed to the board of directors of the National Federation of Republican Women. Chadderdon and her late husband founded a chain of flooring stores. The company now has 15 locations in the Northwest and is run by Chadderdon's son.
Growing up on an Eastern Montana farm is where Chadderdon said she gained her love for the bedrock Republican value of self-reliance – her father built the family farmhouse out of cottonwood logs and any household purchase was carefully scrutinized. Chadderdon said she would take these values to Boise.
"When you go to state government, you have to decide with everything, is this a want or a need?" she said.
Hollingsworth believes his diverse business background – logger, miner, school bus driver, teacher, contractor – gives him a broader background to understand the concerns of most people in District 4. His biggest concerns are reforming the education and welfare systems.
The teacher credentialing system should be changed to allow people with clean criminal backgrounds and bachelor's degrees to teach, Hollingsworth said. Hollingsworth is also an advocate for home schooling, private schools and Christian academies.
Hollingsworth is critical of state programs that he says undermine the traditional family, including paying more to single mothers who have additional children.
"It seems to me many of the things we do as a government actually undermine the family," Hollingsworth said, adding that he is particularly angered at proposals to grant gays and lesbians marriage licenses.
Hollingsworth said he will work hard to limit the size of state government. "I believe the government has grown too large. I'm a strong advocate of government not growing any more rapidly than the economy."
Both Hollingsworth and Chadderdon say they agree with the Republican Party platform on major issues. The two also oppose any ban of field burning. Both also call Ronald Reagan a hero.
"How could you not look up to Ronald Reagan? God love him," said Chadderdon, adding that she also thinks Eisenhower was an ideal leader.
Hollingsworth said he's "probably more conservative" than Chadderdon – he counts outspoken former U.S. Rep. Helen Chenoweth-Hage a role model – but he thinks he has more similarities than differences with his opponent.
"Marge and I spent an hour talking about our differences. We weren't able to find anything really striking," he said, adding that even if his views are more conservative, they have been supported by most people on the campaign trail. "The more I've talked to people, the more I realize my ideas are pretty mainstream."
Local journalism is essential.
Give directly to The Spokesman-Review's Northwest Passages community forums series -- which helps to offset the costs of several reporter and editor positions at the newspaper -- by using the easy options below. Gifts processed in this system are not tax deductible, but are predominately used to help meet the local financial requirements needed to receive national matching-grant funds.
Subscribe now to get breaking news alerts in your email inbox
Get breaking news delivered to your inbox as it happens.
---