Sports
Sonics sink Sixers to roll No. 7
Wed., Nov. 17, 2004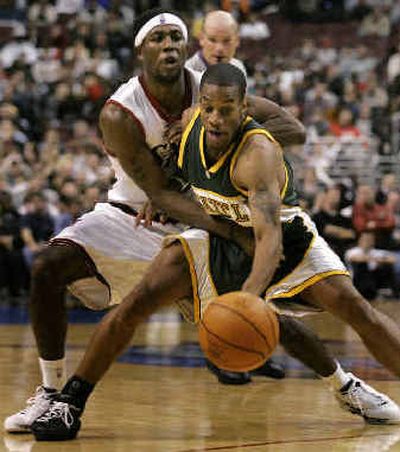 PHILADELPHIA — Wide open or contested, the Seattle SuperSonics hit 3-pointers from all over the court.
Ray Allen scored a season-high 37 points, Rashard Lewis had 21 and Vladimir Radmanovic added 20, leading Seattle to its seventh straight victory, 103-95 over the Philadelphia 76ers on Tuesday night.
The Sonics are off to their best start since opening 10-0 in 1993. They haven't lost since dropping their opener to the Los Angeles Clippers by 30 points after going 2-6 in exhibition games.
"Everybody stepped up and played their part," Allen said. "We had it working on all cylinders."
Allen Iverson scored 26 and Kyle Korver had 14 for the Sixers, who had won three in a row.
Seattle, which came in with an NBA-best 58 3-pointers, shot 18 of 39 from beyond the arc, tying a team record for 3s. Allen finished 12 of 24 from the field, including 7 of 12 on 3-pointers. Radmanovic went 6 of 11 on 3s.
Antonio Daniels had 19 points off the bench for Seattle, which received 41 points from its reserves.
"This team is playing the game the right way," Sonics coach Nate McMillan said. "We are getting play from our first and second units. We're getting solid play from 10 guys."
Willie Green put Philadelphia ahead 72-64 in the third quarter with a dunk off a behind-the-back pass from Iverson. But the Sonics answered with 13 straight points to end the quarter, taking a 77-72 lead on consecutive 3-pointers by Lewis.
Another 3 by Allen capped an 18-0 run, giving the Sonics an 82-72 early in the fourth. Overall, the Sixers went 6:30 without scoring before Iverson made a driving layup to cut it to 82-74.
"They have way too much firepower from the 3-point line," Sixers coach Jim O'Brien said. "They generally have four great shooters at once and they use the pick-and-roll well."
After a three-point play by Samuel Dalembert cut the deficit to 92-85, Radmanovic's sixth 3 gave the Sonics a 10-point lead with 4:32 left. The Sixers didn't get closer than nine until the final seconds.
"The game was ours to win. We just broke down," Iverson said.
The teams combined to make 15 of their first 21 shots. Allen scored 12 of Seattle's first 14 points, hitting three 3-pointers in that stretch.
The Sixers scored the last nine points in the second quarter to take a 55-53 halftime lead. Korver made an alley-oop pass to Dalembert for a dunk, then hit a 3-pointer to tie it.
Seattle closed the first quarter by outscoring the Sixers 18-7 the last six minutes to take a 34-25 lead.
"They have a lot of good shooters," Korver said. "Ray Allen is a great player, but you can't just focus on him."
Local journalism is essential.
Give directly to The Spokesman-Review's Northwest Passages community forums series -- which helps to offset the costs of several reporter and editor positions at the newspaper -- by using the easy options below. Gifts processed in this system are not tax deductible, but are predominately used to help meet the local financial requirements needed to receive national matching-grant funds.
Subscribe to the sports newsletter
Get the day's top sports headlines and breaking news delivered to your inbox by subscribing here.
---