Sports
A changing landscape
Sun., April 3, 2005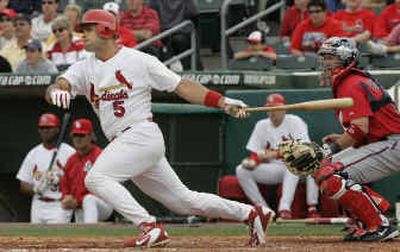 Injured and exhausted, Barry Bonds won't be swinging his mighty maple bat for a while.
That means life just got easier for almost every pitcher in the National League, including three big-name newcomers.
Tim Hudson, Pedro Martinez and Mark Mulder moved over from the A.L. during the off-season, and each has a realistic chance to pitch his team to a pennant in the senior circuit.
Start with Hudson, traded from cost-conscious Oakland to the Atlanta Braves in December. The sinkerball specialist is 92-39 with a 3.30 ERA in six major league seasons, and now he joins a club that's won an unprecedented 13 straight division championships.
He'll be No. 2 in the revamped rotation behind six-time All-Star John Smoltz, who shifts from closer back to starter as the ever-adjusting Braves reinvent their staff yet again.
That tandem, followed ably by Mike Hampton, John Thomson and Horacio Ramirez, make Atlanta the favorite in an improved N.L. East.
"We decided to go back to the old-fashioned Braves way — dominate with pitching," general manager John Schuerholz said.
Their toughest competition could come from the feisty Florida Marlins, who added slugger Carlos Delgado to the middle of their lineup.
And don't forget Martinez's team, the New York Mets.
New York chased hard after Atlanta from 1997-01 before hitting the skids with three consecutive losing seasons. But now that general manager Omar Minaya has lured Martinez and Carlos Beltran to the Big Apple, the Mets-Braves rivalry could be renewed.
"The new Mets are going to (have) a new attitude," said Martinez, who left Boston for a $53 million, four-year deal. "It's going to be a team that went from last place in other years to being a team that's really going to compete and be in the middle of the race."
The division also includes the Washington Nationals. The former Expos moved from Montreal and bring big league baseball back to the nation's capital for the first time since 1971.
Even with Roger Clemens returning to Houston for another season, St. Louis remains the team to beat in the N.L. Central – especially after adding Mulder to the top of the rotation.
Three days after the Athletics traded Hudson, they dealt Mulder for two young pitchers and a minor league catcher. The lanky left-hander went 72-32 the past four seasons and gives the Cardinals a legitimate No. 1 starter, something they've lacked for years.
Now, after rolling to 105 wins in 2004, the N.L. champs could be even tougher to beat — especially since Beltran, Jeff Kent, Sammy Sosa and Moises Alou all left the division.
Mulder stumbled badly down the stretch last season, but he should get plenty of run support in St. Louis from a lineup that still features Albert Pujols, Scott Rolen, Jim Edmonds and Larry Walker.
"It's not knocking what we had in Oakland, but the St. Louis offense is a lot better all around," Mulder said after the trade. "I know they were one of the better defensive teams also. I look forward to winning a lot of games there."
As for Bonds, caught up in the steroids scandal, his 703 homers leave him just 11 shy of Babe Ruth and 52 behind Hank Aaron's career mark. But all the San Francisco slugger can do for now is rehab that injured knee and hope his Giants stay close in the N.L. West until he returns.
A look at the N.L. in predicted order of finish:
East
Atlanta Braves: Plenty of folks picked against the Braves last season and learned their lesson. Now, Atlanta is back in the familiar role of favorite.
The acquisition of All-Star closer Danny Kolb from Milwaukee allowed the 37-year-old Smoltz to rejoin the rotation after three years as a dominant reliever. As long as his elbow and Hampton's knee hold up, the pitching staff should be solid. Smoltz opened the spring with 14 scoreless innings.
Florida Marlins: This team has a nice mix of power and speed, youth and experience. Look for the Marlins to stay in the race all season and win the wild card, as they did en route to the 2003 World Series title.
Delgado is a perfect fit for Florida, a left-handed power hitter who plays first base. Having catcher Paul Lo Duca for a full season should be a boost. The Marlins need a big year from Josh Beckett or fellow right-hander A.J. Burnett. Al Leiter should help ease the loss of Carl Pavano.
New York Mets: Minaya's makeover generated plenty of buzz, especially in the Big Apple. But several key players are injury prone (Mike Piazza, Cliff Floyd, Jose Reyes), and that could keep the Mets from reaching the playoffs.
Martinez might be even more effective in the N.L., where there is no DH. Beltran is a dynamic player who can do it all. His big postseason with Houston last year appears to have prepared him for the New York spotlight.
Philadelphia Phillies: The Phillies flopped as favorites last season, but maybe they'll surprise everyone by hanging close in a tough division this year.
New manager Charlie Manuel replaces fiery Larry Bowa. Jim Thome, Bobby Abreu and Pat Burrell provide plenty of power, but the pitching staff must stay healthy.
Already, right-hander Vicente Padilla is expected to begin the season on the disabled list. Brett Myers has talent but lacks consistency. Jon Lieber is probably an upgrade over Eric Milton.
Washington Nationals: The former Montreal Expos finally have a new home and a new name. Stability and bigger crowds should help morale, but contending in this division would be a tall order.
Livan Hernandez has been an absolute workhorse for this pitching staff. He might get some help from Esteban Loaiza, trying to rebound from a shaky season in the A.L.
Central
St. Louis Cardinals: The Cardinals got swept by Boston in the World Series last October, but they weren't even expected to win this division before the season started.
This year, they are.
Mulder joins a rotation that includes four other 15-game winners: Chris Carpenter, Jason Marquis, Jeff Suppan and Matt Morris. The middle of the lineup is still loaded, the bullpen looks reliable and the defense remains solid.
The biggest question marks are at catcher, shortstop and second base. St. Louis is replacing Gold Glove backstop Mike Matheny with 22-year-old Yadier Molina. David Eckstein and Mark Grudzielanek form the new double-play combination. Edgar Renteria will be missed.
Houston Astros: After coming within one victory of the World Series, the Astros lost Beltran and Kent to free agency, leaving a big hole in the middle of the lineup. Plus, All-Star outfielder Lance Berkman is coming off knee surgery and probably won't return until late April.
Here's the good news: Clemens, 42, put off retirement again for an $18 million, one-year deal. He won his record seventh Cy Young Award last season – first in the N.L. Joined by a healthy Andy Pettitte, Roy Oswalt and Brandon Backe, the stellar rotation could keep this team in contention.
Chicago Cubs: All hopes are riding on the health of Kerry Wood and Mark Prior, the hard-throwing aces who carried Chicago to the brink of the 2003 World Series.
Both were hurting in spring training – Wood had a sore shoulder, Prior a sore elbow. If they get healthy, the Cubs could challenge for a playoff spot because the rotation also boasts Carlos Zambrano and Greg Maddux.
The lineup lost a lot of pop with the departure of Sosa and Alou. Jeromy Burnitz is not quite the answer, but a full season with Nomar Garciaparra batting third should help. The clubhouse could be better off without Sosa, who clashed with manager Dusty Baker. The bullpen might be a mess again.
Cincinnati Reds: Ken Griffey Jr. is progressing as planned in his recovery from a torn hamstring. The Reds hope he can play a full season for the first time since 2000.
Milton was Cincinnati's biggest offseason addition, and right-hander Paul Wilson is coming off a good year. The rest of the rotation is shaky. With Adam Dunn and Sean Casey, the middle of the lineup is dangerous when healthy — but this team hasn't shown much the last four years.
Milwaukee Brewers: The Brewers are still stockpiling young talent and hope to contend in a couple of years.
The rotation might not be bad, though No. 1 starter Ben Sheets is coming off back surgery. The addition of Carlos Lee provides needed power from the right side. The offense was terrible last year.
Pittsburgh Pirates: All-Star shortstop Jack Wilson, Rookie of the Year Jason Bay and pitcher Oliver Perez are the young players to get excited about.
Pricey catcher Jason Kendall was finally traded to Oakland and replaced by 40-year-old Benito Santiago. Matt Lawton should add some much-needed pop in the outfield. The Pirates are coming off their club-record 12th straight losing season, and the streak figures to continue.
West
San Diego Padres: The Padres didn't do much during the offseason, but Bonds' absence leaves the door wide open in this division.
Jake Peavy led the majors with a 2.27 ERA last year. He strained his groin in spring training but is expected to be fine when the season starts. Woody Williams could be the key to success. In his second tour with the team, he replaces David Wells in the rotation and must provide similar consistency.
San Francisco Giants: The Giants loaded up during the offseason and surrounded Bonds with aging stars, gearing up for another run at his first World Series ring.
Now the oldest team in baseball might have to try to win without him.
Alou was brought in to provide protection for the seven-time MVP, but he'll have to shoulder much of the load himself — at least for a while. All-Star closer Armando Benitez was signed to solidify a shaky bullpen, though he has a history of crumbling under pressure. Jason Schmidt is good enough to carry the rotation.
Nobody seems to know when the game's greatest slugger might return from two operations on his right knee. Even without him, there's still talent on this team — and the Giants are in the race every year.
Los Angeles Dodgers: The Dodgers had a wild offseason, scrambling to offset the losses of Adrian Beltre, Shawn Green and Steve Finley. But even with Kent on board, this team appears to have too many holes to repeat as division champion.
Jose Valentin takes over at third base for Beltre, who had a monster year and finished second to Bonds in MVP voting. Injury-prone J.D. Drew got a $55 million, five-year deal after a big season with Atlanta.
Most of the rotation looks solid on paper — if Brad Penny is healthy and Derek Lowe lives up to his $36 million, four-year contract. Scott Erickson could be the No. 5 starter. The defense took a hit. Dominant closer Eric Gagne should be fine after spraining his knee in February.
Arizona Diamondbacks: After one of the worst seasons in N.L. history, the new ownership group overhauled Arizona's roster. Now the Diamondbacks believe they can contend in this mediocre division – but that might be asking a little much.
Randy Johnson is gone, traded to the Yankees. Green and third baseman Troy Glaus were acquired to join Luis Gonzalez in the middle of the lineup. Gonzalez is coming off reconstructive elbow surgery and Glaus off shoulder surgery.
New manager Bob Melvin, the team's bench coach when Arizona won the 2001 World Series, has four capable starters in Javier Vazquez, Russ Ortiz, Brandon Webb and Shawn Estes. But the bullpen is a question mark and the roster lacks speed. This club probably looks better on paper than on the field. But after losing 111 games last year, the Diamondbacks should be competitive.
Colorado Rockies: The Rockies are going with youth and looking toward the future. But for now, this team could finish with the worst record in baseball.
All-Star first baseman Todd Helton might have to carry the offense. He hopes to get some help from a healthy Preston Wilson, who led the N.L. with 141 RBIs in 2003 but was slowed by knee injuries last season.
Former closer Shawn Chacon moves back into the rotation.
Local journalism is essential.
Give directly to The Spokesman-Review's Northwest Passages community forums series -- which helps to offset the costs of several reporter and editor positions at the newspaper -- by using the easy options below. Gifts processed in this system are not tax deductible, but are predominately used to help meet the local financial requirements needed to receive national matching-grant funds.
Subscribe to the sports newsletter
Get the day's top sports headlines and breaking news delivered to your inbox by subscribing here.
---