Sports
Panthers scratch Wildcats out of first
Wed., April 20, 2005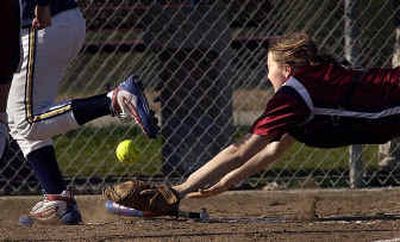 The Greater Spokane League defending champion Mead Panthers were in a role Tuesday they hadn't played much the past two years: underdogs.
Their host, Mt. Spokane, was tied for first place. The Wildcats had won four consecutive games, scoring 36 runs in the process.
But Mead has Kim Watson in the circle, and that was all the difference as the Panthers breezed to a 4-1 win, knocking Mt. Spokane (6-2 in the GSL, 6-3 overall) out of the first-place tie with Shadle Park and University.
"She's not the MVP of this league for nothing," Mt. Spokane coach Carl Adams said of Watson's pitching performance. "She was tough, she changed speed, hit spots. She basically handcuffed us."
Staked to a 1-0 lead after a half-inning – Megan Bertolero's leadoff triple cashed in by Chantel Hughes-Gardner's RBI single – Watson held the hot-hitting Wildcats hitless for five innings.
And when Mead (6-2, 7-2) finally executed (putting down two successful sacrifice bunts and coming through with three consecutive RBI singles), building a four-run lead after five, Watson looked unbeatable.
Or maybe not. Britney Brownlee's looping single to right broke up the no-hitter in what would have been a scoreless bottom of the sixth, and then Mt. Spokane opened the bottom of the seventh with three straight singles.
That's when Angel Urann, who opened the inning with a hard grounder to left, scored the Wildcats' lone run on a passed ball on a swinging third strike. And, when catcher Megan Foster's throw to Watson covering home was wild, Kassie Lewis also tried to score.
But first baseman Ashley Hovis' throw to Foster was just in time to catch Lewis for the second out, though the call brought a short heated argument from Adams, who thought Lewis had slid under the tag.
A strike out later and the game was Mead's. Watson's line: Seven innings, four hits, the unearned run, seven strikeouts and no walks.
"She's so much fresher now then she was earlier," Mead coach John Barrington said. "She's not walking people, she's hitting spots and she's throwing the ball by people again."
Watson felt the 60-degree weather also had a hand in her success.
"When it's warm, it's not only a lot easier to pitch, it's just easier to play," said the senior right-hander, headed to New Mexico State next year. "I tried to mix up my pitches today, with the slider away and the changeups. For the most part I was able to hit the corners and keep the ball away from their big hitters."
The Panthers also welcomed back four players who were suspended four games following an off-the-field incident. One of those was sophomore and two-year starter Hughes-Gardner, who not only had two RBIs, but played "possibly the best game she's ever played at shortstop," Barrington said.
"She had a tremendous game," he continued. "She had a chance to be rusty. She wasn't."
In other GSL action: Freshman Samantha Skillingstad struck out 17 and limited Gonzaga Prep (6-3, 7-3) to two seventh-inning hits as host Shadle Park (7-1, 8-1) stayed tied atop the league with a 4-0 victory. Skillingstad, China Frost and Jenn Schwartz each had two hits for the Highlanders. … Linse Vlahovich and Mandy Mikelson combined for a no-hitter and Theresa Tveit went 2 for 4 with a home run and three RBIs to lead University (7-1, 7-1) to an 11-0 road win over Cheney (2-6, 2-7). … Rogers scored seven runs in the bottom of the first and went on to defeat Lewis and Clark (1-7, 1-7) 13-3. Whitney Parker sparked the Pirates (4-4, 4-4) with two hits, including a double, an RBI and two runs. Rogers' Cari Landkammer added three stolen bases and three runs. … Cassie Schrieber went the distance, striking out seven and yielding four hits as East Valley (4-4, 5-4) moved into first among 3A teams with a 5-2 win over host West Valley (2-6, 2-7). A five-run third supplied the offense for the Knights. … Central Valley (6-2, 6-2) scored three runs in the second – keyed by Emily Anderson's two-run single – and Whitney McDaniel (4-2) made it stand up in a 3-1 win over visiting Clarkston (3-5, 4-5). … Kelsie Vallies struck out nine on the mound and collected three hits at the plate and Jamie Schibel ripped a bases-loaded triple as visiting North Central (3-5, 3-5) cruised to a 12-4 win over Ferris (0-9, 0-10).
Local journalism is essential.
Give directly to The Spokesman-Review's Northwest Passages community forums series -- which helps to offset the costs of several reporter and editor positions at the newspaper -- by using the easy options below. Gifts processed in this system are not tax deductible, but are predominately used to help meet the local financial requirements needed to receive national matching-grant funds.
Subscribe to the sports newsletter
Get the day's top sports headlines and breaking news delivered to your inbox by subscribing here.
---